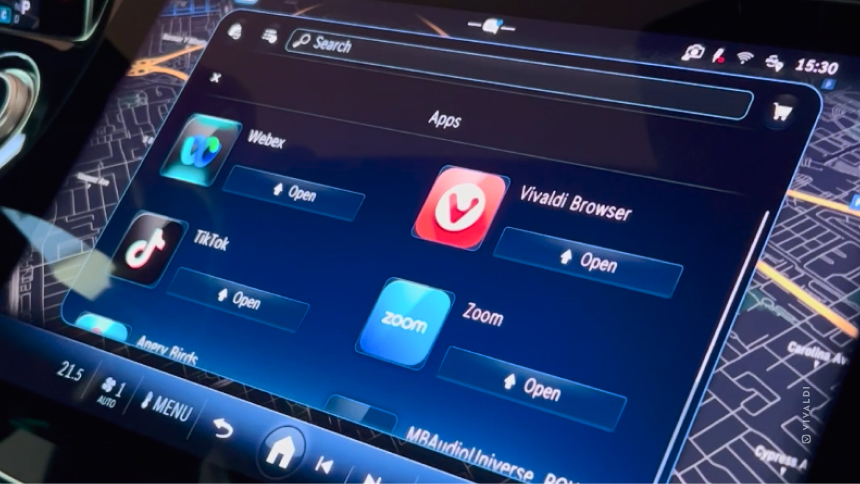 Last week, Mercedes announced that Vivaldi would be available in their new E-Class! We have been working with the Mercedes team for quite some time now. And we were very excited about this announcement.
Even though we were involved in the project, we didn't know much about the details of the cars Vivaldi will be offering. So, I was super excited when they invited us to take a first look at the interiors of this shiny, new car at the Mercedes Benz Research and Development Facility in Sunnyvale, California.
A quick word of thanks to our friends in Mercedes Germany for making this happen.
To get to the venue, I took my beloved 15-year-old Louis Garneau bicycle. I like driving, especially getting to trails, camping, and other outdoor fun but I prefer biking when I can. For now, my wheels are old school, but I've recently started thinking about converting it to an E-bike.
From Palo Alto, I arrived at the Sunnyvale station and prepared to hop on my bike. I was tempted to take a quick detour to this great Japanese okonomiyaki place called Rokko. Highly recommended!
But I was too eager to feast my eyes on the new Mercedes!
I recorded a fun video narrating my experience checking out Vivaldi in action at the Mercedes Facility Centre.
Take a look 👇
And I have to say that I'm very impressed. It is a terrific car with an excellent sound system and many advanced features but most importantly Vivaldi browser works great on the large vividly lit superscreen.
Drivers and passengers will be able to run Vivaldi side-by-side independently from one another on their respective screens. This is a great feature because often the main screen might be occupied for essential tasks such as navigation or controlling different aspects of the vehicle. With the dual screen, the passenger can still browse using Vivaldi while the main screen is in use for other operations.
Vivaldi is currently the only browser on Android Automotive OS and has been available on a growing list of cars. At its core, it is essentially the same full-featured web browsers that you have on your Android-based smartphones. It gives you complete control of how it looks, feels, and works, just like our mobile and desktop browser family.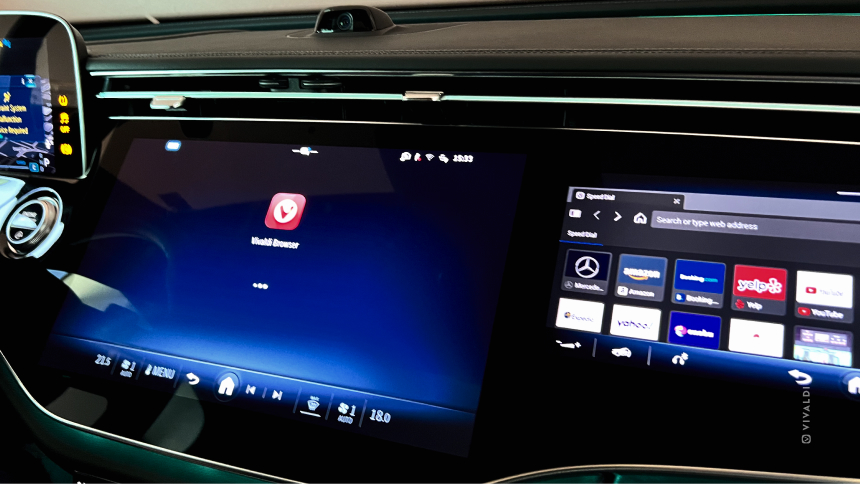 There are other apps as well such as TikTok, Angry Birds, collaboration app Webex, and Zoom, all available alongside the launch of the new E-Class.
Plus a new selfie and video camera will let drivers take photos and videos or join web conferences— while the car is stationary. 
I could go on and on about  the car, but this press release from Mercedes provides much finer details:
"Drivers can look forward to an immersive entertainment experience in the new E-Class with music, games, and streaming content. Thanks to digital innovations in the interior, the E-Class is now more intelligent, achieving a new dimension of personalization and interaction. At the same time, the electronic architecture is more software-driven and less hardware-driven. This forms the basis for more individual updating of the interior systems in the future."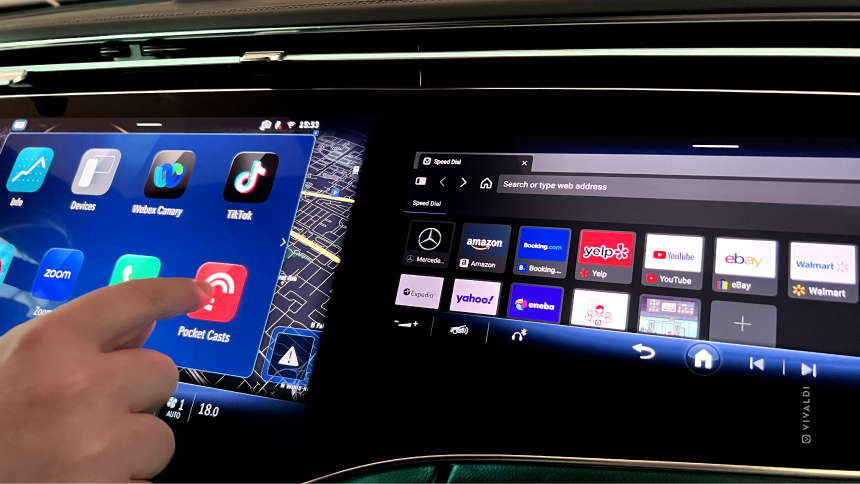 We are really looking forward to working along with the Mercedes Team to do a lot more – an experience that the users can enjoy while keeping their privacy and safety at the forefront! 
Over to the Mercedes for some fun browsing. Drive safely!