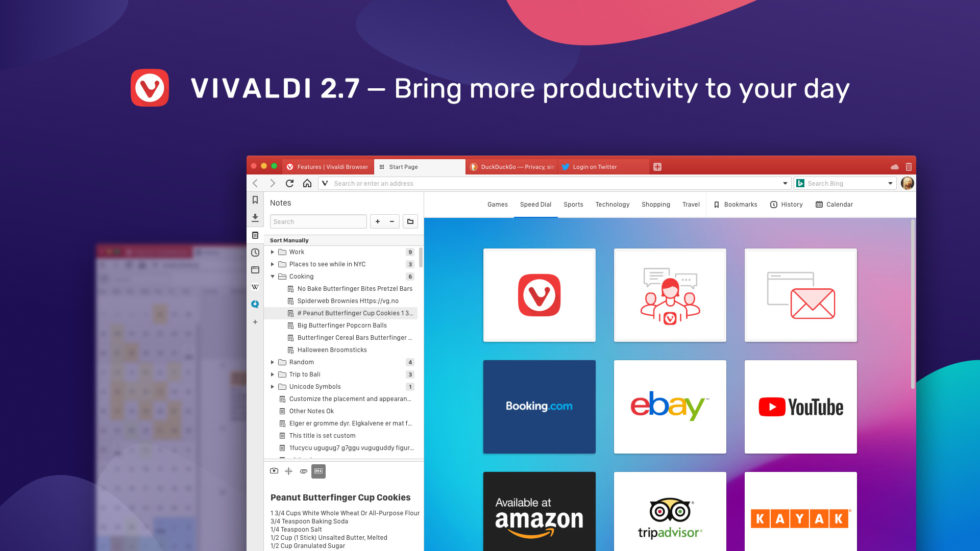 We're happy to be back in the saddle after the summer break! We want Vivaldi to be the perfect tool for you to control and enjoy the digital aspect of your lives.
And that's why we are working on the things that count – the things that make you more productive and organised on the Web.
The new update has little gems that will give you a better control of sound behavior in Vivaldi. In addition, you have new options to access user profiles quicker, an enhanced status bar as well as overall improvements and security related fixes.
Key Highlights of 2.7 
Cut the noise with Mute Tab
In this upgrade, we've upped the ante to tackle the incredibly annoying auto-playing audio and video. We've added a new option that allows you to mute a website which is currently silent – one of the most requested features from our community.
With this new option, you don't have to worry that websites will interrupt your general browsing experience. Simply right click on a tab and select "Mute Tab" to prevent the website from playing the audio in advance.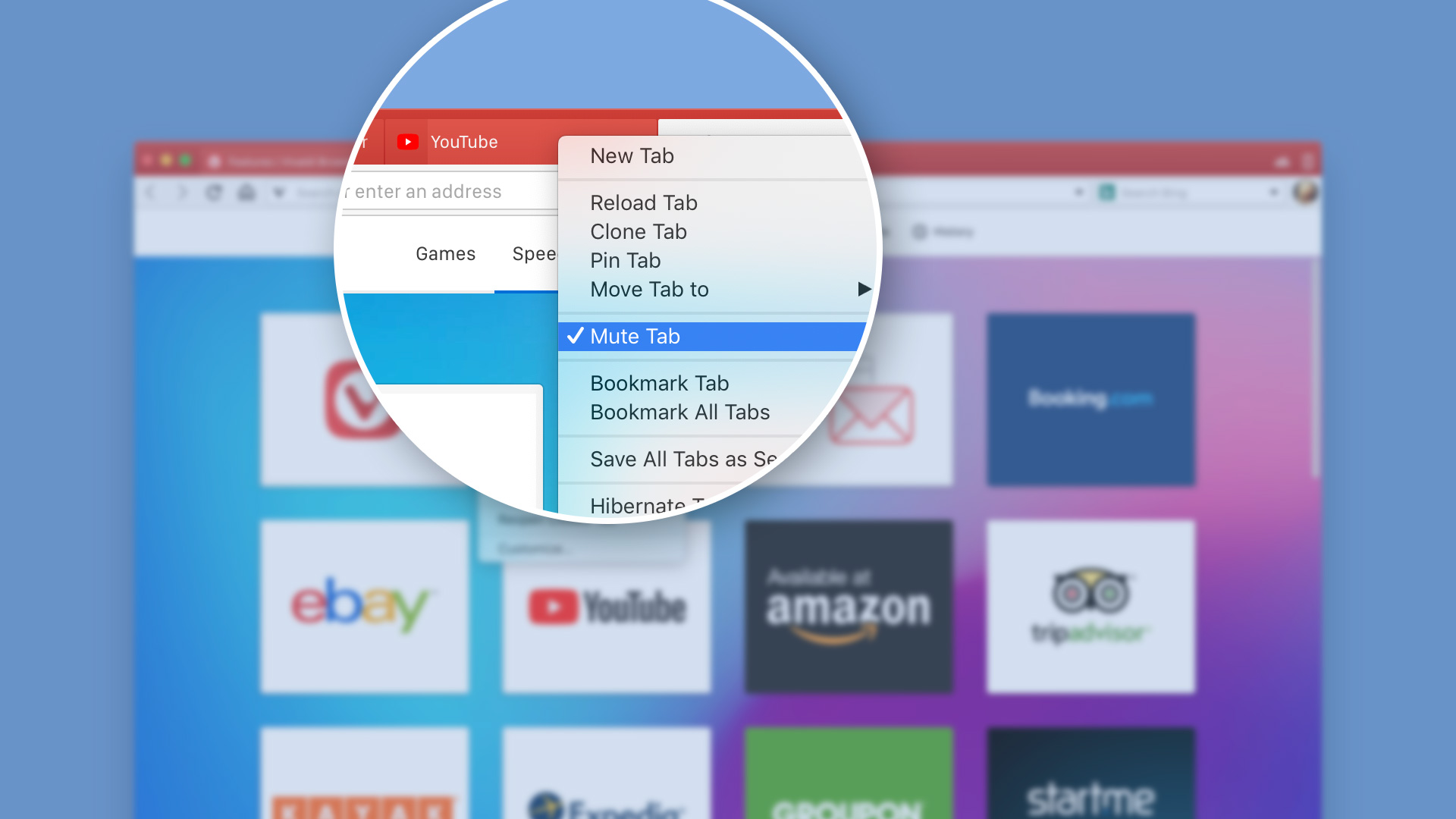 "Mute Tab" is an addition to our already solid settings that control sound behaviour in Vivaldi. Find these under audio settings in Settings → Tabs → Tab Features → Tab Muting.
The default option – "Play All Audio" – allows audio to play from all tabs at all times. Disable if you want to avoid unwanted noise.
"Play Only In Active Tab" automatically mutes all background tabs.
"Prioritize Active Tab" ensures that when your active tab has audio, background tabs with audio will stay muted.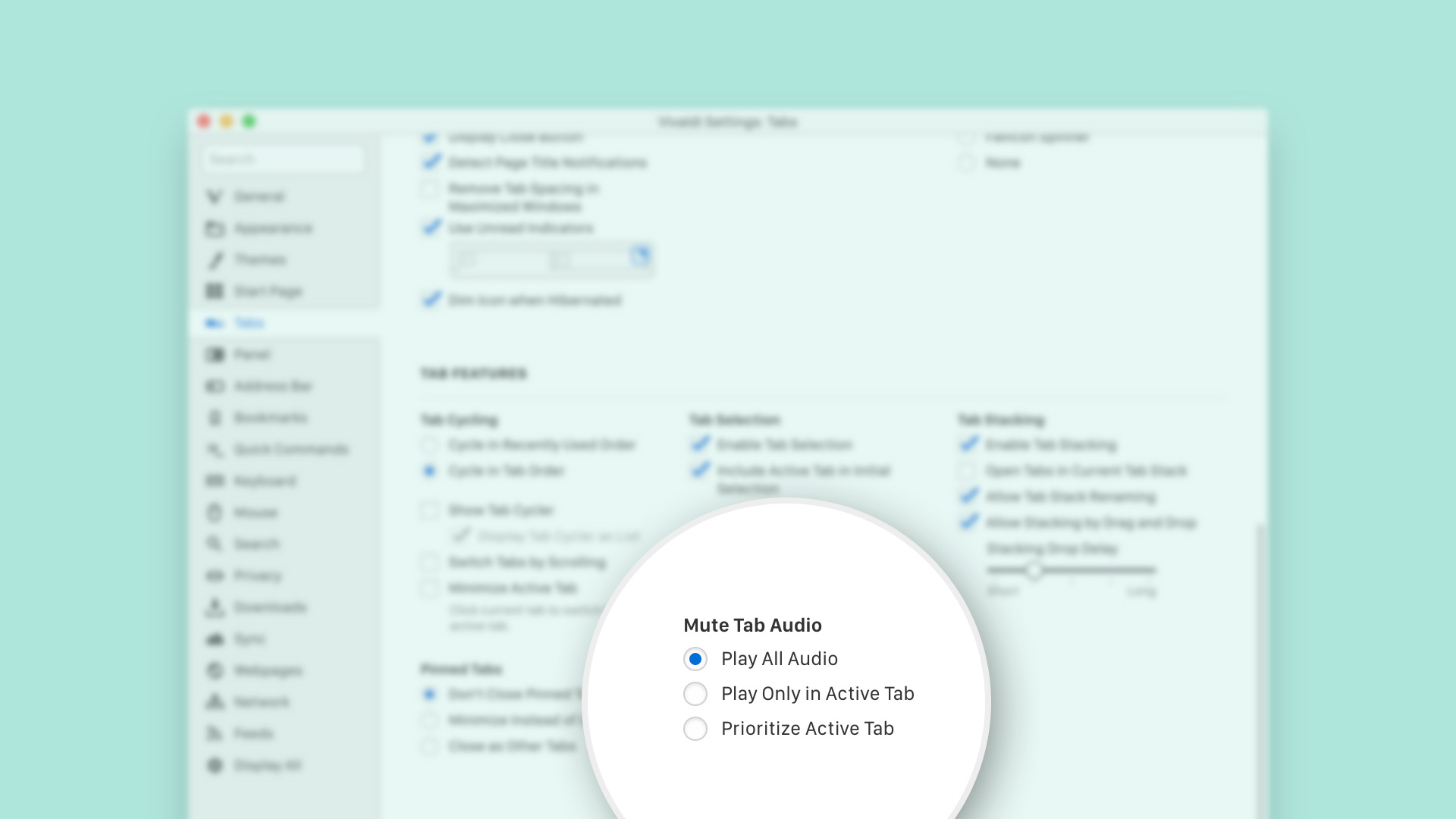 Additionally, you can "Mute other Tabs" which means that by right clicking any background tab in the Tabs Bar or Window Panel, all other tabs will be muted but the current tab.
Another way to manage sound is through Quick Commands (F2 / ⌘+E and type "mute", then select the option you want via the arrow keys) or assign custom keyboard shortcuts.
Access User Profiles quicker
Working faster can give you a competitive edge and being able to access your profile quickly helps with that.  So, we've improved one of our much-loved features – User Profiles.
You can now create a desktop shortcut to a specific User Profile. Available on Windows, this shortcut will give you quick access to your profile and ensure that you are always in the right account.
You'll find a new context menu entry in the user profile menu under the "Add Person/Edit Person" button.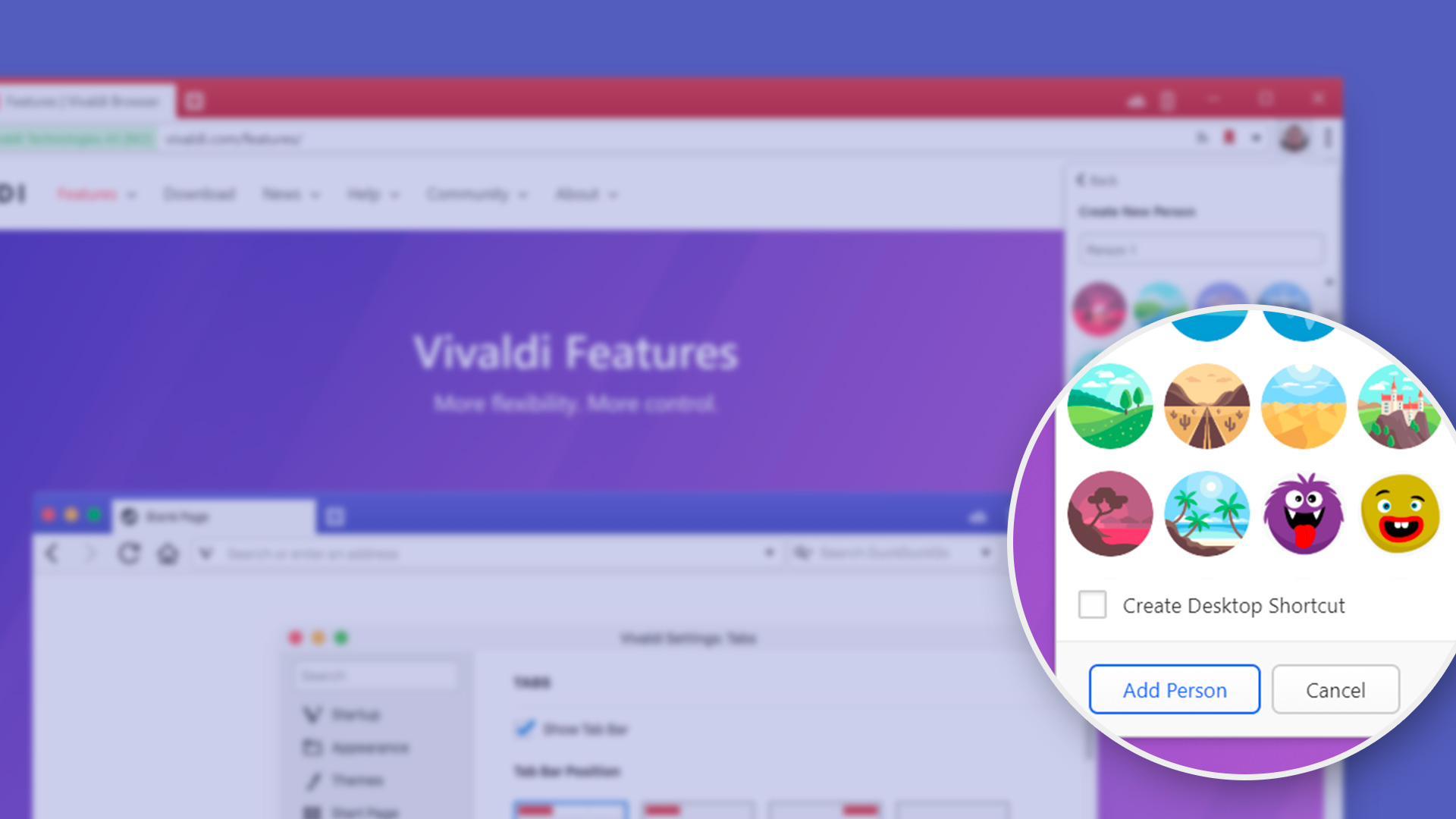 A Flash for Flash
Even though Flash technology is being phased out, there are many sites that still use Flash and many users that still love it! We've added a new option for the Flash player plugin. This way many of you can access these sites – another addition in our plethora of options to browse with complete ease.
You can enable this plug-in under Settings → Webpages → Plugins
Informative Status Bar
Heavy pages can take time to load resulting in a long wait. Now we keep you informed while you wait, with helpful information about the loading page in the Status Bar at the bottom of the window.
You will be notified of the current status, for example: "Processing request", "Waiting for", "Connecting", "Establishing secure connection".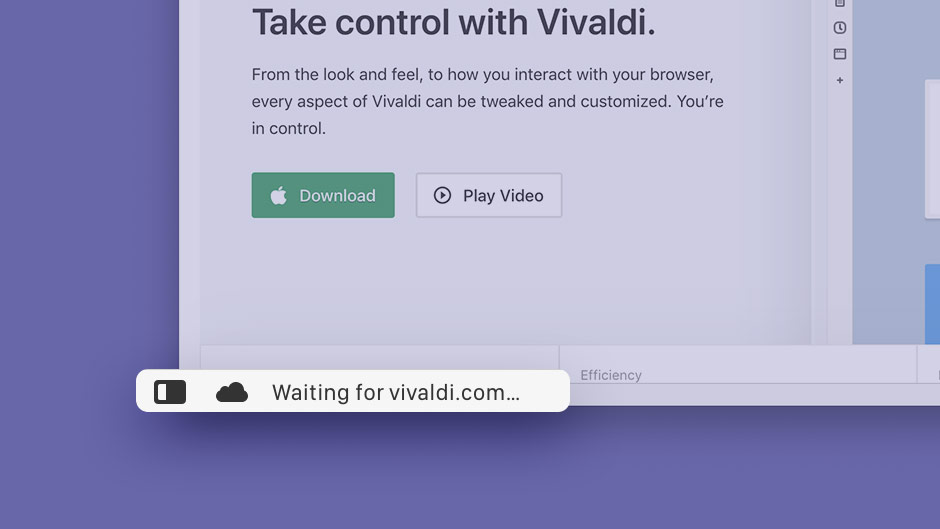 Improved Stability for macOS
If you've experienced crashes on macOS, you'll be glad to know that we've improved stability for a smoother ride. This long-standing issue has been fixed in the new version.
* * *
There are small and large improvements in this new version that we hope you will appreciate (check out the detailed changelog below).  As always, they are a consequence of your feedback, so a big thanks for your help. Try it out, share it, and let us know what you think.
Changelog from 2.6 to 2.7
New
[New][Tabs] Allow to mute website that is currently silent (VB-39371)
[New][Settings] Expose global setting for Flash player (Webpages → Plugins) (VB-41093)
[New][Status] Add info to the status field when a page is loading (VB-37668)
[New][Windows] Add 'Create a desktop shortcut for this user' checkbox to User Profiles' 'Add Person' menu (VB-54264)
Address Bar
[Address bar] Nicknamed search engine with no search term directs to default search engine (VB-54112)
[Address bar] Adding text to URL, results in opening standard search (VB-54068)
[Address bar] Cannot delete previous searches from the search field dropdown (VB-53983)
[Address bar] Search field suggestions/selection issue with Tab key (VB-54275)
[Address Bar] URLs cannot be longer than 2000 characters (VB-45796)
[Address Bar] Shift + Arrow key text selection missing (VB-54601)
[Address Bar] Enter takes the last written URL (VB-55139)
[Address bar] https protocol replaced when editing address (VB-49320)
[Address bar] Autocomplete doesn't work when entering a protocol (VB-55516)
[Address bar] Make autocomplete prefer most-visited entries (VB-35746)
[Address bar] Shift+Del no longer delete single typed history item (VB-53245)
[Address Bar] Autocomplete does not close when cutting all text (VB-56029)
[Address Bar] Paste & Go appends clipboard to current address (VB-55601)
[Address bar][Bookmarks] Nicknamed bookmarks have wrong favicon (VB-52371)
Bookmarks
[Bookmarks] Thumbnail images are wrongly displayed in the manager (VB-54525)
[Bookmarks] Create bookmark dialog is cut out when opened through a shortcut (VB-51821)
[Bookmarks] Can't add bookmarks on an empty Start Page (VB-54335)
[Bookmarks] Thumbnail update animation is not shown in the bookmark editor (VB-55871)
[Bookmarks][macOS] Bar folder is misaligned with multiple monitors (VB-53486)
Context Menu
[Context Menu] Fixed order for open link options (VB-54649)
[Context Menu] Shortcuts should not match on ellipsis as keyboard accelerator (VB-55911)
[Crash] Trying to open a link from context menu from previous page (VB-54809)
[Crash] Closing a Spotify web player (VB-55316)
Downloads
[Downloads] Interrupted download should offer to reattempt in context menu (VB-55285)
[Downloads] Files can be accidentally opened when saving, as reported by Dwane Pearce (VB-55667)
[Downloads][Panels] Total progress gets stuck when downloads are paused/removed (VB-55158)
Dev Tools
[Dev Tools] Cannot input Chinese (VB-52024)
Extensions
[Extensions][Keyboard] Shortcut should update when assigned (VB-39687)
[Find in Page] Drag and drop selected text (VB-54592)
MacOs
[macOS][Crash] Closing window (VB-52350)
[macOS] "Show All" application menu item missing (VB-54339)
[macOS] Services context menu not working in webview (VB-29096)
[macOS] Session lost through integrated task manager in Vivaldi (VB-55801)
Mouse Gestures
[Mouse Gestures] Add searchable list of editable commands (VB-55227)
Notes
[Notes][Keyboard] Copy to note shortcut does not work in input fields (VB-28563)
Profiles 
[Profiles] Guest window activates update notifier (VB-51027)
[Reader] Restrict vertical scrolling in the vertical mode (VB-36999)
Search
[Search Engine] Change new profile default search setting based on locales (VB-54916)
Settings
[Settings] Make it easier to locate page loading animation options (VB-48500)
[Settings] Gesture editing steals focus from settings search (VB-55494)
Speed Dial
[Speed Dial] Create a default SD for Vivaldi Web Mail (VB-54036)
[Speed Dial] Bookmark update after thumbnail change (VB-55022)
[Speed Dial] After adding a bookmark, it should be scrolled into view. (VB-1293)
[Speed Dial] Modified SD title not saved when input focus is blurred (VB-55179)
[Speed Dial] Different context menu for search field in Speed Dials (VB-50646)
[Speed Dial] First SD bookmark always focused if search field is deactivated (VB-49452)
Tabs
[Tabs] Audio icon doesn't reflect animation setting state (VB-46971)
[Tabs] Minor speed up in tab creation (VB-55769)
[Tabs][Speed Dial] Improve tab animation
Themes
[Themes] Accent color is not applied when essential elements are hidden (VB-55866)
[Themes] Speaker icon is too dark to see in dark theme (VB-52545)
[Themes] Reader icon colors in private window are incorrect (VB-55872)
[Themes][Tabs] Speaker icon in a Favicon isn't visible with animation off (VB-46970)
Quick Commands
[Quick Commands] Typing a port higher than the 16-bit range crashes Vivaldi (VB-54213)
[Quick commands] Nicknamed bookmark can open twice (VB-54093)
[Quick Commands] Ugly X-icon in Search Inputs (VB-54444)
[Quick Commands][Keyboard] Shortcuts to open QC not working in editable panels (VB-54430)
User Interface
[UI] Set as default browser dialog opens once for each window (VB-2898)
Others
[Notifications][Regression] Chrome icon shown (VB-53887)
[Page actions][Linux] list is not ordered (VB-11219)
[PiP] Back to tab button broken (VB-54051)
Upgraded Chromium to 76.0.3809.110
Updated translations