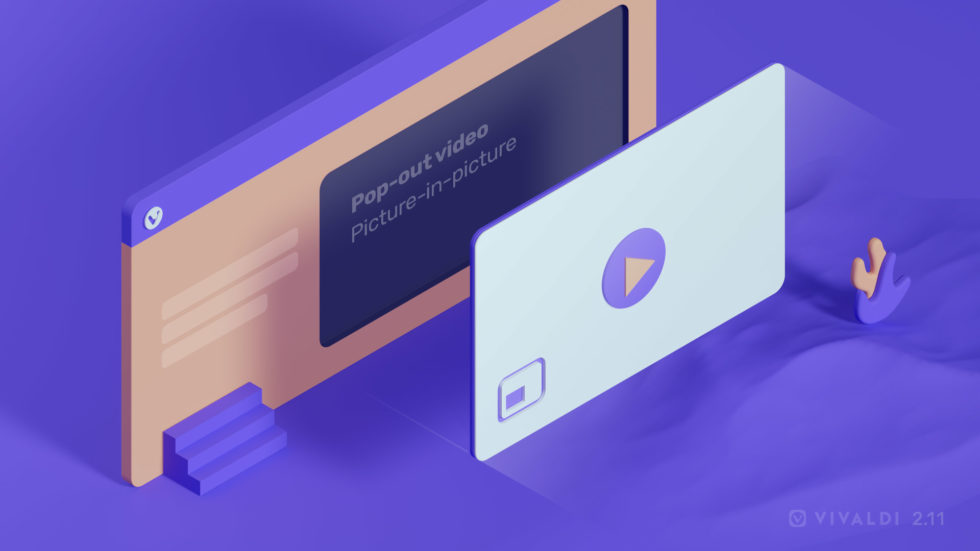 Read this article in Español.
Today we release Vivaldi 2.11 – our first desktop update of 2020. In this version, we've got a new and improved Pop-out video mode (Picture-in-picture) so that you can watch videos outside of the page you found them.
Watch Pop-out video easily
When we first launched the Pop-out video, the response was fantastic. For this release, we decided it was time to roll up our sleeves and revisit this feature to make it even better.
For the uninitiated, Pop-out video allows you to watch a video in a separate, floating window. The always-on-top window can be moved wherever you like while you carry on browsing in your other tabs.
There was room for improvement here, though. In our first version of this feature, launching the window was hidden behind menus and extra clicks. Not anymore.
Now, enabling picture-in-picture is much more straightforward. A single click on a small video box icon displayed in the center of the video will launch it in the same movable, resizable, floating window you know and love.
The perfect solution when you want to catch a match while also get on with your work.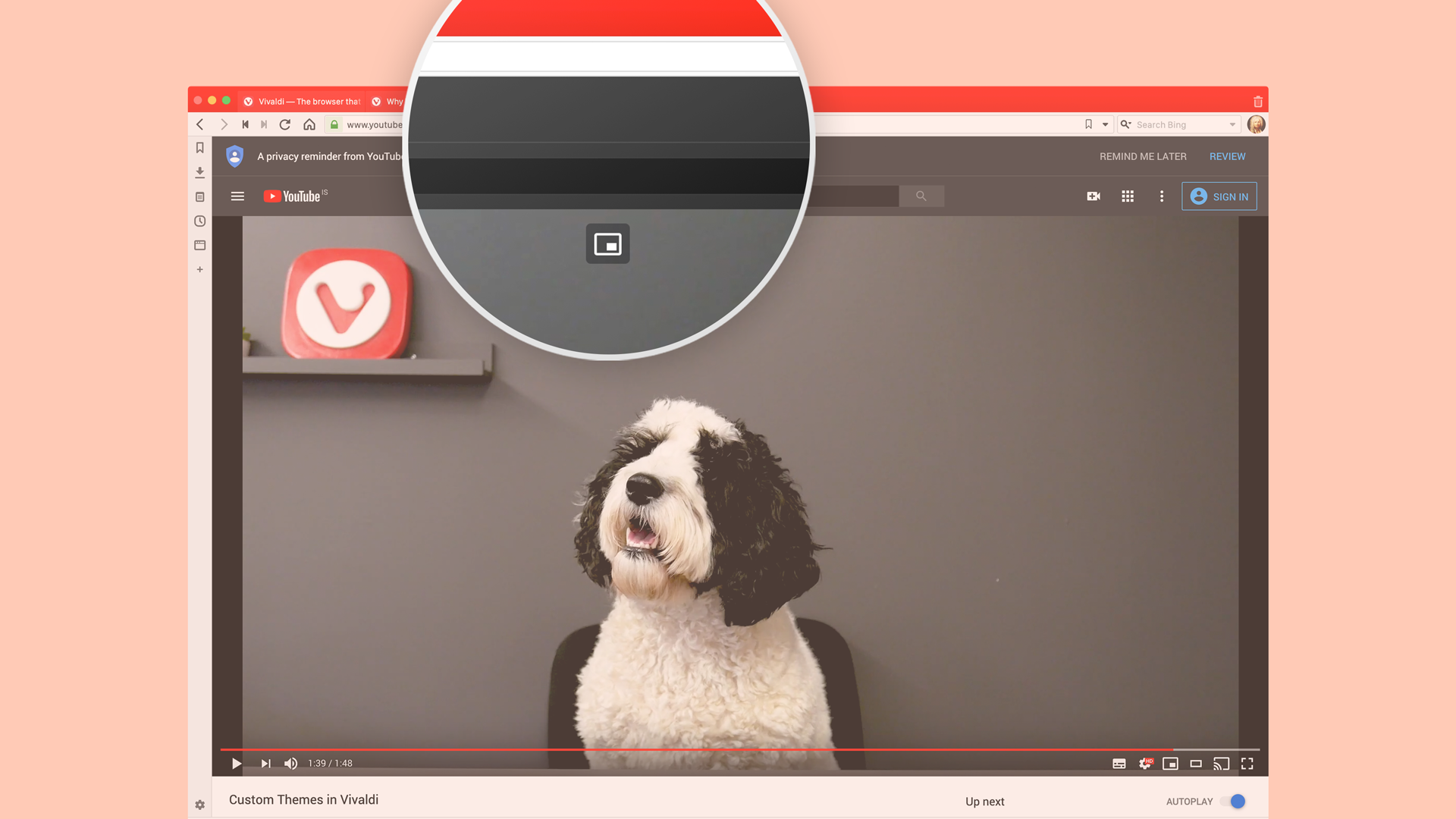 Watching videos in Vivaldi should be intuitive and useful. If you're watching a video that's part of a playlist you'll also see forward and back buttons in the new pop-out, letting you skip tracks or go back to something that caught your fancy.
Themes update
We've also worked further on Vivaldi's Theme-Scheduling in this version. Earlier Vivaldi did not follow the operating system's (OS) Dark/Light mode by default.
From now on, Vivaldi will change its default theme to match your operating system's light/dark settings. For example, if you have set your MacOS to dark mode, Vivaldi will be launched in dark mode by default.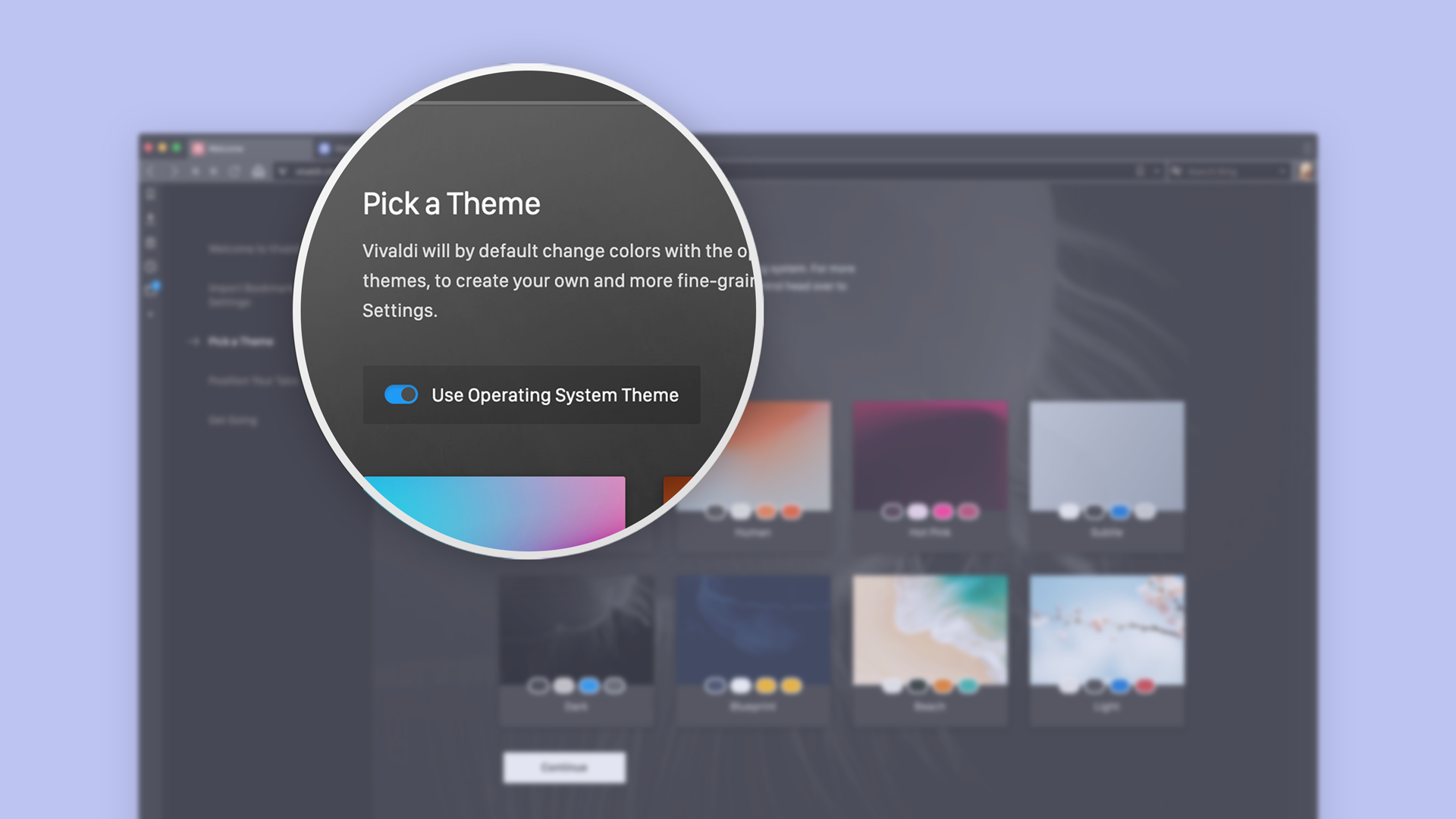 Focus shifting via the keyboard
One of Vivaldi's strengths is the host of keyboard shortcuts it provides so that you can browse a lot faster.
In this update, we've introduced a unique accessibility feature that allows you to focus between different areas of the User Interface and active pages using F6(or Shift+F6).
You can use F6 to cycle (or Shift+F6 to reverse) keyboard focus between the webpage, bookmarks bar, tab bar, and address bar. From there, you can move between other sub-elements.

More in Vivaldi 2.11
Improved full-screen tab casting that adjusts to fit in the current window.
Upgraded developer tools.
We are looking at an exciting year ahead with much more on the anvil. And while we continue to build Vivaldi even better for you, we'd love your feedback on our new version. Download Vivaldi 2.11 right away.
For more details on improvements and fixes, here's the changelog:
Changelog from 2.10 to 2.11
New
• [New][Media] Implement picture-in-picture (pop-out video) button on every video (VB-62563)
• [New][Keyboard][Accessibility] Add F6/Shift+F6 focus handling: Allows moving focus between a few UI elements and active pages (VB-61108)
• [New][Themes] Follow OS Dark/Light mode by default (VB-62703)
• [New][Windows][Installer] Installation should be in the native language (VB-1627)
Address Bar
• [Address Bar] Pasting very long URL into address field crashes UI (VB-59692)
• [Address Bar] Popup address bar overlaps tab bar when both are at the bottom (VB-62523)
•[Address Bar] Cannot resolve some keywords correctly (VB-61173)
• [Address Bar] Progress bar goes from the right-to-left when adding content to the existing page (VB-21910)
• [Address Bar] Trackpad horizontal scroll doesn't work (VB-22297)
• [Address Bar][Bookmarks] Add Bookmark dialog has the wrong width (VB-62355)
• [Address Bar][Bookmarks][Search Field] Bookmarking via shortcut after disabling search field causes misalignment (VB-56173)
• [Address Bar][Extensions] Better ESC handling for popup (VB-62004)
• [Address Bar][Extensions] Button sorting broken when toggling hidden extensions (VB-61826)
• [Address Bar][Extensions] Hidden extensions use the wrong window color (VB-61456)
• [Address Bar][Extensions] Incorrect border-radius on popup buttons on hover (VB-62548)
• [Address Bar][Extensions] Trapped focus for popup (VB-62385)
• [Address Bar][Search Field] Drag and drop failed (VB-47819)
• [Address Bar][Search Field] Nickname of the search engine not working (VB-40002)
• [Address Bar][Search Field] Popup must remember previously selected engine (VB-62414)
• [Address Bar][Search Field] Suggestions not used when the search is triggered by clicking triangle button (VB-61903)
• [Address Bar][Search Field] Typed history doesn't close by clicking down arrow (VB-62403)
Bookmarks
• [Bookmarks] Bar context menu missing "New Separator" (VB-55595)
• [Bookmarks] Cutting and pasting a bookmark also pastes into the search or address field (VB-57599)
• [Bookmarks] New Folder and Import toolbar buttons don't work (VB-62031)
• [Bookmarks] Panel editor height resets on restart (VB-61299)
• [Bookmarks] vivaldi://vivaldi-urls cannot be bookmarked (VB-61378)
• [Bookmarks][Address Bar] Unable to edit the title in add dialog (VB-62771)
• [Bookmarks][Menus] Accelerator added for space after the ampersand (VB-59286)
• [Bookmarks][Windows] Bookmark bar menu reopens when clicking on folder button (VB-61286)
Casting
• [Casting] Fullscreen tab 'Chrome casting' does not work as expected (VB-49195)
Dev Tools
• [Dev Tools] Closes if the shortcut is pressed again (VB-46897)
• [Dev Tools] Copy to Note doesn't work in Inspector Sources (VB-56272)
• [Dev Tools] Doesn't receive focus when opened (VB-29650)
• [Dev Tools] Impossible to inspect a Dev Tools window itself (VB-37610)
• [Dev Tools] Inspecting a webpage resets the UI zoom level to 100% (VB-61528)
• [Dev Tools] Remove folder from workspace fails (VB-55909)
• [Dev Tools][Address Bar] devtools: and legacy chrome-devtools: protocols not working (VB-43490)
• [Dev Tools] Inspect should close for tabs that are being hibernated (VB-30269)
Extensions
• [Extensions] Better inform users that we support Chrome extensions (VB-62407)
• [Extensions] Incorrect focus styling for Popup buttons (VB-62597)
• [Extensions][Keyboard] Make the shortcuts work when the popup/toggle is clicked (showing hidden) (VB-62649)
• [Extensions][Regression] Icons don't show numbers when 'Toggle All Extensions' is enabled (VB-61200)
History
• [History] Deleting all links can leave link entries in the calendar view (VB-62010)
Keyboard/Accessibility
• [Keyboard][Accessibility] Improve keyboard handling in Start page (VB-60662)
• [Keyboard][Accessibility] Improve keyboard handling in add Web Panel callout (VB-60809)
• [Keyboard] 'Focus search-field' shortcut and styling when address-toolbar is hidden needs work (VB-61368)
Menu
• [Menus] Add move left and right commands to tab menu (VB-61198)
• [Menus] Misalignment of items in tile menu popup when in the top bar (VB-61110)
• [Menus] Thin blue line appears next to the menu icon (VB-59950)
• [Menus] 'Start Page' not translated in closed tabs (VB-61332)
Notes
• [Notes] Auto-deleting empty notes should not delete if selecting the empty note (VB-62306)
• [Notes] Automatically deleted empty notes end up in the trash (VB-62145)
• [Notes] Disable new-note button when an empty note is selected (VB-62512)
• [Notes] Editor height not stored, blurry camera icon and excessive max-height (VB-61931)
• [Notes] New notes are hidden if the notes search field is not empty (VB-62477)
• [Notes] Panel grabs focus on save (VB-61065)
• [Notes] Search is cleared after selecting a note (VB-62303)
Panels
• [Panels] Toolbar button wrapping issue (VB-59526)
• [Panels] "Remove all finished" button in downloads initially inactive (VB-58900)
• [Panels] Toolbar buttons are misaligned (VB-61212)
• [Panels][Bookmarks] TypeError (VB-56713)
• [Popup Windows] ESC closure and TAB focus is not working correctly on some popups (VB-61367)
Quick Commands
• [Quick Commands] Add Cast option (VB-62750)
• [Quick Commands] "about" missing (VB-61936)
Settings
• [Settings] Custom URL protocol not supported in "Search Engines" (VB-62440)
• [Settings] The next stored password is incorrectly displayed when the old one is deleted (VB-53519)
• [Settings] Webpage tab focus doesn't adhere to Focus Cycling setting (VB-61295)
• [Settings][Search] Added engines do not display favicons (VB-60993)
Speed Dial
• [Speed Dial] Old entries added by user lose thumbnails on upgrade (VB-61408)
• [Start Page][Translation] Page title is displayed in English after restart (VB-50782)
Start Page
• [Start Page] Window Background Image does not scale correctly (VB-61208)
Status Bar
• [Status Bar] Report page zoom level in overlay status (VB-13586)
• [Status Bar] Toggle between show and either overlay or hide, depending on which was selected previously (VB-18411)
• [Status Bar] Link info overlay covered by the floating panel (VB-61238)
Tabs
• [Tabs] Clone Selected Tabs clones entire tab stack (VB-61839)
User Profiles
• [User Profiles] Can't pick a profile name if a list contains many profiles (VB-60151)
Windows
• [Windows] Tab key causes whole UI shift by 1 pixel with the cycle in component (VB-62079)
• [Windows] Trash menu reopens when clicking on trash button (VB-61327)
macOS
• [macOS] IMDB videos fail to play on Catalina: Partial fix only (VB-58686)
• [macOS] Window controls misaligned in the Settings window (VB-62255)
• [macOS] [Media] Playing .m4a enhanced podcast file causes a renderer crash (VB-45871)
Linux
• [Linux][Media] Update Widevine from 4.10.1582.1 to 4.10.1582.2
• [Linux][Media] Update proprietary media-libs from 78.0.3904.70 to 79.0.3945.79
• [Linux] When exiting Vivaldi from full-screen mode the browser is not maximized (VB-60504)
Others
• [Hue] Not all lamps shown (VB-52654)
• [Media] Vivaldi does not always block auto-play (VB-62314)
• [Regression] Popup window doesn't close by window.close when address bar has an extension (VB-60812)
• [Regression] Tiling of tabs that are hibernated doesn't work correctly (VB-60486)
• Upgraded Chromium to 80.0.3987.88