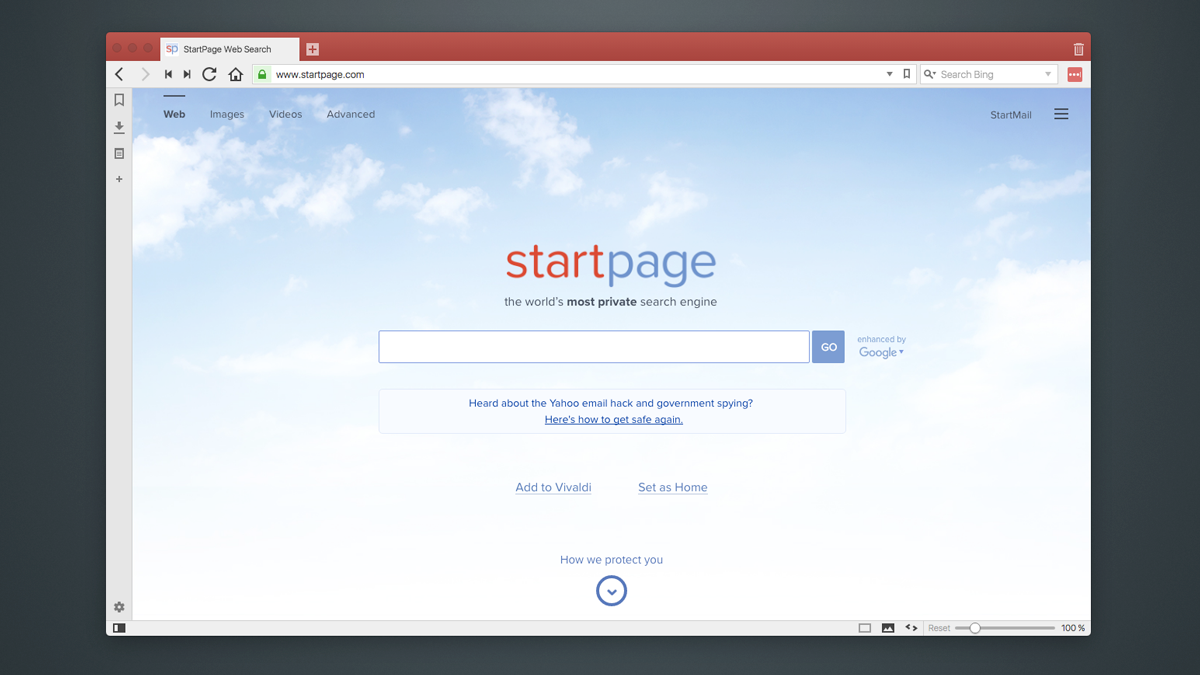 Startpage search
While Vivaldi allows users to set their default search engine to anything they like, we also provide you a good selection of pre-defined options to choose between. Today we have added another great privacy-focused search engine Startpage, which is interesting for a several reasons:
They anonymize "Google" search results. Thus you get very high quality results, without IP addresses or any other personal user information going to Google's servers. Furthermore, since you are unknown to Google, you also get unfiltered results. No more tweaking based on what Google know about you from past searches and other services you use.
They have third-party privacy certification by EuroPriSe.
They are based in the Netherlands, meaning that US data collection programs like PRISM, the Patriot Act, FISA courts, etc. do not directly apply to them.
To find out more, see their article 10 ways startpage helps you take back your privacy and the startpage privacy policy.
Release candidate feedback
To help us get 1.7 out the door as soon as possible, please try and focus your feedback on serious regressions since 1.6 stable. If you want to ask about new (post 1.7) features or longstanding issues please do so on our forums.
Known issue
Following feedback from the previous snapshot and more internal testing we have decided to disable the history panel for 1.7. While we continue to believe that it is a great feature, more work is needed to bring it up to the standard that you, our users expect. It will be back and even better in the future!
Note: This build will receive updates from the snapshot autoupdate stream. Even if there are no additional changes, Vivaldi will be rebuilt for the stable autoupdate stream, resulting in another version number change.
Download (1.7.735.39)
Changelog
[Address field] Vivaldi freezes editing typed history URL in address bar (VB-25563)
[Themes] Private window does not show any activity in the URL bar (VB-25435)
Add startpage private search as a new default search engine option (VB-25174)