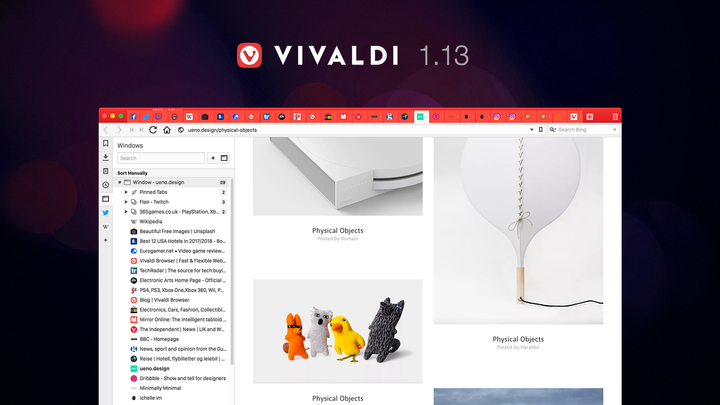 When we started building Vivaldi, we wanted to do it on our terms and for our users. Vivaldi isn't like any other browser. It is nothing short of a powerful tool that gives you more control with every release.
Our endless customization options and a wealth of features have something for every user. Vivaldi 1.13 is ready – this time with superior tab management. The Window Panel makes a debut in our latest version, together with improved downloads and under-the-hood work.
Window Panel makes managing your tabs a breeze
We know that you love tabs, so we are always adding new ways of working with them. If you are a heavy tab user, the Window Panel comes in as a very useful feature. The Window Panel opens to the side of the browser which gives you a "tree-style" view of tabs. You can conveniently navigate them via your keyboard, group them into Tab Stacks and more. In addition to this, the list shows all tabs without compacting their size. Searching or sorting to track down a tab is easier than ever before.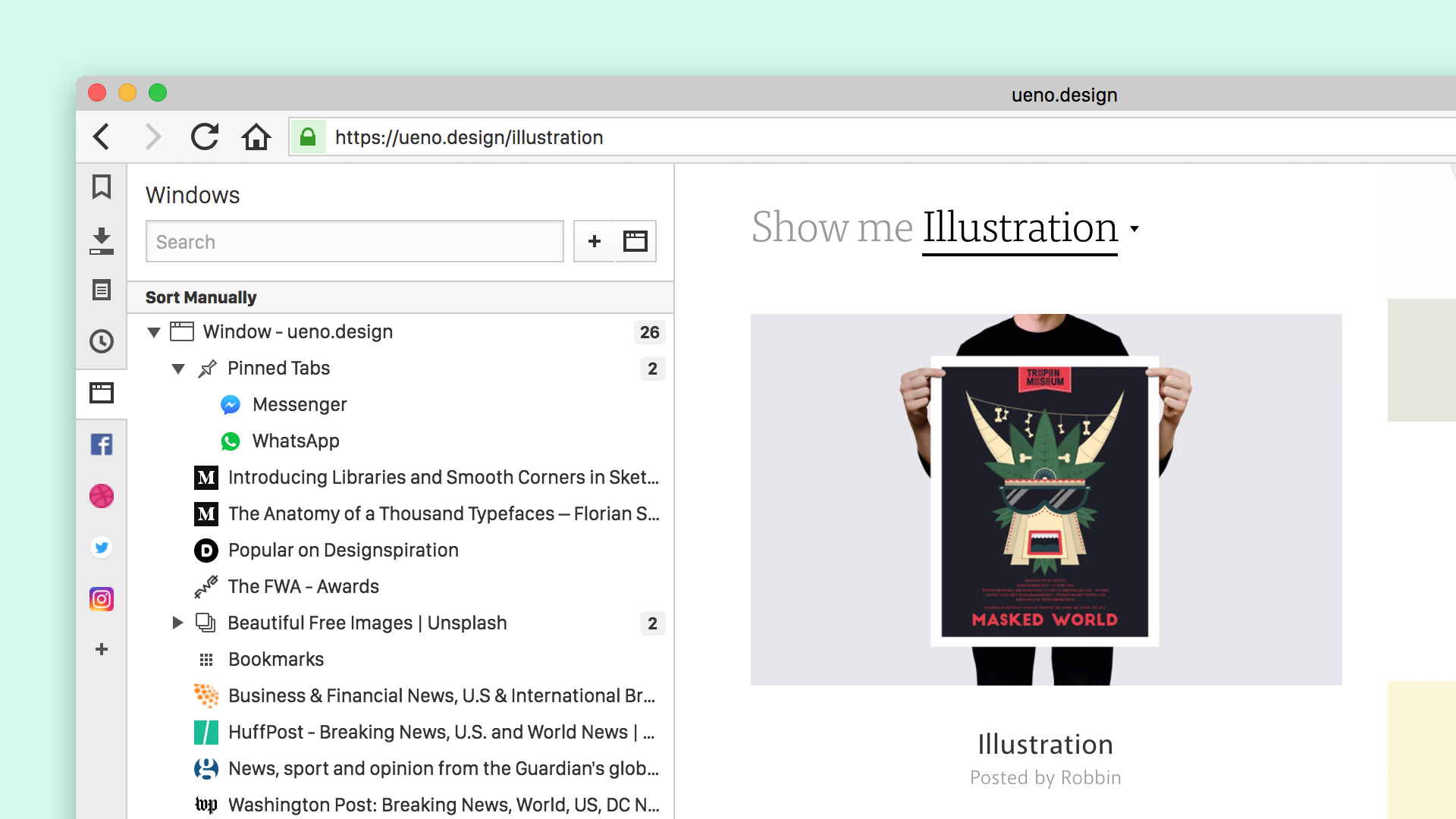 Manage your tabs effortlessly and effectively by doing the following:
Drag tabs to change their order.
Group tabs by topic to save space.
Tile Tab Stacks to compare several web pages side by side.
Hibernate unused tabs or Tab Stacks for better performance.
Pin tabs to ensure they always stay open.
Mute sound in specific tabs.
Currently, the Window Panel works per window, but we have plans to add more functionality to suit your needs. We hope that this new feature will complement the way you use Vivaldi and we look forward to your feedback to make it even better.
More to the downloads
We are always trying to improve every feature in Vivaldi. In version 1.13 we turned our attention to the Downloads Panel with the following improvements:
Warning dialog when closing the browser before a download is complete.
Ability to pause and resume downloads.
Download speed displayed in the download progress bar.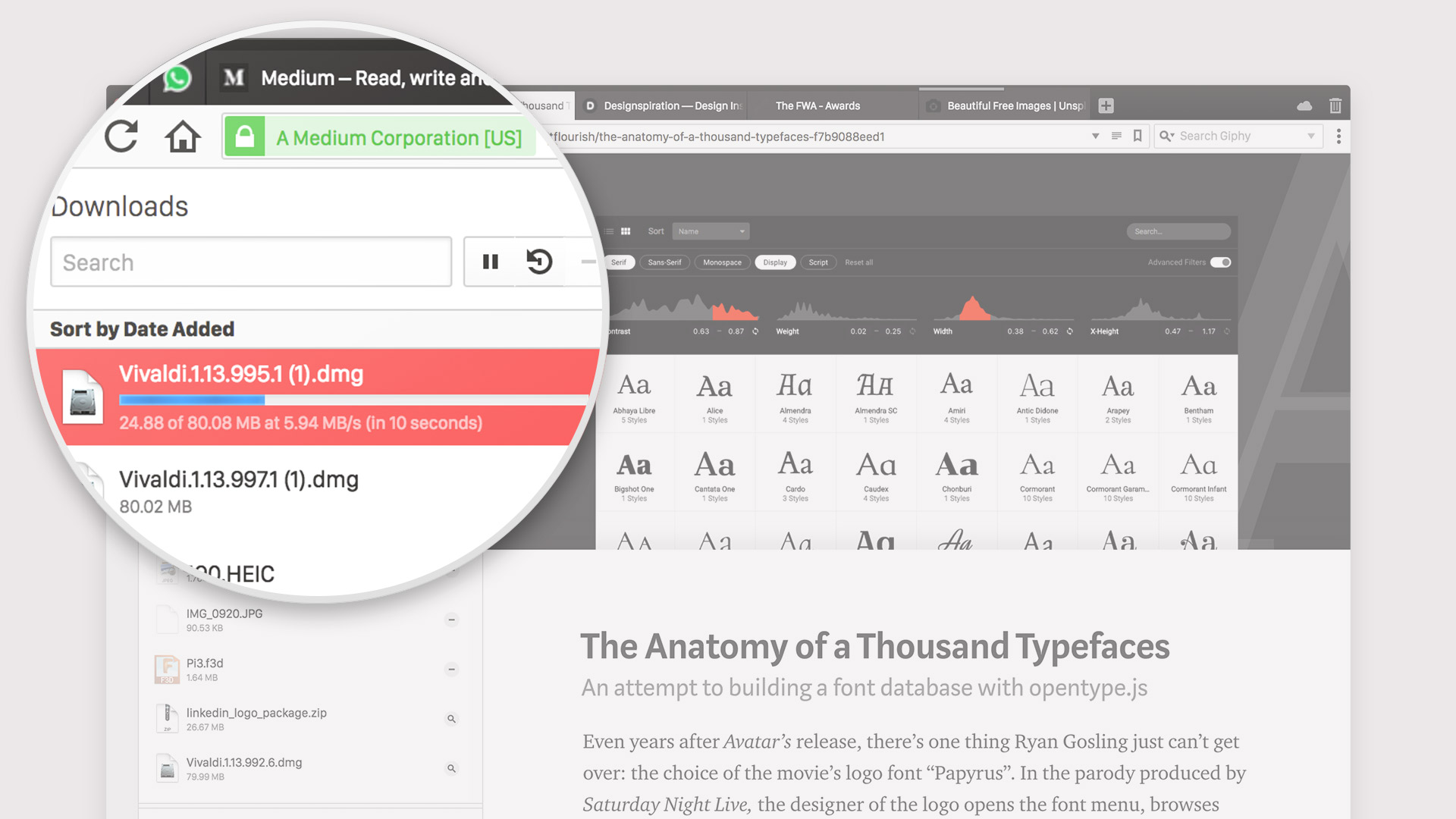 Under-the-hood improvements
Our latest version also focuses on performance improvements. We have worked on the rewrite of the window handling code in this update. These under-the-hood enhancements are a maintenance necessity allowing us to architect the features better. At the same time, we hope this will provide performance benefits, especially on older, slower hardware.
Building an "all-rounder" browser
Vivaldi 1.13 arrives just around Thanksgiving, and we take this opportunity to thank you – our users and our incredible community – once again. We have come a long way riding on a simple philosophy of building an "individual" browser. We will continue to add more built-in functionality with a plethora of customization options that make you more efficient online. While we are working hard on the much-anticipated feature Sync and other differentiating features, we aim to provide a seamless and fulfilling browsing experience to each and every one of you.
Enjoy your browsing with our new version and let us know your thoughts.
If there's a particular feature you'd like to see implemented in one of our next versions, please join the conversation on our forums.
For a detailed overview, please take a look at the changelog below.
Changelog from 1.12 to 1.13
New features
[New] Protection against accidentally canceled downloads
[New] Resume downloads from the previous browser session
[New] Show download speed in panel entries (VB-33661)
[New] Window Panel (Phase 1) (VB-1788)
Fixes
Platform
[Linux] Remove the only non-multiarch dependency from debian packages (VB-10930)
[Linux] Selection is pasted in URL field when middle-clicking on Speed Dial (VB-28578)
[Mac] External links not opened in active window (VB-32395)
Bookmarks
[Bookmarks] Bookmark manager loses focus after import (VB-33264)
[Bookmarks] Empty bookmark title steals focus (VB-33977)
[Bookmarks] No bookmark dialog when the address bar is hidden (VB-7885)
[Bookmarks] "Open Bookmarks Panel Items with Single Click" applies both to the panel and the bookmarks page (VB-23125)
[Bookmarks][Panels] Order is lost when dragging multiple list items (VB-33018)
Downloads
[Downloads] Allow deletion of paused/interrupted downloads (VB-22780)
[Downloads] Delete button is active without selection (VB-32313)
Keyboard shortcuts
[Keyboard shortcuts] Ctrl+B turns on bookmarks in Gmail (VB-10134)
[Keyboard shortcuts] Unable to use keyboard shortcuts when focus is in select fields (VB-32701)
Notes
[Notes] Drag-n-drop from the Address Bar to the Address field in Notes does not work (VB-26065)
[Notes] Impossible to create the first note by drag-n-drop (VB-33314)
[Notes] Setting a URL for a note vanishes if the note sidebar is minimized without clicking away (VB-33604)
Settings
[Settings] Add text bubble highlighting input and dropdown lists (VB-30774)
[Settings] Every widget reuses section title as tooltip if it doesn't have one of its own (VB-32402)
[Settings] Homepage input field specified folder not found in search (VB-32622)
[Settings] Remove invisible clickable areas (VB-33959)
[Settings] Settings search is slow (VB-32417)
[Settings] Settings search highlight – fixing possible contrast issues for custom Themes (VB-32897)
[Settings] Searchable settings section header (VB-32888)
[Settings] Startup pages setting overflows (VB-33488)
[Settings] Theme names don't show up in Settings search (VB-32600)
[Settings] Wrong width of items (VB-33394)
[Settings] [Windows] [Linux] Add option to use Menu icon instead of Vivaldi icon (VB-33663)
Speed Dials
[Speed Dials] Disable thumbnails in the Suggestions bar (VB-33523)
[Speed Dials] Speed Dial folder custom images (VB-33094)
Tabs
[Tabs] Right-click on vacant portion of the Tab bar offers failing "Bookmark all" context menu (VB-34262)
[Tabs] Audio icon color in pinned tabs (VB-33686)
[Tabs] Audio icon is not visible on certain themes (VB-32671)
[Tabs] Prevent the tab mute icon from jumping (VB-14586)
Themes
[Themes] Gracefully handle non-existing theme (VB-33222)
[Themes] Theme color editor improvements (VB-25595)
[Themes] Theme hex color values not updating (VB-33388)
Other fixes
[Popup] Pop-up windows appearance (VB-32056)
[Update notifier] Update notifier shows old available version on hover (VB-32676)
[Performance] Tab opening speed improvements (VB-34227)
[Search Engines] Replace Yahoo! as default search engine to Bing for all countries where Yahoo! was the default (VB-33639)
Bad icon resolution in the pop-up window (VB-32789)
Broken layout when navigating up in URL dropdown (VB-34118)
Can't share screen in Google Hangouts (VB-20439)
IndexedDB not deleted when browser history is cleared (VB-33046)
Load history on demand (VB-33596)
Media fixes for High Sierra and Windows 7
Reader View settings not cleared (VB-33516)
StartPage elements should get their own icon (VB-32858)
Updating bundled favicons for search engines (VB-30468)
Updated Chromium to 62.0.3202.97
Updated translations