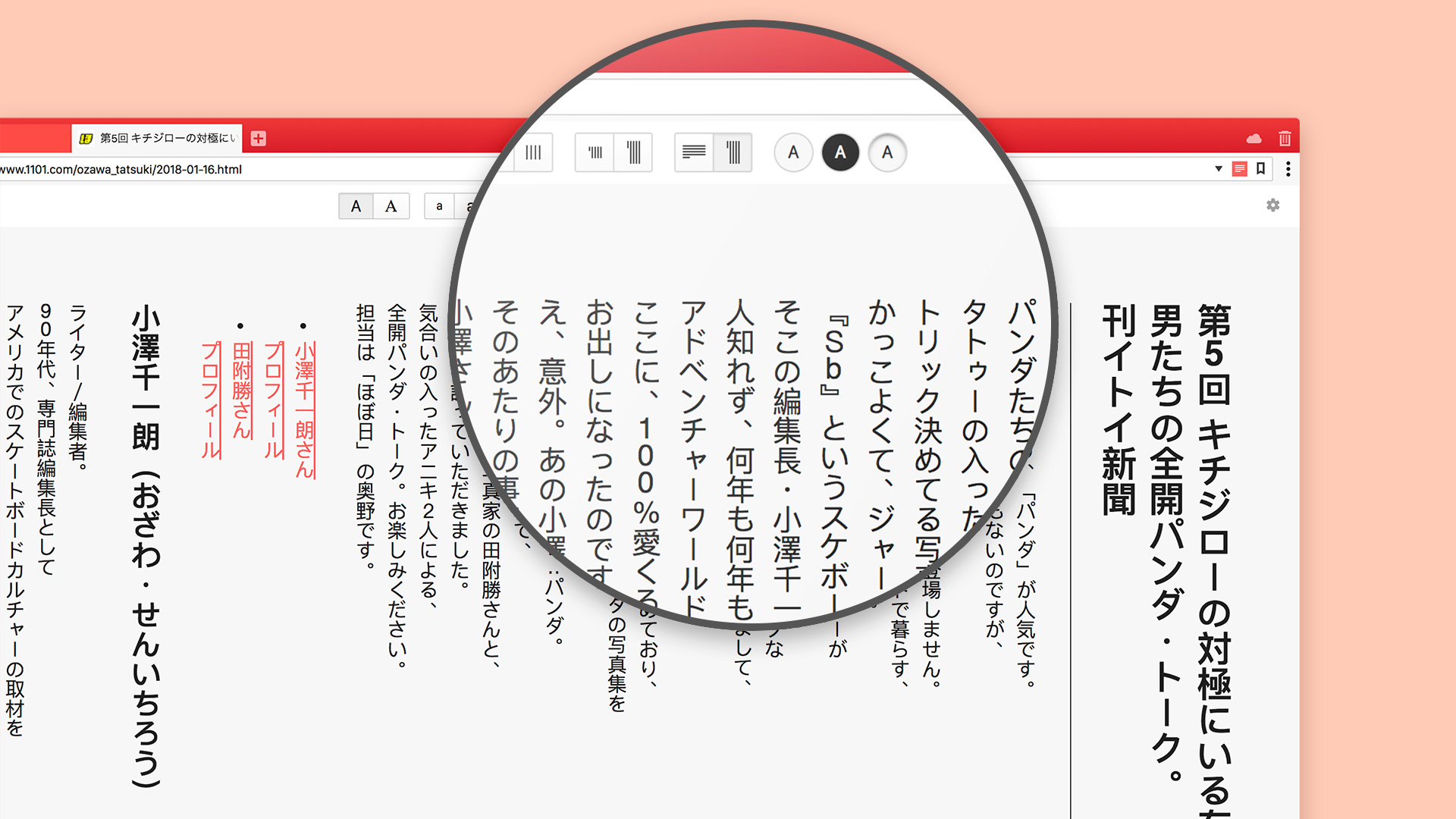 Vertical Reader Mode
The reader mode was first added to make it more comfortable to read text-heavy pages by optimising selection and removing distractions. It does a great job but we knew we could do better. Recently we noticed some discussion on various Japanese user forums about ideas for a vertical reader mode. The idea is a sound one and of course (as you know), we love to listen to and implement user requests!
So for today's snapshot we have updated our reader mode to provide the option of displaying pages vertically for uses of Chinese, Japanese or Korean languages. This is especially nice because a vertical display is one of the default ways to view written text in these languages and has the additional benefit of making better use of screen real estate for text-heavy sites because of the aspect ratio of most modern devices (they are wider than they are tall).
As far as we know, no other browser has implemented this yet. So here is another unique feature for you, that demonstrates what can be achieved when you listen to your users!
Enjoy reading your favorite web news articles, magazines, poetry or novels in the direction of your choice!
Download (1.14.1072.3)
Known issues
[Regression] Right-click context menu position is off VB-36297
Linux users may encounter problems playing video. For more information read this
Changelog
[New Feature] Vertical Reader Mode VB-31914
[Linux] Create a new Vivaldi Package Composer KEY04 and add it to packaging VB-36114
[Linux] Warn users if they do not have a suitable ffmpeg lib for proprietary media VB-36111
[Address field] Permission icons in address field have no tooltip VB-27655
[Bookmarks] Bookmark description editing VB-36146
[Panels] Flicker when reordering panel buttons VB-36202
[Search Engines] Reordering search engines fails sometimes VB-36271
[Search Engines] Reused string in delete search engine confirmation popup VB-36145
[Settings] Settings window lacks minimum size VB-36259
[Themes]Prevent Theme Scheduler from stealing focus VB-21252
Updated Chromium to 64.0.3282.86