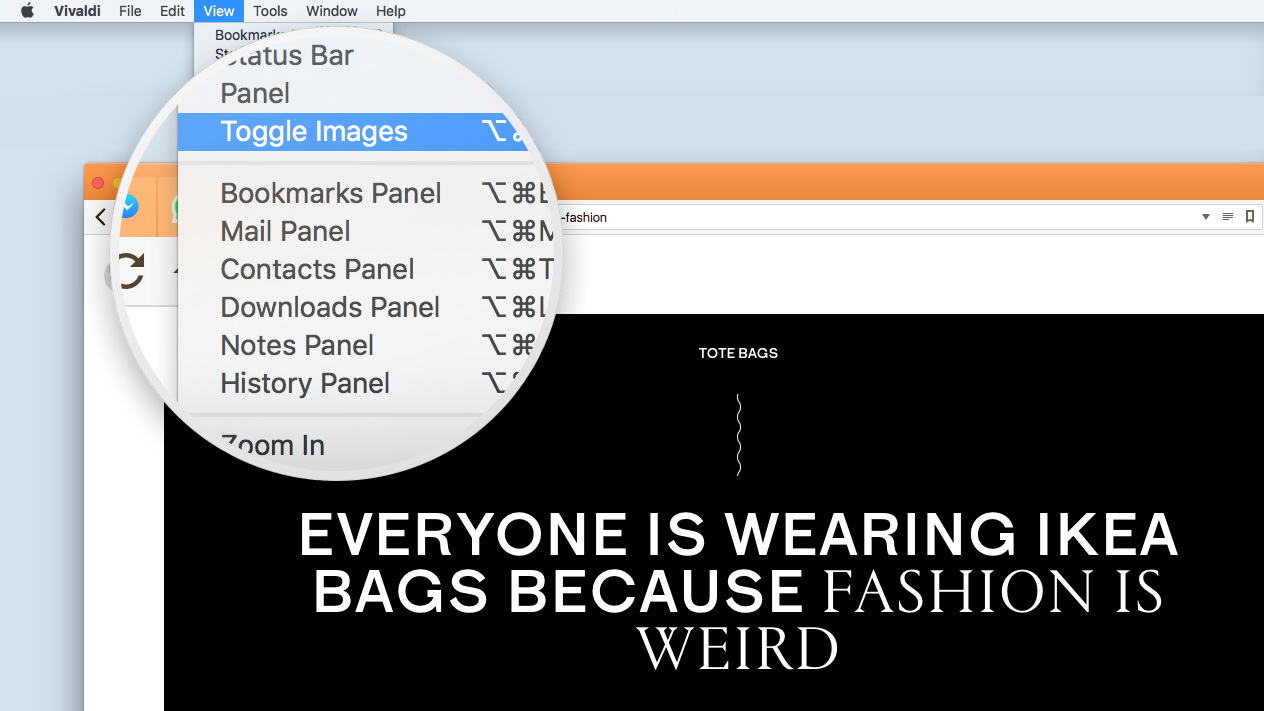 Toggle Images from the View menu
To give you more control over what displays in your browser and what doesn't, we have added an option that allows you to hide images right from the View menu.
Previously, you could only have accessed this functionality from the Status Bar. This was a convenient option for users that had their Status Bar visible. A quick reminder – clicking on a pictogram of an image in the Status Bar gives you a couple of additional options. You can choose whether you want your images to load at all times; to never load or to only load from cache.
The latest addition to the image toggling functionality caters for those of you who prefer a cleaner interface with the Status Bar hidden.
Shortcut to Toggle Images
This new option is also accessible via a shortcut, which makes it even easier to hide images on a web page you're currently viewing. Default shortcuts are Ctrl+Alt+ I or ⌥+⌘+I on macOS. Naturally, you can customize them as you please (Settings > Keyboard > Keyboard Shortcuts > Tab).
Download (1.10.845.3)
Changelog
[New] Add image toggling to the View menu and create shortcut for it (VB-10872)
[Regression][Address field] Wrong caret position in address selection (VB-28361)
[Address Bar] URL open modifiers not working in typed history (VB-28300)
[Address Bar] URL open modifiers not working in search field typed history (VB-28432)
[Bookmarks] Wrong selection when removing bookmark (VB-28222)
[Developer Tools] Crash when using Ctrl+Shift+I twice to open and close devtools (VB-28230)
[Developer Tools] Inspect Extension does not work (VB-28464)
[Developer Tools] Processes continue running in background after closing window (VB-27970)
[Developer Tools] Unable to get multiple floating dev tools instances (VB-28187)
[Downloads] Added items are not always visible in the list (VB-28419)
[Spatial Navigation] Spatial navigation doesn't work in web panels (VB-28237)
[Speed Dial] Prevent secondary buttons to reorder speed dial (VB-28382)
[Speed Dial] Remove column limit (VB-14689)
[Tab bar] Increase minimal vertical tabs width in overflow (VB-24907)
[Tab bar] Minimized tab close button alignment fix (VB-26850)
Closing Vivaldi with an active download leaves ghosts (VB-25418)
Changes to Settings view (VB-13218)
Focus not on page when restoring tabs from session (VB-28191)
Popups fixes (VB-27583)
Search history cannot be displayed after visiting settings (VB-28319)
Updated Chromium to 58.0.3029.114