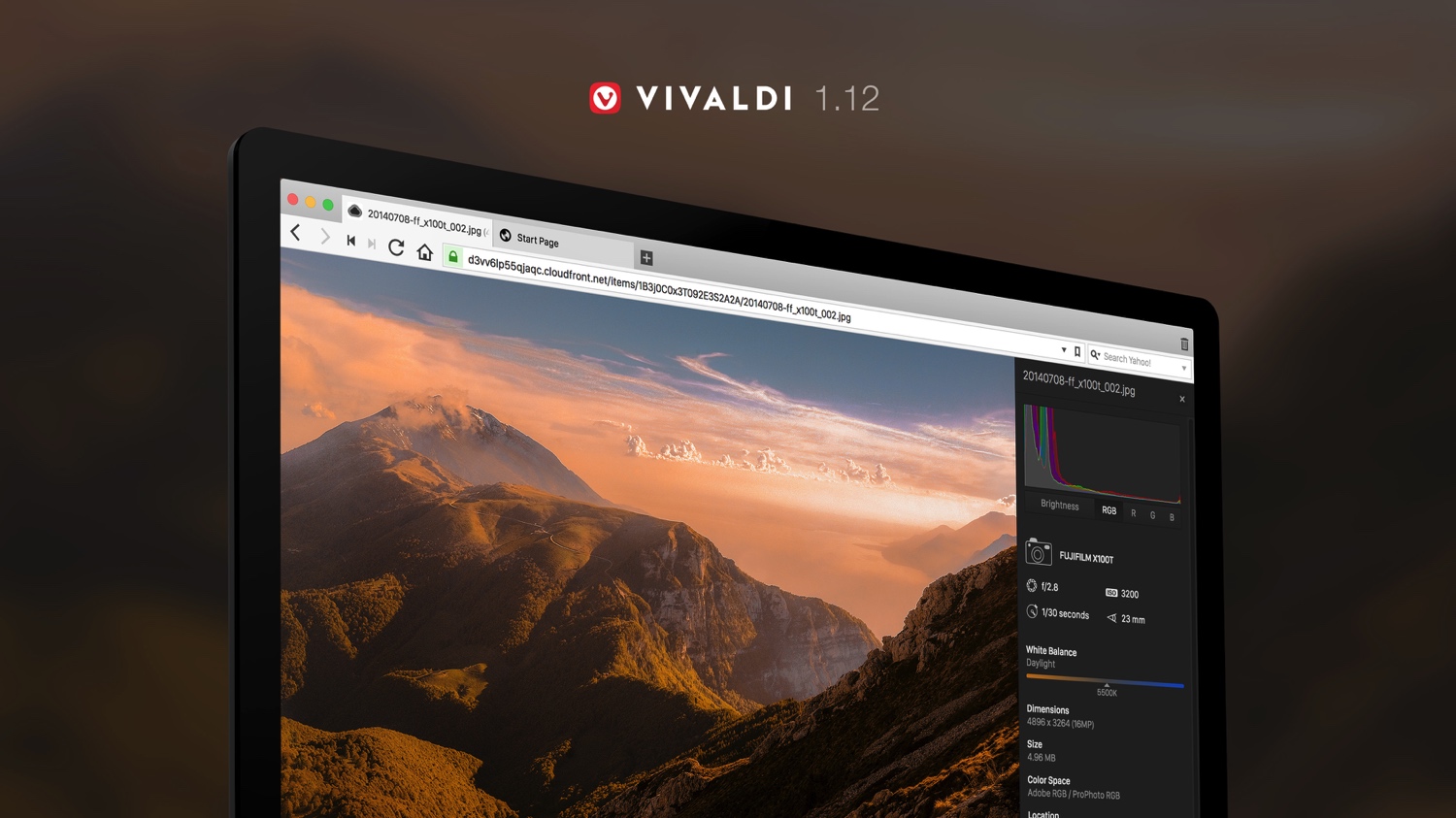 We at Vivaldi want to change the way you live online. Our strong focus on community and respect for unique user needs drive us in our pursuit to give you more.
This is what Vivaldi 1.12 is all about. We have just implemented three brand-new features many of you have been asking us for – instant access to Image Properties, advanced Download Info and an option for toning down saturation for websites' theme colors.
We know you're all waiting for bigger features, such as Sync and Mail, and we do share your sentiment. Let me assure you that we are working hard on giving you these features, as well as other important functionality. In the meanwhile, we also keep sight of other prominent features that you've been asking us to implement.
Get the full picture with built-in Image Properties
Instant access to Image Properties has been one of our most requested features. We've added it to Vivaldi 1.12, which means you can drop an extension or two and find out all the information you need about an image right in the browser. This is part of the Vivaldi philosophy – adding built-in functionality to boost performance and make browsing smarter.
Right-clicking on the image and selecting Image Properties from the drop-down menu reveals all the information available based on the image meta data, such as:
File name and URL
The model of the camera that took the image
Depth of field and sensitivity of the image sensor (ISO)
Exposure and focal length
Histogram, white balance and color space
Dimensions and size
Time and date when the photo was taken
Software used to process the image
We hope that people who work with images – photographers, designers, bloggers and other creators – will appreciate this feature.
Everything you wanted to know about your downloads
With this release, we've added some big improvements to the Downloads Panel. First, we've added a whole new dimension to it, displaying information about the name of the file, download speed, download URL, destination folder, and date and time. We've also added the ability to sort Downloads by type – in addition to name, size, date added and date finished, as well as by address.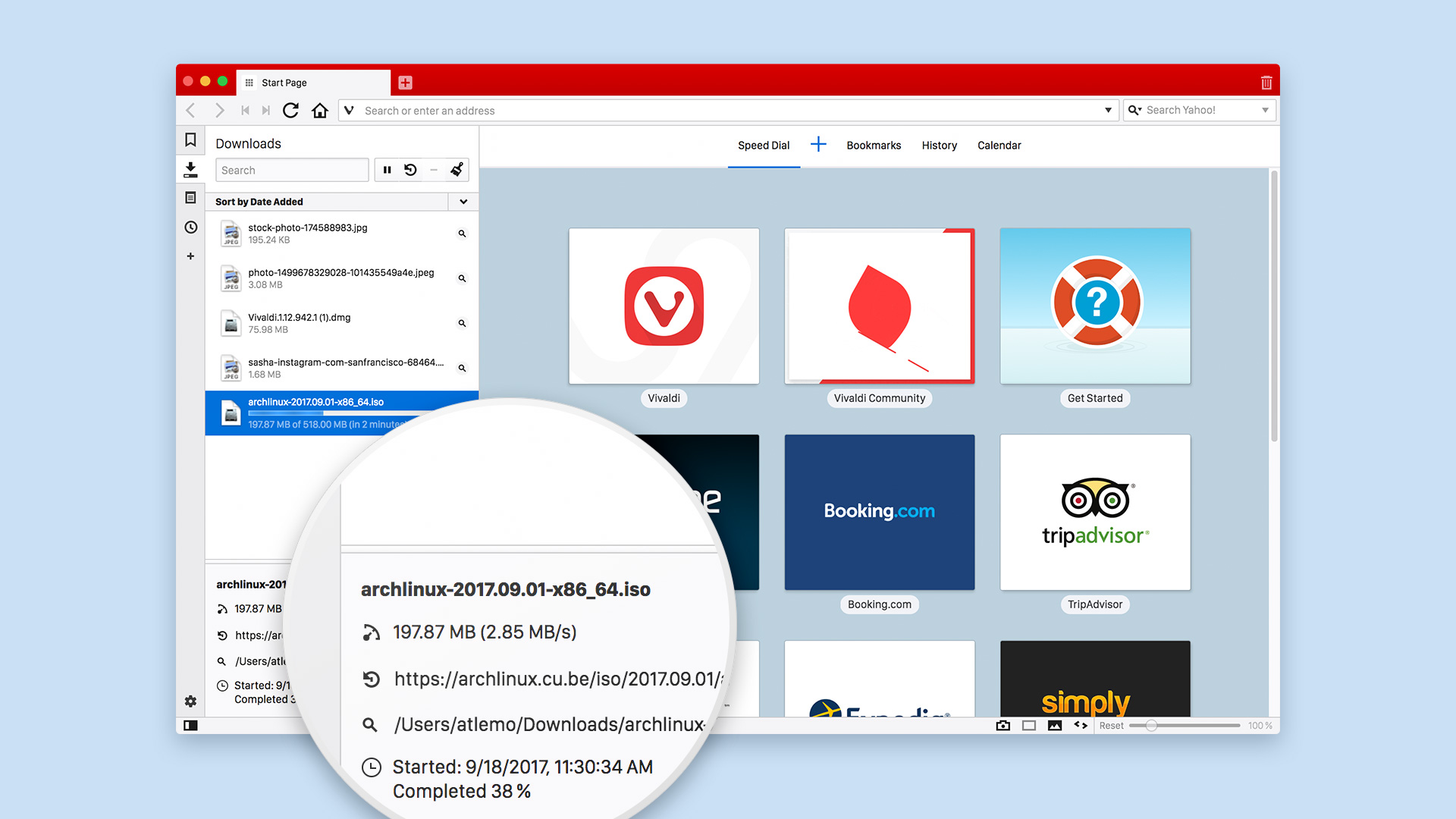 Accent color too bright? No problem.
Another new feature that we've added following up on your requests is the ability to control saturation for websites' theme colors. While we were in the middle of our development cycle, we received a request about this through our Twitter account. @Runewake2 mentioned that YouTube's latest logo update resulted in a rather aggressive accent color in Vivaldi, and our design team immediately took the case. The solution was already in the Snapshot the next day – a slider in the Settings that allows you to adjust the saturation level of accent colors.
Building a browser together
We are immensely grateful and proud to have such a dedicated community of users and volunteers who help us build Vivaldi together. Keep up the great work – we wouldn't be where we are today if it wasn't for you.
Changelog from 1.11 to 1.12
New Features
[Downloads] Add support for "Sort by Type" (VB-32009)
[Downloads] Add Download Info to the Download Panel (VB-6942)
Image Properties (VB-3075)
New setting to limit accent color saturation (VB-32249)
Fixes
Platform
[Mac] Allow selection of background window tabs (VB-30684)
[Mac] Window buttons color scheme (VB-32587)
Address Field
Automatic URL decoding of the address bar strips encoded whitespace characters (VB-30764)
Inconsistent search – depends on keywords order (VB-29626)
Selection is reset on tab updates (VB-30603)
Bookmarks
Bookmark opens on single click even when being renamed (VB-29730)
Create bookmark dialog focus (VB-32132)
Updated some default bookmark links
Vivaldi does not start with many bookmarks (VB-30865)
Media
Page crash with dead bird icon when sound media is loading (VB-28609)
Platform media broken on macOS 10.13 (beta) (VB-32098)
Reader View
Pass text direction to page in Reader View (VB-31914)
Reader View ranges (VB-29192)
Search engines
Change the default search engine for Ukraine (VB-32217)
Custom search engines might be lost after upgrade (VB-32752)
Editing doesn't check required fields (VB-21284)
Old search engines are not removed on upgrade (VB-32702)
Restoring default search always deletes custom ones (VB-30888)
User defined default search engine is restored to Yahoo after update (VB-32089)
Settings
Highlight keyword for search results, search in child components (VB-30887)
Search looks in checkbox and radio button values (VB-30531)
Better structure for Webpages' settings (VB-32346)
Spatial navigation
Selected element prevents scrolling down (VB-30751)
Tab bar
Background tabs don't unmute correctly when active tab gets closed (VB-30368)
Full-screen gap in bottom-positioned tabs (VB-30852)
Moving selected group of tabs results in blank tabs (VB-28377)
Tab minimize interferes with stack renaming (VB-23794)
Tab Stack indicator drag freeze (VB-30646)
View source
View-source: does not show the source code (VB-13899)
View page source shortcut (Ctrl+U) should work just once (VB-11886)
View-source omits colon from URL (VB-20833)
Other fixes
Cast is now a component extension (VB-25092)
Clicking in the search box while still having focus in it selects all text (VB-32082)
Context menu after RMB+scroll tab switch (VB-30497)
Corrected height for Speed Dial thumbnails
Inline rename should save content when edit field loose focus (VB-30744)
Minimize button becomes disabled on macOS (10.11.6) (VB-27574)
Moving a tab stack between windows with context menu breaks (VB-24095)
Most user agent spoof rules have false positives (VB-30645)
[Notes] Folder tree collapses after search (VB-25441)
Overriding window.i in vendor-bundle.js,inject spatnav using strict (VB-31020)
Prevent zoom range input scrolling (VB-30675)
Replace the current Bing search feed with a new one (VB-32416)
Reload image does not work (VB-31976)
Tab casting only sends updates when mouse gets moved (VB-30557)
Typo in StartPage name in Search settings (VB-32295)
When using tabs on left/right/bottom side, Vivaldi icon isn't vertically centered (VB-30844)
Updated translations
Updated Chromium to 61.0.3163.91