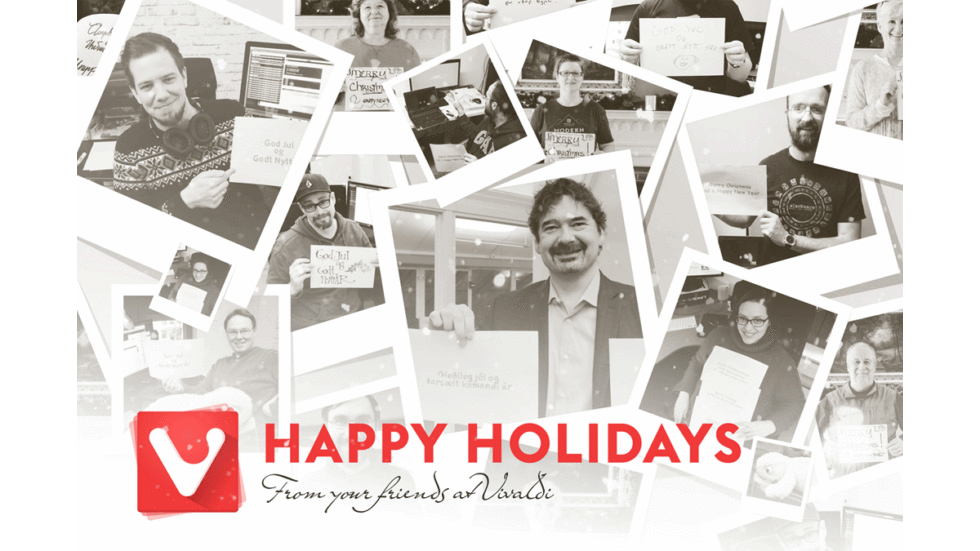 December is the time when I reflect on the year gone by and make plans for the next one. The year of 2016 has been great for Vivaldi. I'm proud and appreciative of all the efforts put in by our team and our community – and all the support we have received from all of you along the way.
My heartfelt thanks goes out to everyone who has been part of our journey this year – our dedicated Sopranos; insightful translations; enthusiastic volunteers; journalists who wrote about us – and everyone else who has contributed to building the Vivaldi browser and spreading the word.
We've had many highlights in 2016, from the launch of our first version in April to six consequent releases. In summer, we have gathered our growing team from different parts of the world in Magnolia, Massachusetts. Vivaldi became the world's most colorful browser with Themes in the 1.3 release and the first browser to venture into the space of the Internet of Things with the 1.5 version.
As for the plans for the year to come, we are working on adding the features you have all been waiting for. The Vivaldi Mail is progressing nicely, along with Sync and many other details that will make the Vivaldi browser even more powerful and flexible. In 2017, we are set to make a historical debut that we can hardly wait to tell you about.
From where I'm writing this, the weather is cold. I brace myself as I step outdoors… Got my coat. Got my gloves. Got my scarf. But at the end of the day, my connections with colleagues and friends are the best reminder that my world is wonderfully warm. And for that, I'm grateful.
In December, when we all are busy with giving gifts and sending cards, I feel it is especially important to appreciate the people in our lives. The best gift we can give to our loved ones is our time. So put everything aside and spend some quality time with your family and friends – and look forward to what 2017 will bring 🙂
I wish you all Happy Holidays and a Happy New Year! Here's a little unconventional Christmas greeting sung by the Icelandic Vivaldi team.