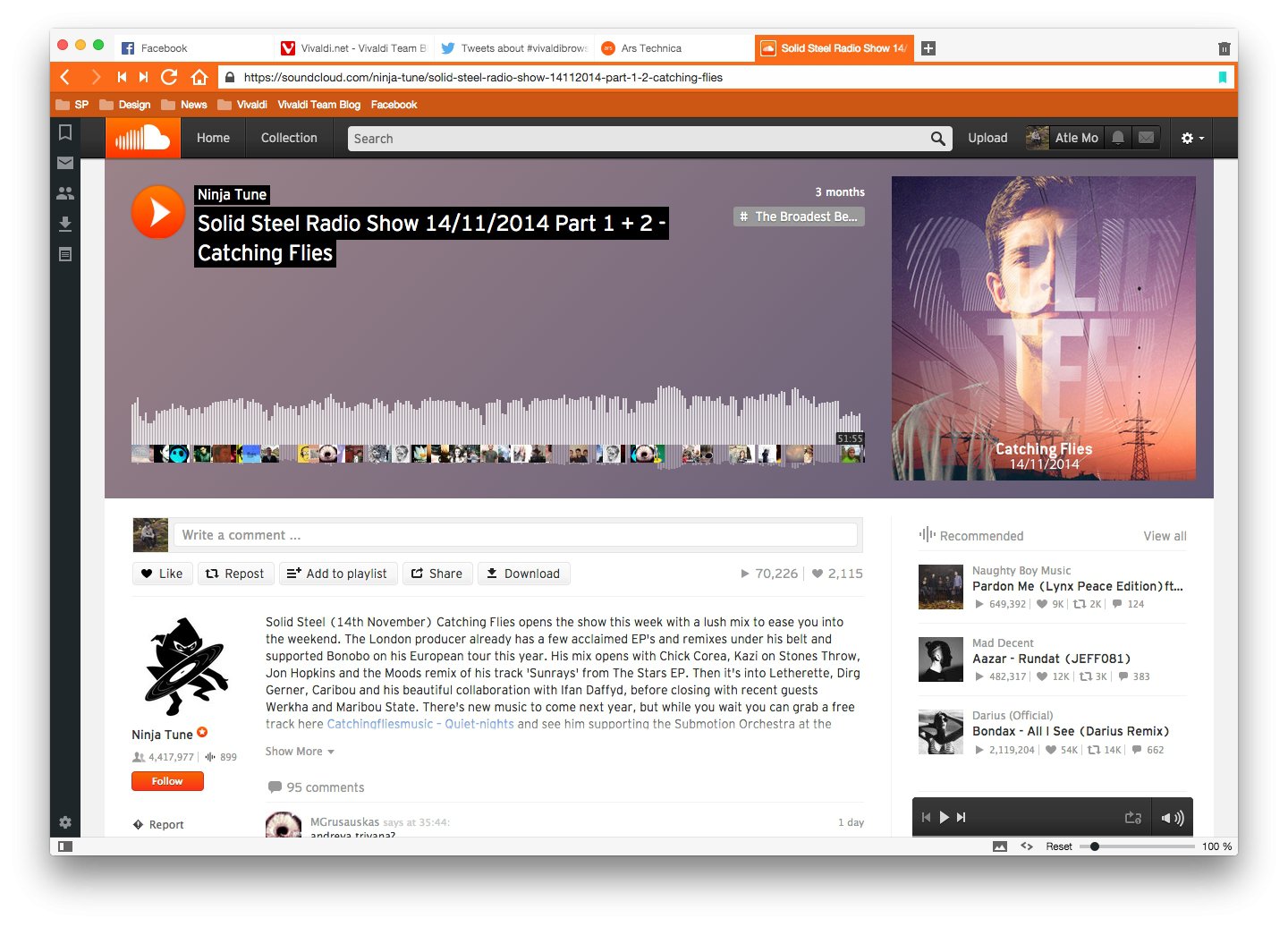 Since the launch of our first public release of Technical Preview 1, we have been working hard to fix as many issues as we can in addition to implementing new features.
Today, we reached a new milestone by launching Technical Preview 2. It will replace the current build we have on www.vivaldi.com
For those of you who have been following our weekly snapshots, this may not be news to you. But for those who haven't, here are some of the changes from Technical Preview 1.
Bookmarks bar
So what's different about our Bookmarks bar? Even though this is still work in progress, you can do few things in a different way: Placing Bookmarks bar at the top or bottom is one of them. Also, you can select ANY bookmark folder to be displayed in the Bookmarks bar.
Image loading toggle
You can turn on and off images, or even load images from cache only. The setting can be applied per tab basis. This improves site loading times quite substantially, especially if you are on slow network connection. We are working on an additional feature which allows you to load images on-demand.
Expanded language support
We have more than 30 languages supported, thanks to our dedicated volunteers who have made this happen in such a short period of time! We are constantly adding more languages to the mix. So, stay tuned and let us know if you would like to help us translate Vivaldi to your language.
Fast-Forward and Rewind
It's one of those features worth mentioning multiple times since it's pretty unique. With Fast-forward, Vivaldi finds the most natural next page within the page you are currently on, such as search engine result or a forum. Rewind allows you to jump straight back to where you started in the domain you are in without going back in one page at a time.
Spatial navigation (Experimental feature)
It's still work in progress but we have improved the heuristics quite a bit. Try it out right now. Just hold down Shift key and use arrow keys to navigate
To download Vivaldi Technical Preview 2, head over to www.Vivaldi.com!
Full changelog from Technical Preview 1 is here.
For those of you who downloaded this week's snapshot already, delta between that build and TP2 is the following
VB-3362 Add Bookmark dialog positioning. Docked the dialog when search field is turned off. Also fixed textarea resizing to vertical only.
VB-3734 Images opened in a tab are not shown completely at full size. Do not center when nonscaled-mode.
VB-3172 Dual Vivaldi icons in the taskbar when using standalone install.
Traditional Chinese language added