We're wrapping up our annual meet-up in Magnolia this week, but not before we get another Snapshot out the door.
In Vivaldi 1.10 we added the ability to use custom thumbnails for Speed Dials on your start page. One issue with this is that people will click the reload / "update thumbnail" button and mistakenly clear their carefully crafted thumbnail. Same goes for the little "x" to delete a Speed Dial; quite annoying to click by mistake. With that in mind we've added a new option to hide these actions when hovering over links in Speed Dial. To adjust these settings go to Settings -> Start Page -> Speed Dial.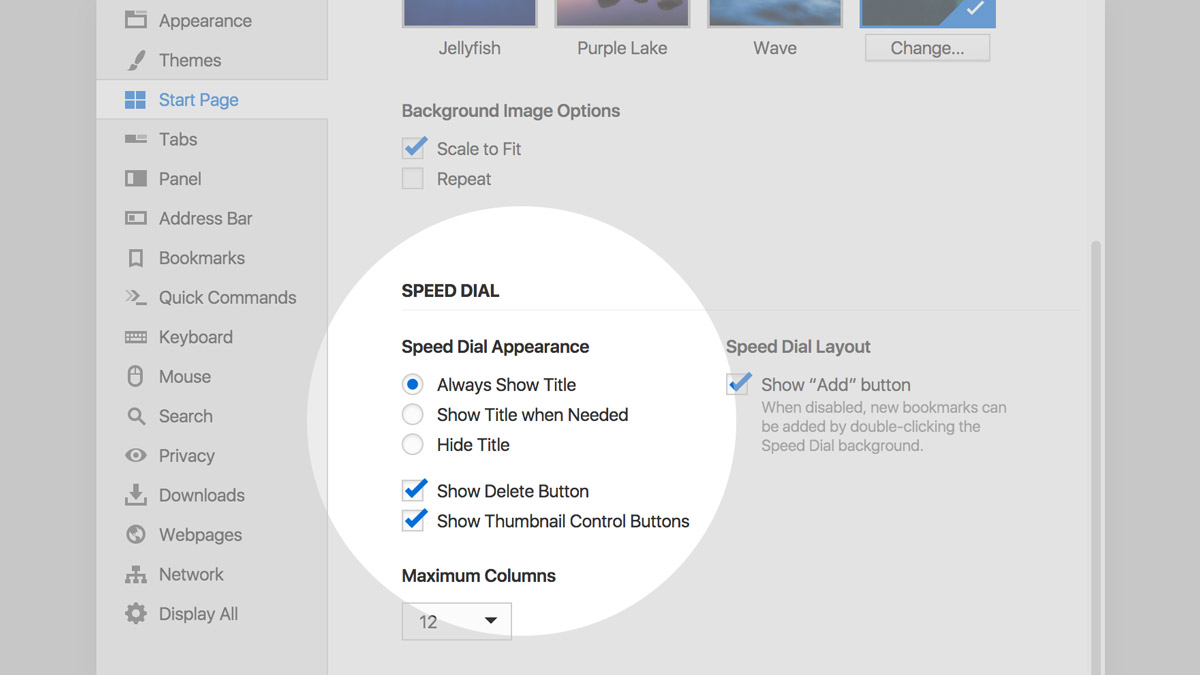 On another note, 32-bit Linux fans can breathe easy again – new builds below!
Download (1.11.890.4)
Changelog
[New] Optional Speed Dial buttons VB-13687
[Regression] Duplicate search engine nicknames are introduced on upgrade VB-29564
[Regression] Navigating between tabs, page content crops VB-29280
[Linux] Compile/link failures in Official Linux 386 VB-28127
[Windows]"Open file with … " message on startup VB-28604
[Bookmarks] Search in bookmarks does not find extra characters like brackets VB-29588
[Media][Windows] Audio stops playing after a while VB-29546
[Media][Windows] Support video/mpeg4 VB-27459
[Media] Proprietary media served with wrong unsupported mimetype fails to play VB-29504
[IME] Japanese IME suggestion is popped up at wrong position VB-26348
[Themes] Allow more fine-grained themes color control VB-29456
[Themes] Color changes does not auto-save when edited by keyboard VB-29581
[URL Field] Improve search in url field for drop down filtering VB-18556
[URL Field] Sometimes deleted chars get autocompleted VB-29692
Accept text/plain as drag type for Web Panels VB-29303
Have "Popup in tab" off by default VB-29742
Opening new instance shows google logo on start page VB-29704
Settings search is not working for 'Toolbar' VB-29332
Tab bar resize performance VB-29510
Vivaldi does not update search engines nor does it add new ones on previous installations VB-28151
Updated translations
Updated Chromium to 59.0.3071.112