We decided to give you this extra build for the weekend because we quickly fixed some of most annoying bugs that prevented a few of you from wanting to upgrade (issues with extensions failing to run and tab problems in vertical layout and Quick Commands). However, we also had time to throw in a nifty new feature and polish things up a bit!
Typed History
If you click arrow down in the address-field—before you type anything—you will get a drop-down showing the typed history. This provides, yet another great way to locate pages you visited before, allowing you to browse even faster.

Prettier Preferences
In settings, we have added icons for each section. This not only looks better but also has a usability advantage. Here is the new preferences dialog from my system. Now it is even easier to quickly locate the section you need, at a glance—even if you don't speak Norwegian! :p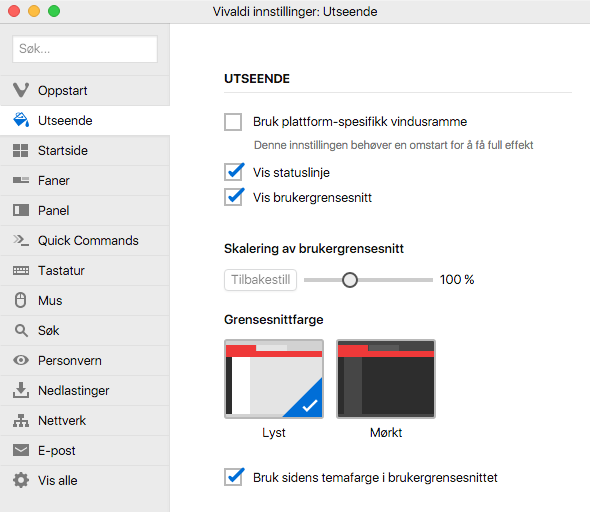 Web panel reload and back buttons
We also added a back and a reload button to the Web panel top tool-bar. Now you can more easily check for updates and go back through the panel's history if you navigated away from the start page.

And there are even more improvements to come. Until then, enjoy the weekend and thanks for the feedback!
EDIT:
The problem with the rate at which we add features, is that it can be hard to keep track of them all!
Smooth Scrolling
In this build we enable something many of you have waited for, smooth scrolling—now on by default! Sorry for not mentioning it before.
If you are not sure what smooth scrolling is, try pressing the HOME key followed by the END key and observe. Compare this to another, older Vivaldi build (e.g. TP4). Alternatively you can start Vivaldi with the --disable-smooth-scrolling command line switch and repeat the experiment.
Download (1.0.252.3)
Changelog
VB-8513 Enable smooth scrolling by default
VB-8433 Settings usability issues: New icons (further work to come)
VB-1214 Missing typed history: work in progress
VB-8548 'Add Web Panel' callout does not go away when clicking on webpage
VB-8544 Web panels lack navigation buttons
VB-8507 Some favicons are not dislayed in web panel buttons
VB-8372 Extension callout does not go away when clicking on webpage
VB-8519 Welcome page is duplicated
VB-7434 Tabs API startup issues: Re-do startup sequence, make tabs extension api work
VB-8318 Context menu click does not start background script if bg is inactive
VB-8307 Regression: CPU usage while idle: sound SVG optimization
VB-8498 [Windows] Conflict between Chromium Browser and Vivaldi browser
VB-8503 When using same URL in url field it doesn't clear selection
VB-8497 Quick Commands no longer lists all open tabs
VB-8436 Blur window shouldn't blur ui: partial fix
VB-8075 Vertical tab bar width is inconsistent
VB-88 Web panels missing: further small style fixes
VB-8343 Extension's popup is cut off if address-bar on bottom