Keyboard activated mouse gestures
Mouse gestures are very convenient. I actually used to use them so much that I accidentally started performing them in Windows Explorer (They really should have those, too!).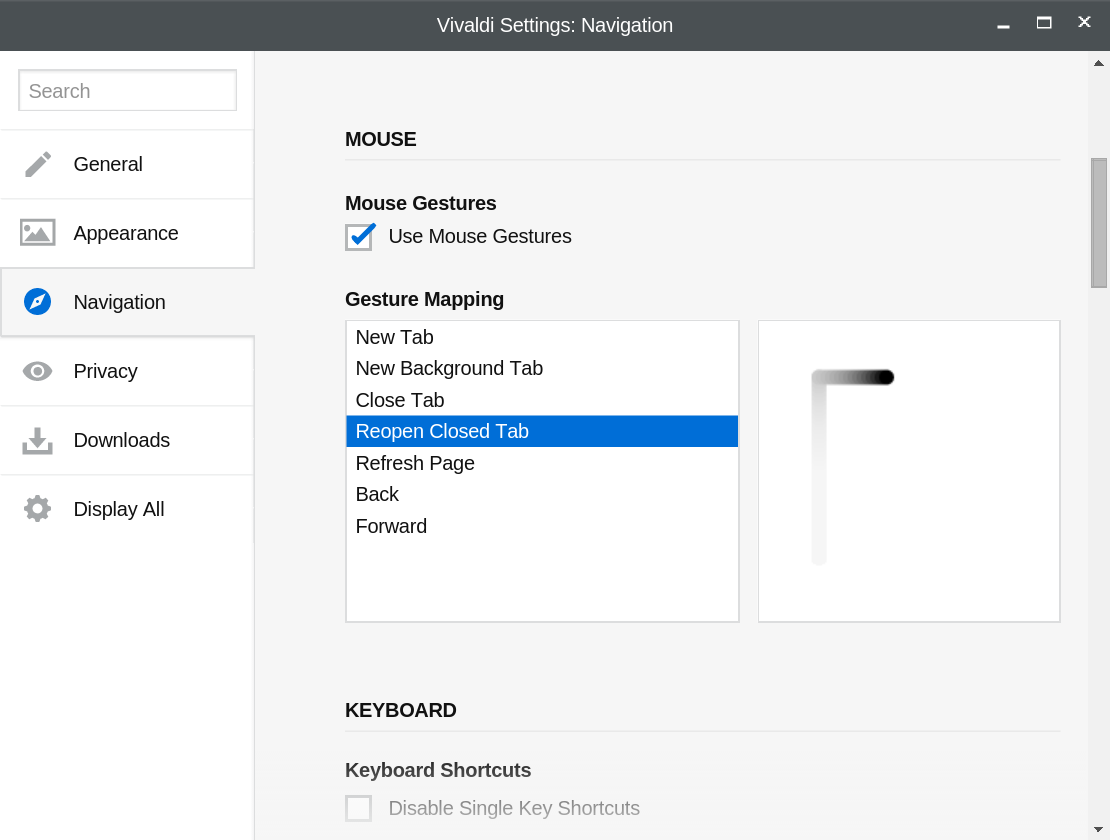 Unfortunately, it has been next to impossible to use them if you are working on a laptop with a touchpad. Until now that is. Starting with this build, you can now either press the right mouse button or the Alt key on your keyboard to trigger them. For example, if you want to go back in History, press Alt key and swipe to the left on your touch pad.
Bug hunt
As we are closing in on another Technical Preview, we are especially interested in any regressions from TP3 and major bugs that you think need to be addressed before distributing to a broader audience. Keep the feedback coming. You guys rock! 🙂
Download (1.0.212)
Changelog
VB-7250 – Add commands to toggle tab bar and address bar

VB-7243 – The search box no longer works

VB-7242 – Mouse wheel tab switching is too sensitive with Apple magic mice

VB-7231 – (Mac) Native window do not display a title

VB-7228 – Vivaldi-color matching algorithm sometimes picks the wrong color

VB-7225 – Spatial navigation outline scrolls the wrong way when page scrolls

VB-7206 – Paste in the address bar sometimes does not trigger the popup with suggestions

VB-7196 – Add checkbox in settings to toggle tab bar

VB-7163 – UI layout breaks with tabs on left/right

VB-7055 – Page content can overlap status bar on resize

VB-6966 – Crash at startup with session loss when closing browser at vivaldi:extensions

VB-6961 – vivaldi:extensions is blank

VB-5318 – Restart button in downloads panel is always active

VB-2849 – Disabling color tabs makes progress bar invisible

VB-7325 – Tabs on the sides without thumbnail have inconsistent size

VB-7315 – Some mice need two scrolls to switch tabs

VB-7289 – Mouse scroll wheel tab switching reverted with rmb

VB-7283 – Drag extension file to extensions page to install

VB-6926 – Activate mouse gestures with Alt key

VB-3774 – Crash installing Adblock Plus

VB-7368 – Wrong font color on the bookmarks page with the dark theme

VB-7347 – URL autocomplete does not work on first attempt

VB-7332 – Unreliable mouse gestures

VB-7285 – Tab thumbnail shows for a brief second on startup then collapses to regular tab view