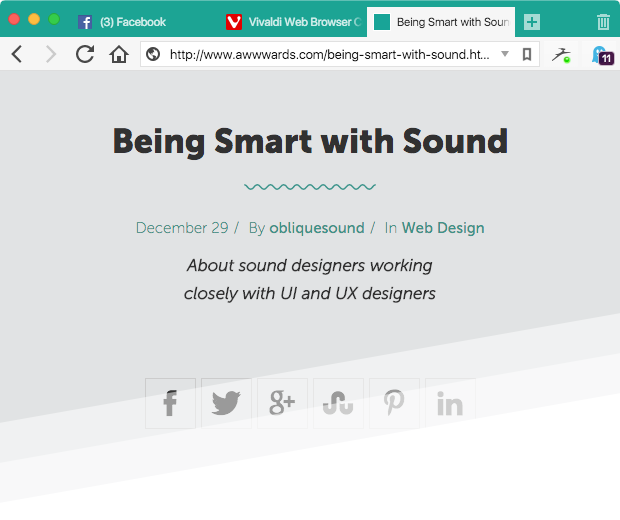 New appearance settings
We love options, you all know that. So today we're adding a new choice under our Appearance settings, called «Color Area behind Tabs». This essentially flips the UI coloring from the active tab to going behind the tabs. In addition to looking great, it's also very useful if you keep a lot of separate windows open to distinguish them from each other.

To enable this, go to Settings (Alt+p or ⌘,) → Appearance → Interface Color, and enable «Use Page Theme Color in User Interface», and check the radio button called «Color Area behind Tabs».
Bug fixes
We made WhatsApp Web work again so you can get back to keeping in touch with your friends. And if you're a Mac user having issues with YouTube & Netflix videos not playing, that's also fixed now.
Enjoy!
Download (1.0.380.2)
Changelog
VB-2752 WhatsApp Web – browser sniffer blocks Vivaldi: tell Whatsapp we are Chrome
VB-9930 [Mac] Problems with playback on YouTube and Netflix (better AAC support)
VB-10188 [Mac] Auto update dialog pops in background: This will be noticable from the update after this
VB-12438 Main menu content order improvements
VB-12387 Zoom indicator is black on black
VB-12360 Offer a setting to color area behind tabs (instead of active tab)
VB-12237 Text garbling in Quick Commands
VB-12363 Close button should be disabled if its not working
VB-12112 Focus to addressfield should select all text
VB-12391 Context menu items in download panel lacks underscores
VB-12190 Bookmarklet's name not set properly when dragging & dropping to Bookmarks bar/panel
VB-12291 Tab context menu does not hide tab preview
VB-7224 Document focus keeps getting lost after having focused address field once
Updated Chromium to version 48.0.2564.88
Scroll page zoom fixes