Today's snapshot adds a trash folder to Bookmarks and Notes, and added the ability to show which panels to display. We also fixed a handful of long-standing bugs, some highlights being adding the missing Up (stop loading) Mouse Gesture and giving you the chance to clear your closed tabs list. We also upgraded Chromium to 47.
Bookmarks and Notes trash
Adding a trash folder to Bookmarks and Notes finally allows those with "deletion remorse" to reverse their mistake.
Panel hiding
Don't need a panel and want to gain some space on the panel bar. Simply right click on the panel bar and untick those you wish to hide. We also added a small request to allow you to access a web panel's URL. This is also now accessible via the panel's context menu.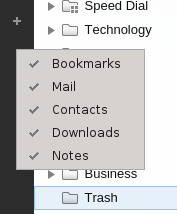 Known issues
Bookmarks bar is empty: go into booksmarks manager and select a folder to be the bookmarks bar
Download (1.0.330.3)
Changelog
Updated to Chromium to 47
VB-3079 Need to encode url before searching, loosing + char etc
VB-10756 Missing Stop mouse gesture (Up)
VB-10700 When turning on the transparent background tabs, shadows don't appear on tabs when dragging tabs to
VB-5590 When Native Window enabled, unnecessary blank space on tab bar in the corner near trash
Find in page focus issues
Increased contrast on typed history
VB-10863 Trash can button misaligned due to span wrapper
VB-2736 [Mac] Double-click on title bar works wrong
VB-2242 Missing trash feature in Notes, bookmarks
VB-5494 Adding a Settings option whether pressing Tab key should focus only form elements or also links
VB-2204 No alert when a nickname already exist when bookmarking
VB-10731 Add more entries to file and view menu
VB-3034 Need a clear closed option for trashed tabs
VB-10609 Adress field doesn't offer default search engine in dropdown list
VB-10771 Tab switching shortcuts mixed up
VB-10775 Wrong context menu shown in Add Web Panel's text field
VB-10633 Find in page dialog does not get focus
VB-2703 Closing Tab/Window not behaving like it should on Mac
VB-1789 Missing ability to decide which panels to show
VB-3034 Add the ability to clear the closed tabs list