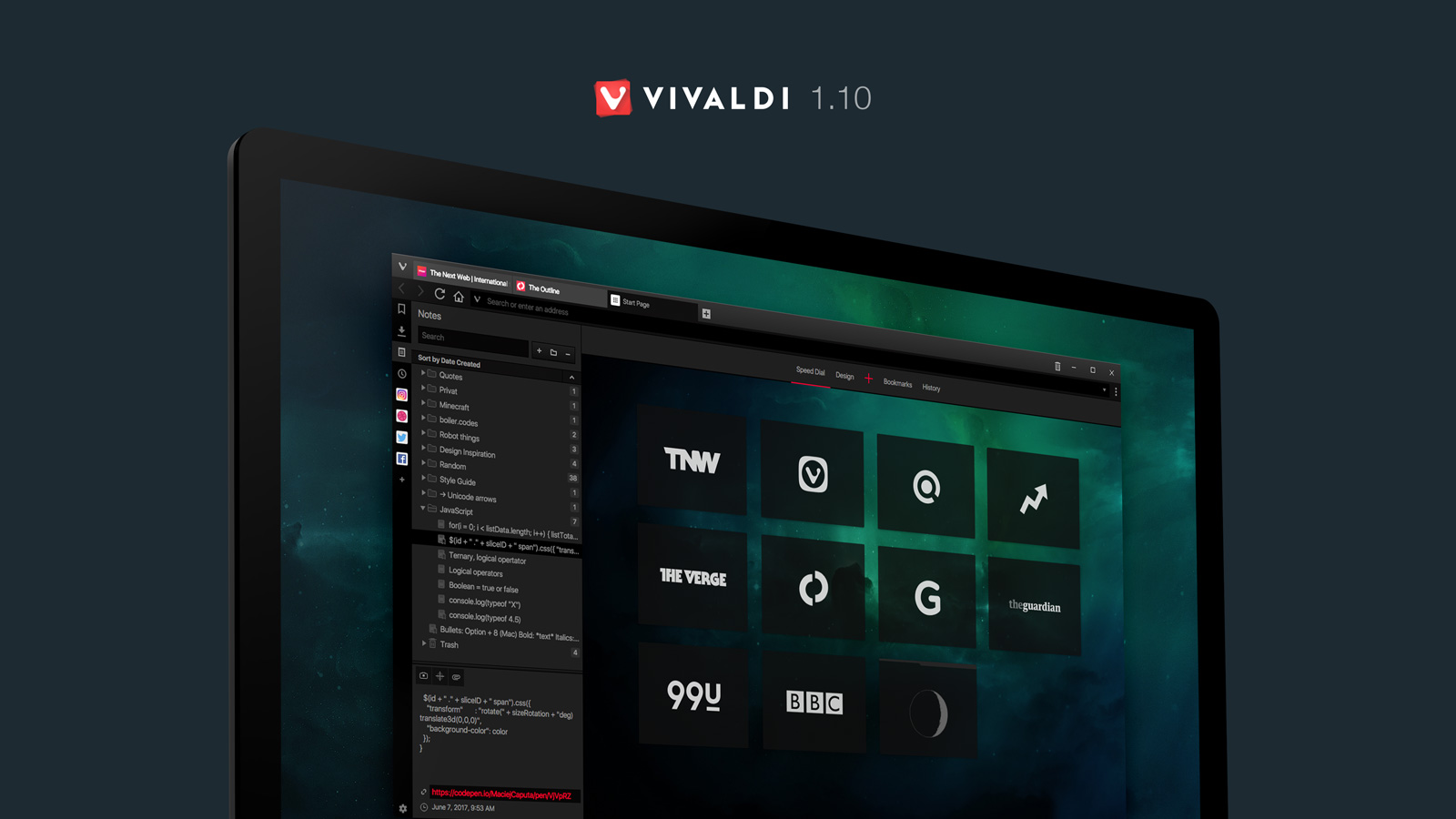 Releasing Vivaldi 1.10, we give you the power for making the Start Page more personal than ever before. You're the one who gets to decide how your Start Page looks, feels and performs. We've also added the much-requested ability to dock the Developer Tools.
Finally, a browser that takes Start Pages seriously
Start Page is a gateway to the web, so why should you be restricted to plain startup pages with limited functionality and boring design? We thought it was about time to give people a browser that takes Start Pages seriously.
At the core of Vivaldi's Start Page are Speed Dials displaying thumbnail galleries of bookmarks. You can add multiple Speed Dials to your Start Page and use these to organize and collect links to your favorite web pages. Thumbnails are generated by default, but with the latest update, you can replace them with custom images or even animated GIFs to create the desired look.
We've also updated the look of the Speed Dial folders. Previously, the icon for a folder would be similar to that of a website, but now it doesn't only look like a folder but also displays its contents. If you don't like the default, guess what. You can replace it with a custom image.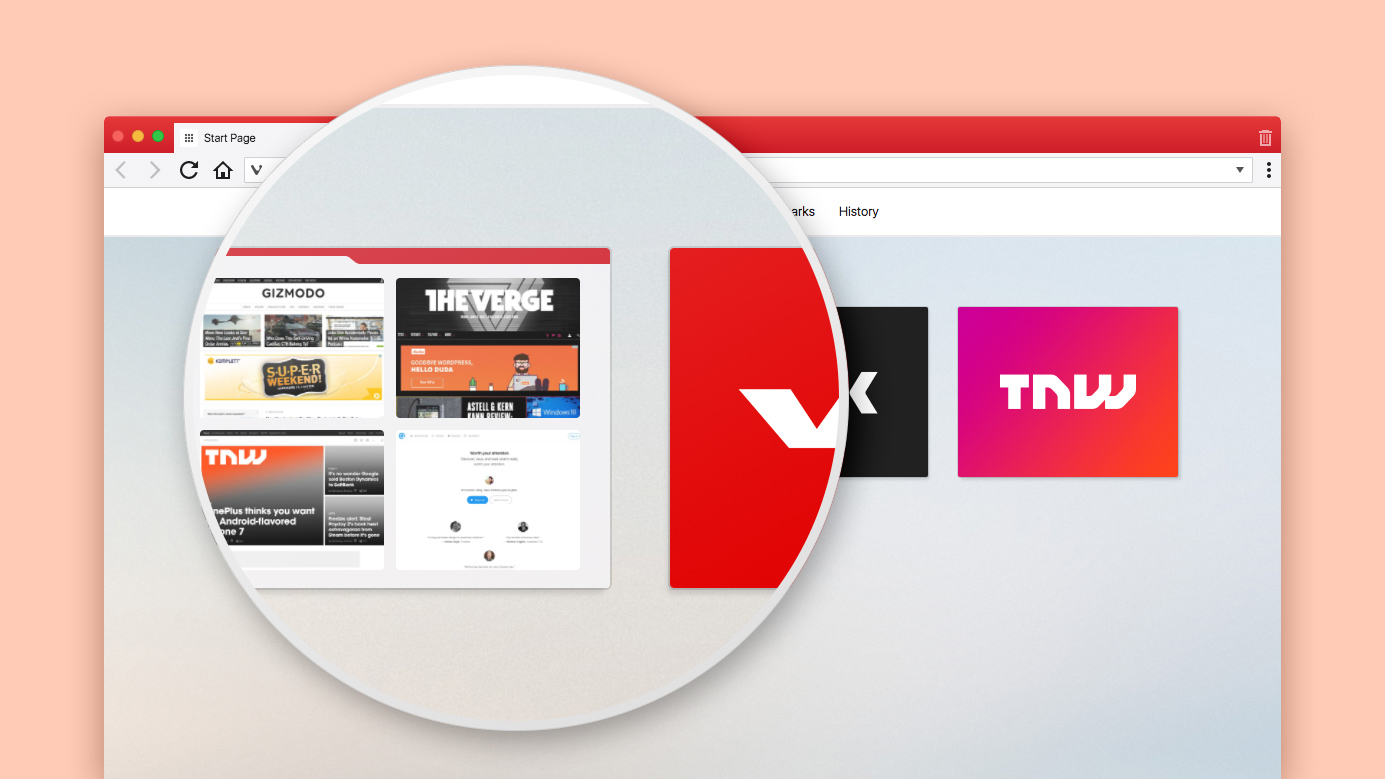 With this release, we've increased the number of columns of thumbnails per Speed Dial to 12. You can also switch off the maximum number altogether, in which case the thumbnails will fill in all available space on your Speed Dial. If you're a Windows user (Windows 8 or above), you can easily set your desktop wallpaper as the Start Page background for a seamless browsing experience.
Developer Tools, now docked
The highlight of the release for the developer community is the ability to dock Developer Tools. Previous versions of Vivaldi only allowed Developer Tools to be opened in a separate window. With the latest release, you can dock the Developer Tools at the bottom or on either side of the screen to inspect elements, test and debug code and more.

Yes to more features
Other new features and improvements include:
Sorting of Downloads in the Side Panel by name, size, date added and date finished, as well as manually.
Toggle image visibility from the View menu or via configurable keyboard shortcut.
Quick Commands improvements for users that like to control everything in their browser from their keyboard. The Quick Commands menu lets users navigate to tabs, find search terms, filter lists of available commands and much more.
Address Bar dropdown list can now exclude bookmarks and typed history.
Controlling new tabs via third-party extensions with additional functionality, such as productivity tools or reminders.
As you can see, while working on some of the bigger features, the Vivaldi team continues improving every part of the browser with feedback and testing from our passionate community of power users – you!
Changelog from 1.9 to 1.10
New Features
Add image toggling to view menu and create shortcut for it (VB-10872)
Add option "Controlled by Extension" to "New Tab Page" settings (VB-20808)
Added options to turn off bookmarks and typed history in the Address Bar drop-down (VB-28979)
Custom Speed Dial thumbnail preview (VB-7179)
Dock Developer Tools to main window (VB-2776)
Implement sorting for Downloads (VB-27902)
Possibility to set an image for a Speed Dial folder (VB-9294)
[Windows] Desktop wallpaper can be used as Start Page background image – Windows 8 and above (VB-24904)
Fixes
Platform
[Mac] "Look Up" selection is offset when "Native Window" is enabled (VB-27792)
[Mac] Tap with three fingers is swallowed (VB-15570)
[Mac] Vivaldi goes to previous page after you right-click and double-click (VB-28562)
[Mac][Media] Improvements in resiliency (VB-23256)
[Mac][Linux] "Rocker Gestures" don't work consistently if "Allow Gestures" is disabled (VB-28632)
[Linux] UI context menus do not show up on long touch (VB-17457)
Address Field
Copy URL doesn't work properly for some characters (VB-28662)
Focus not in the URL field on Speed Dial when closing tab (VB-28080)
The single quote character displayed as HTML code in the search suggestions (VB-27576)
URL open modifiers not working in typed history (VB-28300)
URL open modifiers not working in search field typed history (VB-28432)
Vivaldi-prefixed URLs incorrectly rank highest in autocomplete (VB-27678)
Wrong text selection behavior in URL field after pressing Shift+End (VB-27524)
[IME] Cannot go to some pages by "Cut and Copy Encoded" (VB-28747)
Quick Commands
Add the page actions to Quick Commands (VB-20515)
Allow content type exclusion (VB-25935)
Allow internal pages (VB-10785)
Fallback icon for open tabs (VB-28643)
Enabling reader mode from Quick Commands removes focus from the web page (VB-28058)
Hint autocompletion (VB-7897)
Keep focus in Quick Commands on page load or tab switch (VB-28558)
Omit irrelevant commands (VB-26261)
Search includes bookmarks from Trash (VB-28678)
Show number of open tabs in title (VB-14650)
Typing gets increasingly slow with a big set of bookmarks (VB-7463)
PgDown and PgUp handling (VB-22598)
Pin/Unpin tab (VB-26181)
Speed Dial
Add to Speed Dial drawer does not close on Bookmarks, History (VB-2613)
Dragging Speed Dial bookmarks might break Speed Dial (VB-14546)
Provide a visual hint of pages for folders (VB-6192)
Remove column limit (VB-14689)
Start Page has wrong dimension when tiled (VB-27696)
Extensions
Hard to move extension icons by dragging when "Use Animation" is off (VB-27959)
Mouse scroll does not work on tab opened by a Chrome extension using window.open (VB-28279)
Only the first window extension order is remembered (VB-27948)
Options in Click&Clean extension do not work (VB-20369)
Pop-up windows from extensions in address bar sized incorrectly (VB-25663)
IME fixes
Japanese text to be confirmed while renaming tab stack (VB-28576)
Unconfirmed text disappears on click (VB-24108)
[Mac] Illegal character code inserts (VB-24957)
[Mac] Pressing Enter confirms bookmark info while typing in Japanese (VB-28418)
Other changes
[Bookmarks] Wrong selection when removing bookmark (VB-28222)
[Downloads] Added items are not always visible in the list (VB-28419)
[Downloads] Progress bar does now show up when restarting (VB-27967)
[Media] Renderer crashes, if I want to play sound on dictionary.cambridge.org (VB-27469)
[Media] Turn on MSE (Media Source Extensions) handling of MP3 (VB-27381)
[Notes] Let "Insert Note" menu use sub menus (VB-27778)
[Notes] Search in Notes does not find folders (VB-28109)
[Spatial Navigation] Spatial navigation skips links (VB-27061)
[Spatial Navigation] Spatial navigation doesn't work in web panels (VB-28237)
[Search Engines] Rename Yandex to Яндекс (VB-5176)
[Settings] Allow multiline titles (VB-28541)
[Settings] Renaming autoupdate to updates (VB-26835)
[Start Page] Cannot set local image as Start Page background from context menu (VB-12282)
[Tab bar] Increase minimal vertical tabs width in overflow (VB-24907)
[Tab bar] Minimized tab close button alignment fix (VB-26850)
[Tab Bar] Stack indicator overlaps favicon & counter (VB-24205)
[Themes] "Fade foreground colours when out of focus" cannot be disabled/enabled second time you open settings (VB-19901)
[Themes] Prevent duplicate names (VB-28794)
[Web Panels] Favicons are not transparent (VB-27726)
Add ability to customize the minor version in the User Agent string (VB-28565)
Added setting for focusing webview on new tab (VB-27034)
Blurry update dialog – enable high DPI support (VB-29108)
Cloned pinned tab does not appear on tab bar until switching to another tab (VB-25025)
Closing Vivaldi with an active download leaves ghosts (VB-25418)
Changes to Settings view (VB-13218)
Color gesture strokes in settings (VB-21975)
Crash when configured startup page is a page with basic authentication (VB-29124)
Focus not on page when restoring tabs from session (VB-28191)
Full page capture does not capture canvas content (VB-28649)
Pop-up fixes (VB-27583)
Remove Winsparkle from Vivaldi and always use the UpdateNotifier for updating (VB-26833)
Search for mail address in Address Bar (VB-28890)
Search history cannot be displayed after visiting settings (VB-28319)
Settings window can be opened with the reopen tab mouse gesture (VB-9603)
Spatial navigation improvements (VB-28677)
Suspend support for Linux 32-bit for Vivaldi 1.10
The tab opened from view source in private window acts like a non-private tab (VB-25251)
vivaldi:gpu appearing on paste and Esc in the URL field (VB-28264)
Windows close button at edge (VB-27361)
Updated translations
Updated Chromium to 59.0.3071.90