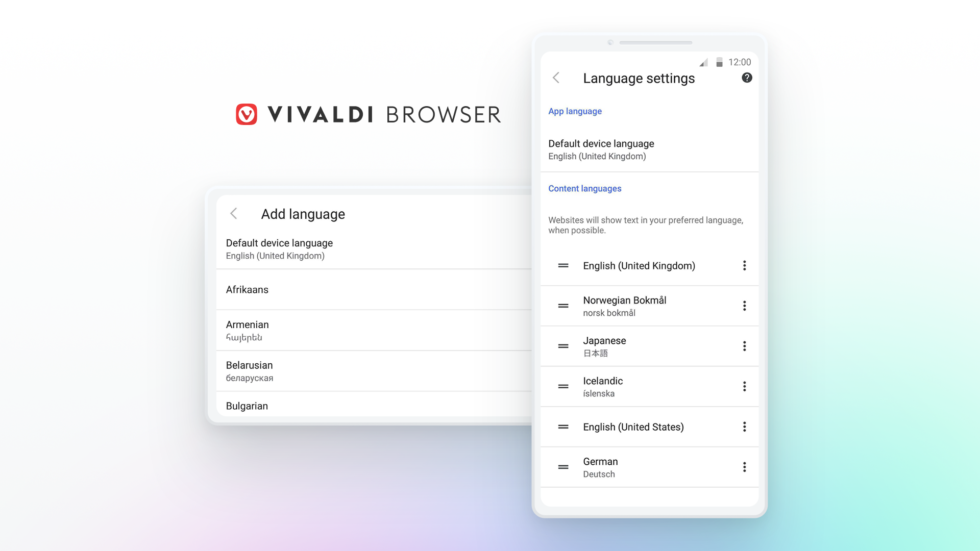 We're building a browser that works for everyone.
That's why the latest version of Vivaldi on Android delivers better language support. It's multilingual approach now lets you change the language of the user interface of the browser irrespective of the default language of the device.
The new update gives you the ability to block cookie dialogs and banners with our new, built-in Cookie Crumbler. We listen to you and that is why we've added an option to access the Start Page from the Address Bar, a quick way to get to your Speed Dials faster.
Download Vivaldi 3.8 for free on mobiles and tablets running Android 5 or higher, and on up-to-date Chromebooks
Feel at home with the Language Switcher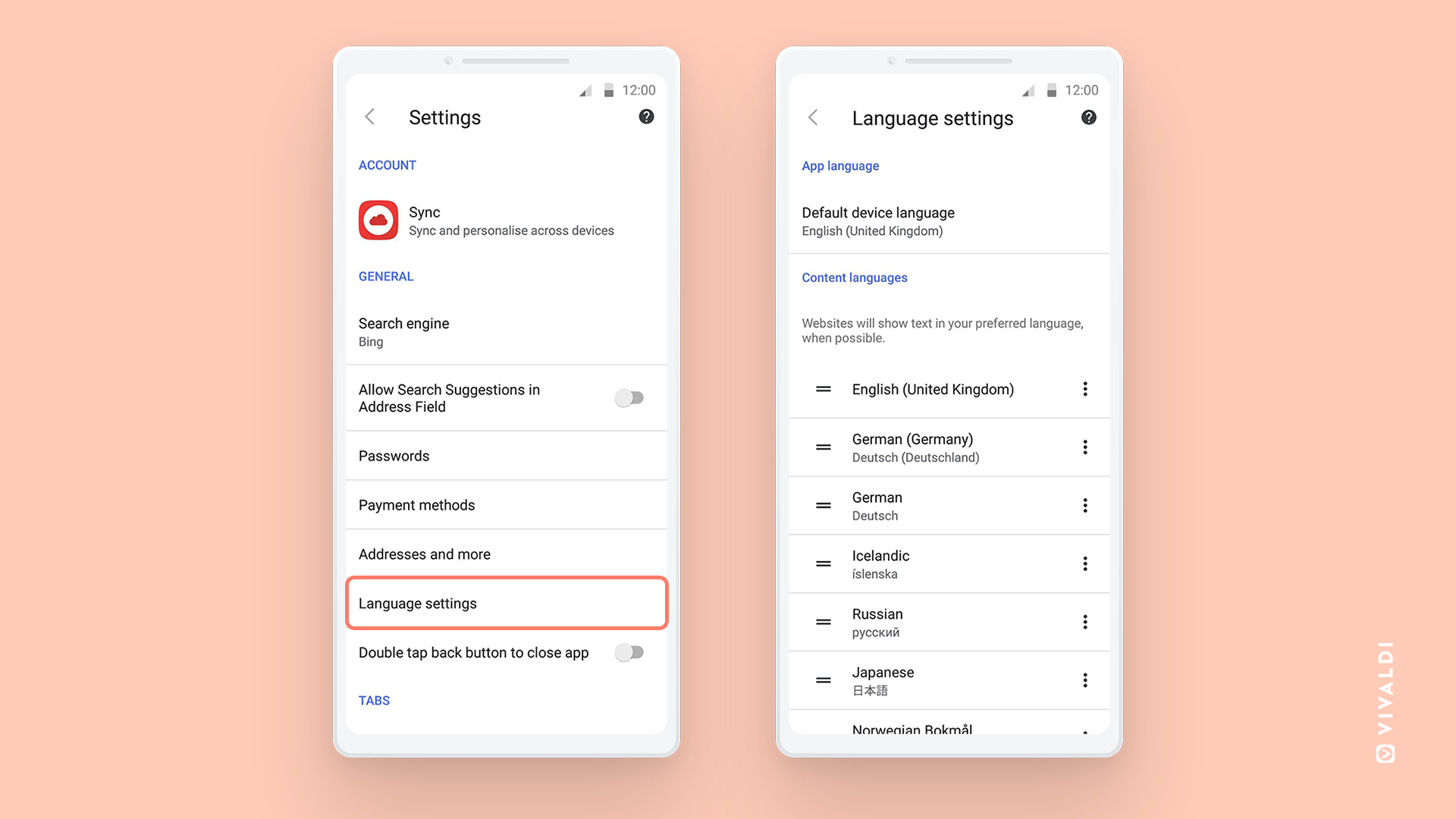 Earlier, the UI (user interface) of the browser would use the language of the Android OS (operating system) but now with a Language Switcher you can select your preferred language from the list of 41 languages that Vivaldi offers.
Much-requested by Vivaldi users, this new feature adapts to different workflows of our multilingual users, as all our features in the browser do and should. For example, you have a device that has English as its default but you would like to explain a certain thing to your grandmother in the browser who only understands Japanese. This is now possible.
Language Switcher, the new language setting makes sure that the browser is easy to use and understood by anyone. Choose a different language by simply going to Settings – Language Settings – App language.
Language barriers are one of the biggest obstacles to internet adoption. Breaking them means giving more accessibility to users. Our ongoing efforts to add improved language support will help users greatly to browse efficiently in their native languages.
So long cookie dialogs! Here comes the Cookie Crumbler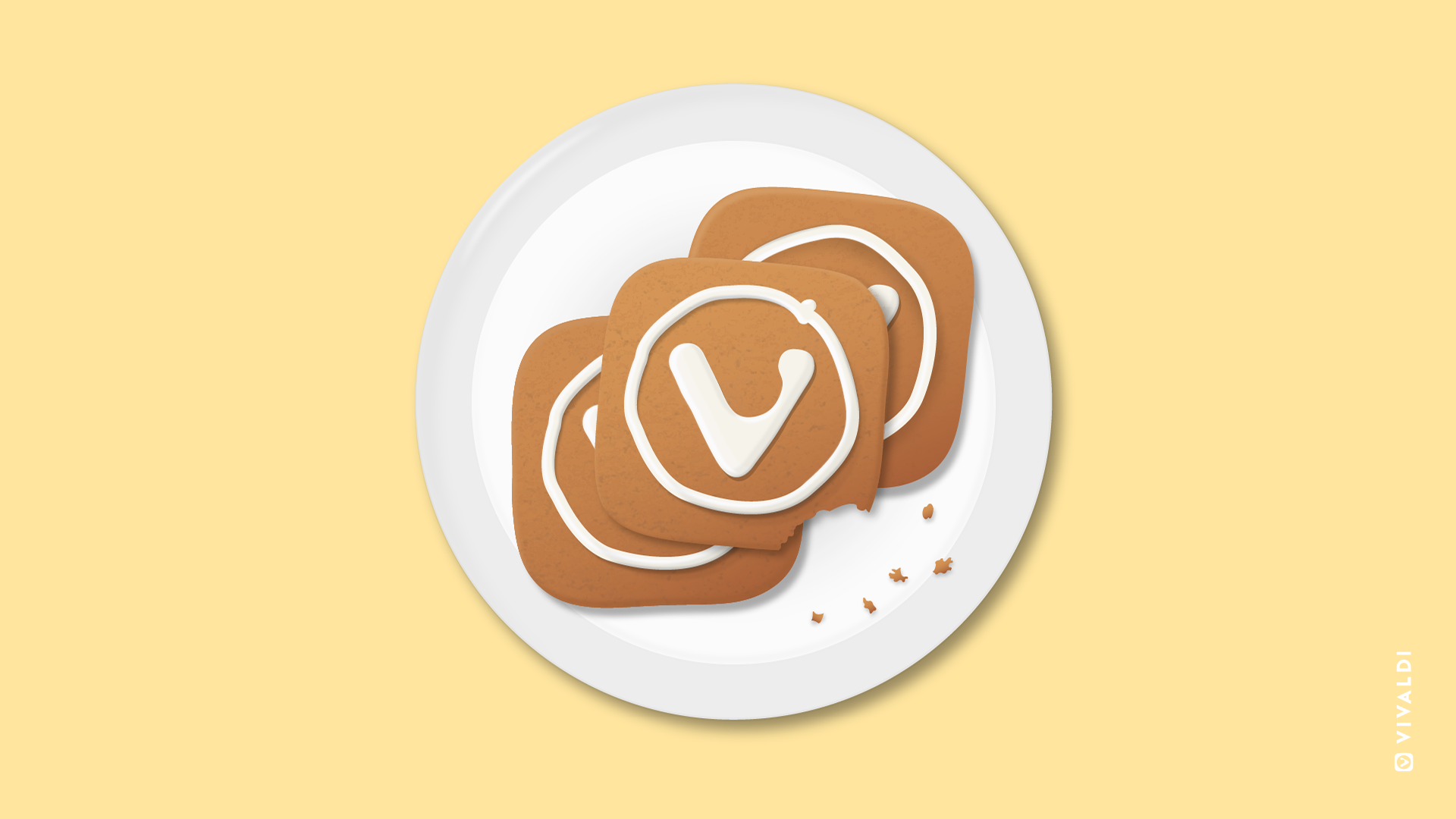 Many of you are fed up with incessant cookie dialogs and banners and wish to browse smoothly without any disruptions.
Even though the regulation (the EU's GDPR) to protect users from tracking websites has good intent, many websites bother users to manage their cookie preferences before allowing them access. This results in frustration and leads to clicking "allow" or "accept" on these dialogs without realizing that you may have unknowingly given permission for trackers to create behavioral profiles about you.
The solution to this problem is Vivaldi's Cookie Crumbler. Similar to Vivaldi desktop, this feature is built into Vivaldi's Ad and Tracker Blocker, helping users block the majority of cookie dialogs and banners.
Simply go to Vivaldi Settings — Privacy — Enable Tracker and Ad blocking — Manage Sources — Ad blocking sources and enable the "Remove cookie warnings" lists.
This will block the service that asks for consent, or hide the consent dialog, in the same way as it might remove a tracker or an ad.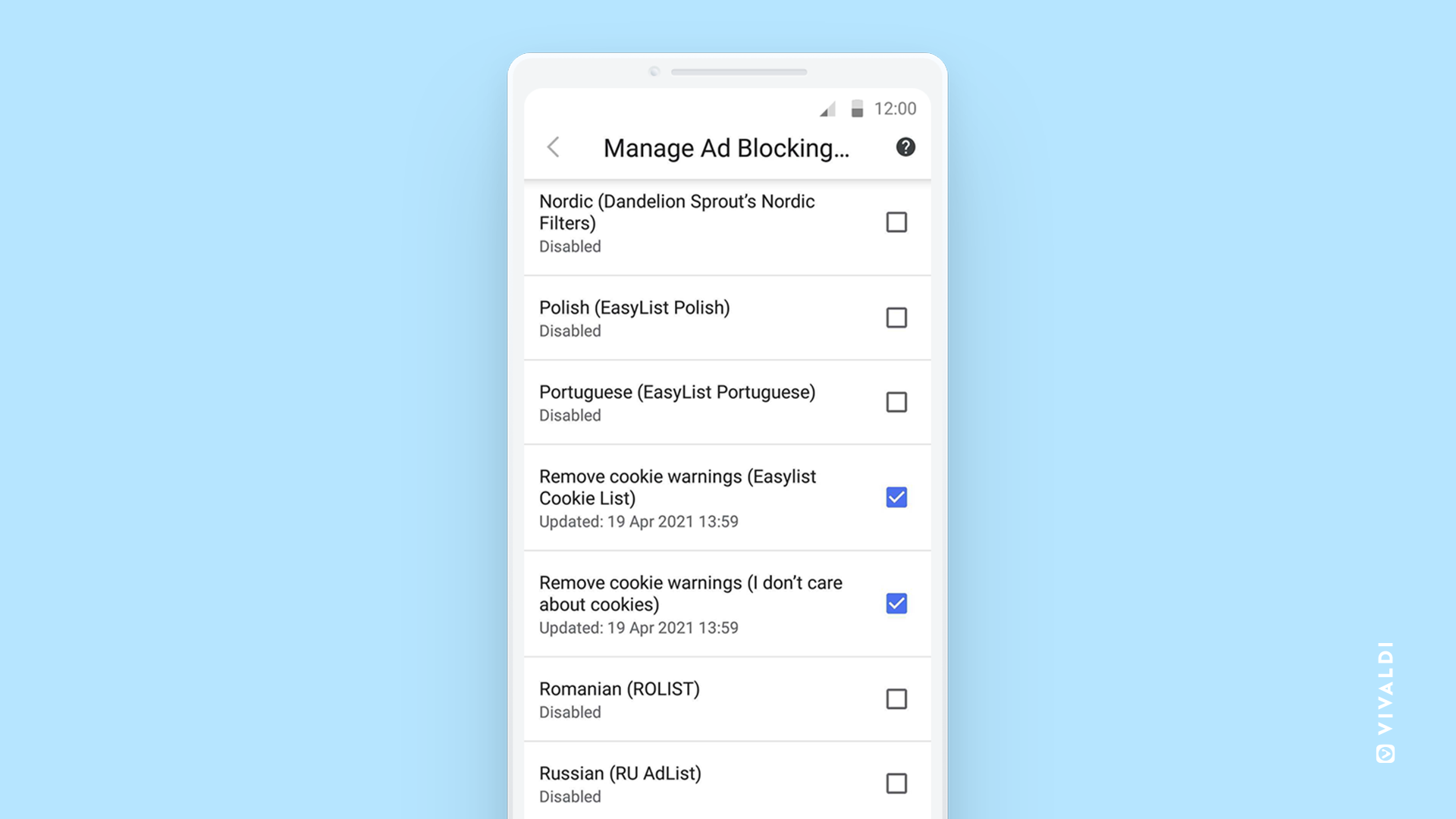 This feature is based on the regularly updated third-party block lists — EasyList Cookie List and "I Don't Care About Cookies'. While Cookie Crumbler works on most of the websites, this is not a perfect solution, as there will be a few websites that use other tactics to obtain cookie consent.
Some sites may not let you in at all and may not work as you expect them to as they actually require cookie consent for some functionality but you can disable Vivaldi Ad Blocker on those sites to disable the Cookie Crumbler. Please note that blocking cookie consent dialogs may not have the same result as rejecting all cookies on some websites.
It's back as an option! A super-simple way to access the Start Page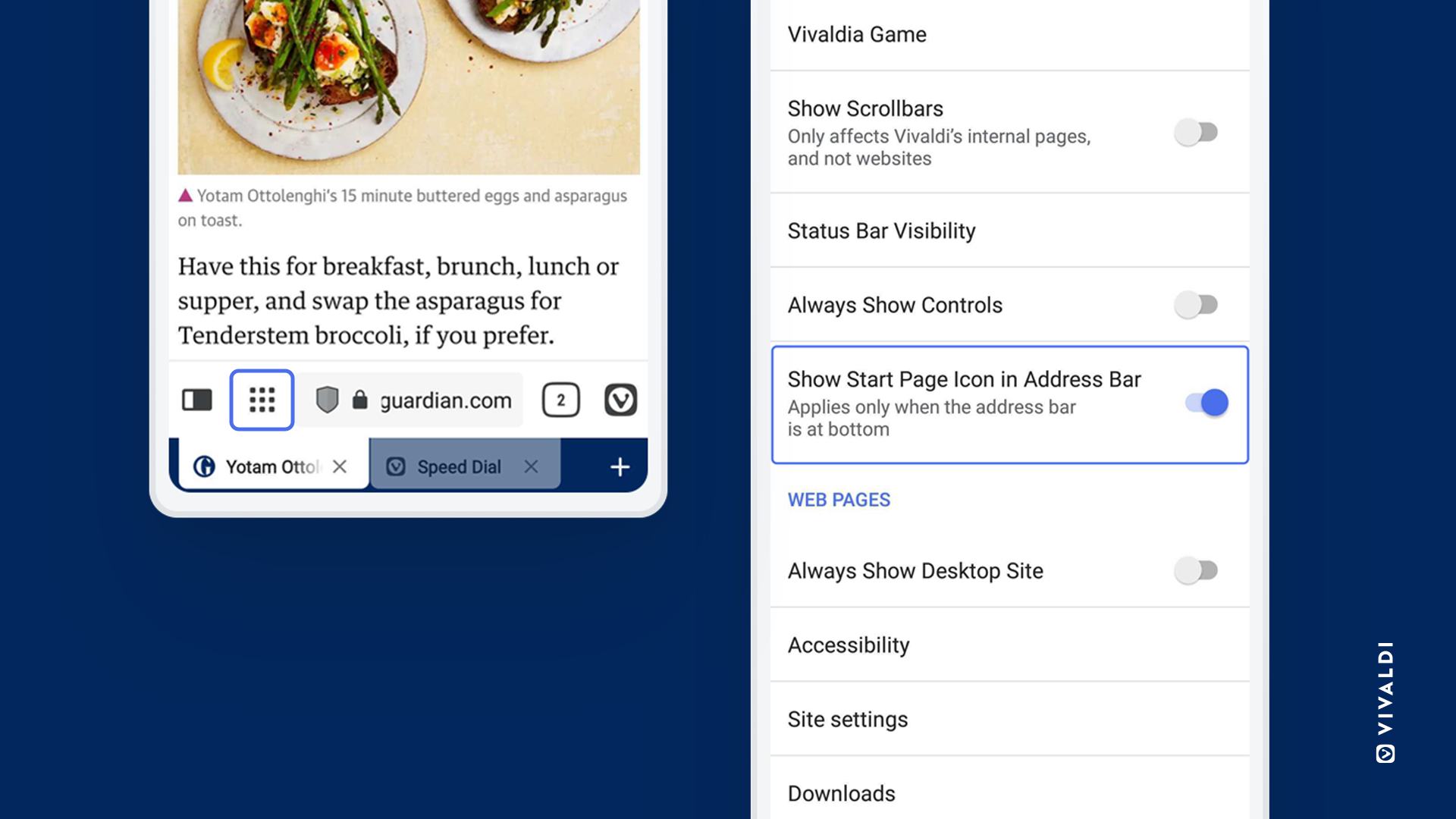 Your browser should let you get things done quickly and easily with a user interface that works for you.
A while back we implemented a very popular feature request, allowing you to move the Address Bar to the bottom of the screen for easy reach. This unfortunately meant that the Start Page button no longer fit on the bottom toolbar.
Many of you still wished to see the Start Page button there, so we've now made it an option. Toggle it and off from Vivaldi menu > Settings > Appearance.
Download Vivaldi 3.8 on Android
Vivaldi's new version is a result of what you've asked for. Enough reason for you to download? Your feedback matters. Happy to get ⭐️ ⭐️ ⭐️ ⭐️ ⭐️ on the Google Playstore, and Uptodown, the Android app store.
We've also launched a new version of Vivaldi for Windows, macOS and Linux – check it out!
Here's the changelog for more details:

Changelog from version 3.7 to version 3.8
[New] Add option to change application language VAB-845
[New][Settings] Always show controls VAB-3326
[New][Settings] Status bar visibility setting VAB-3668
[New][Settings] Show start page icon in the address bar VAB-2924
[Add blocking] Improvements VB-77835
[Bookmarks] Adding a bookmark to root in the panel should not be possible VAB-3744
[Bookmarks] Can't change parent folder in Add Folder dialogue VAB-3573
[Bookmarks] Can't return to Bookmarks folder from the parent folder VAB-3562
[Bookmarks] Consistently disable choosing folder when adding Speed Dial inside a start page VAB-3571
[Bookmarks] Parent folder update issue in Bookmark edit dialog VAB-3564
[Bookmarks] Refactoring Vivaldi bookmark dialogs VAB-3563
[Bookmarks] Separators are counted but invisible VAB-3408
[Dark mode] Improvements VAB-3464
[Search Engine] Incorrect Bing icon in the address bar VAB-3770
[Tab bar] Tab size shrinks in changing themes VAB-2985
[Tablet] Can not close a tab from tab switcher VAB-3733
[Tablet] Grey space at the bottom when the toolbar is at the top VAB-3742
[Tablet] New Design Welcome Page VAB-3727
[UI] Do not color navigation when tabs are on top and Tab Bar is disabled VAB-3611
[UI] Search icon doesn't show all the time in the bottom bar VAB-3615
[UI] Space at the bottom when the keyboard is visible VAB-3767
[UI] Use Vivaldi specific snackbar VAB-3545
[Welcome page] Should display in fullscreen on tablets VAB-3631
[Welcome page] Tab style images are truncated in smaller screens VAB-3622
Upgraded Chromium to 90.0.4430.95