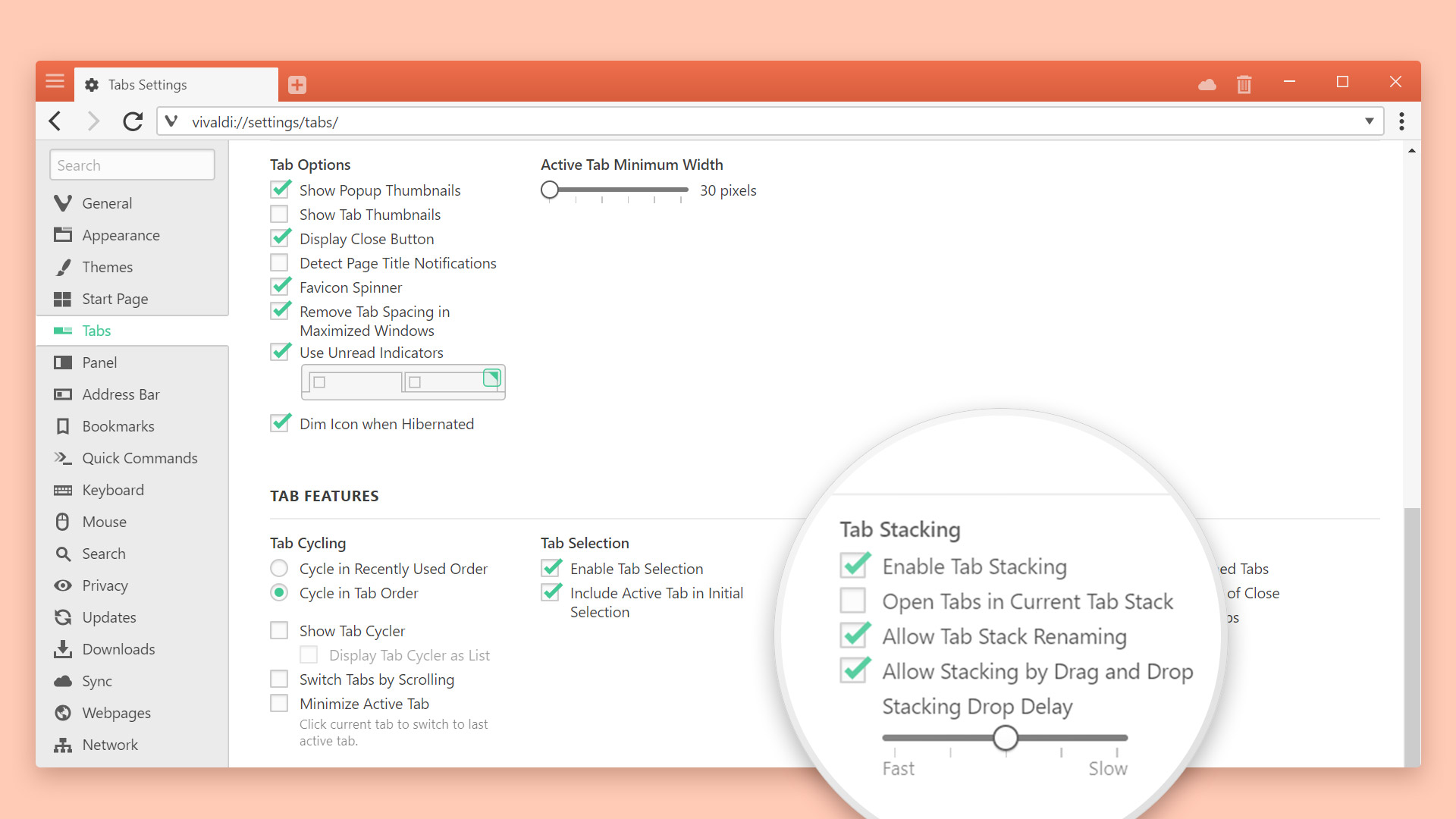 Tab stacking options
We know you love playing around with your tabs and we give you the best possible ways to manage them. Keeping this in mind, we are introducing yet another way to control tab stacking. Now you can disable 'tab stacking by drag and drop'. So all you tab lovers, from now on your tabs won't move around accidentally. Go to 'Settings – Tabs – Tab stacking – Allow Stacking By Drag and Drop'.
If this option is enabled, you can adjust the speed with the tab hover delay, another interesting option that gives you more control ('Settings – Tabs – Tab stacking – Stacking Drop Delay'). This will help you to avoid creating tab stacks by accident.
Bookmark bar content syncing
In this Snapshot, it is also possible to sync the content of the bookmarks bar. We know you've been waiting for this.
Give this Snapshot a try and help us test these new additions to the browser. As always, we are waiting for your feedback.
Download (1462.4)
Changelog
[New] Make it possible to sync the content of the bookmarks bar VB-38212
[New] Tab stacking drag and drop setting VB-48016
[Linux] Bookmark in folder can open in multiple tabs VB-45752
[Mac] Selecting New Window in the dock does nothing if Vivaldi is in the background VB-17695
[Regression] Blank page when open new tab and no Speed Dial folder is selected VB-49258
[Regression] Can not rearrange speed dial folder content using touchscreen VB-49072
[Regression] Default page zoom level fix VB-49153
[Regression] Freeze when using Find-in-page VB-49251
[Regression] Mouse wheel doesn't zoom page when hovering zoom slider at the bottom right VB-47900
[Regression] Tab renaming is delayed – additional fix VB-48960
[Regression] Tab scrolling takes priority over page VB-48274
[Regression] Search suggestions selected from search field drop-down are not populated in search engine VB-48886
[Downloads] "Save" does not save to last chosen folder VB-19361
[Keyboard shortcuts] Tabs switch while typing pdf password VB-20712
[Mouse gestures] Gestures with Alt don't work over unfocused tab with tiled tabs VB-48232
Muting active tab doesn't work when you unsplit tabs from multiple windows VB-26944
Upgraded Chromium to 72.0.3626.110