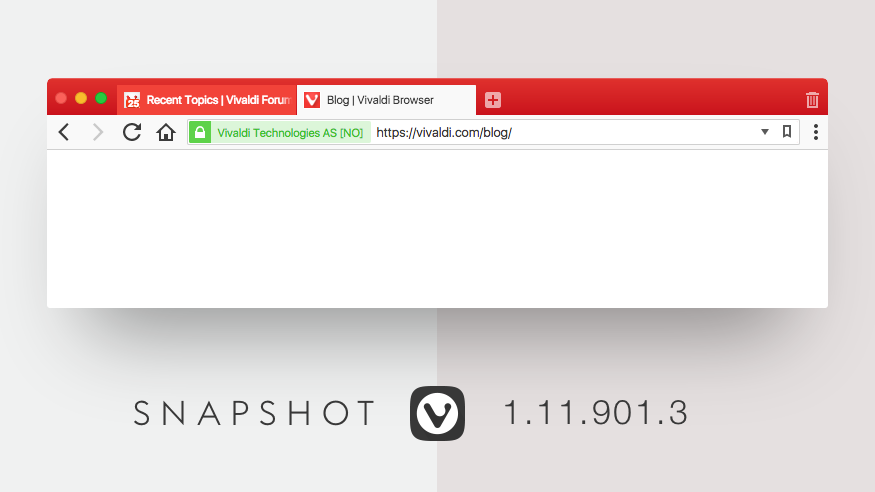 Nothing can be more annoying than a broken viewing and we do understand this. So here we are with some important fixes on Windows 7.
Yes! You got it right. While we make the most of the summer time, we are working relentlessly to bring you a better experience of watching videos. We are continuing to fix more media issues but for now you can go ahead and watch videos on TED.com smoothly without any interruptions. 🙂
Another highlight of this snapshot is our freshly designed V squircle. This new snazzy squircle makes its debut and from now onwards it is our updated application icon.
Take a look at the changelog for a full overview of the changes and let us know what you think.
Happy summers!
Download (1.11.901.3)
Known issue
[Linux] Save password prompt does not show up VB-29962
Changelog
[New] Update Vivaldi Application Icon and Windows Installer backgrounds VB-29965
[New] Default shortcut for Reader Mode (Alt+R) VB-23507
[Media][Mac] Fixed TED.com videos do not play VB-29798
[Media][Windows] Fixed Too fast audio on TED.com VB-29809
[Media] Windows 7 more fixes
[Regression] Notes are sorted in reverse order VB-29831
[Search Engines] Update moves modified engines towards end of list VB-29828
Permissions are not asked for when a permission is used VB-29930
Wrong extension behaviour between Private and Non-private window VB-28010
Updated Chromium to 60.0.3112.55