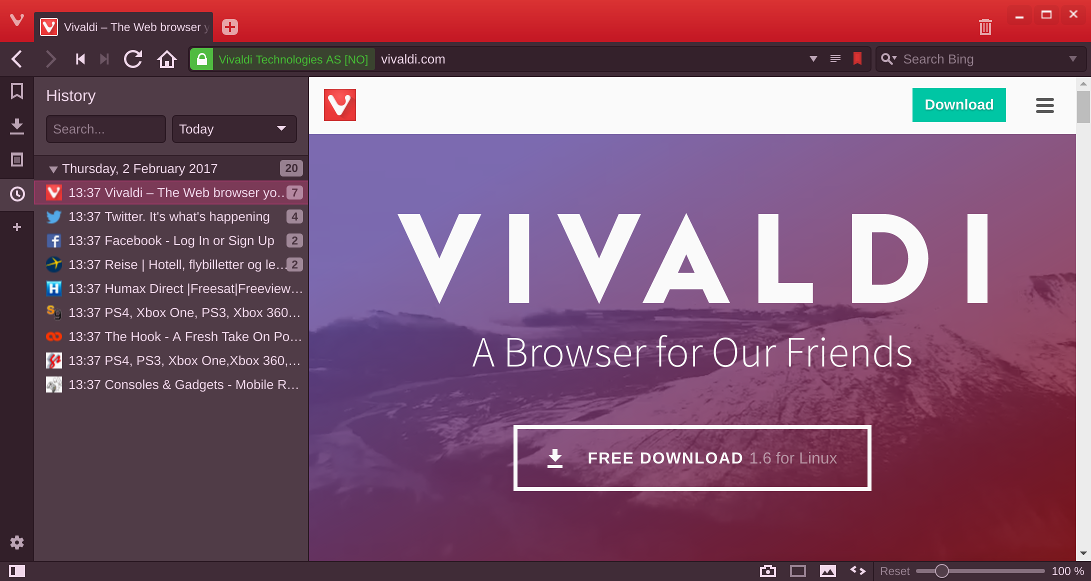 Today's snapshot includes a history panel. We also include an extra visual clue when a website requests password information over a non encrypted connection.
History panel
The new history panel provides convenient access to your browsing history, shown alongside the pages you are currently viewing. Thus it provides a new and much quicker way to locate a URL you visited before. The panel also includes search and date range options, to make it even easier to find that elusive URL.
Passwords over HTTP
Sending a password over a HTTP connection is a bad idea, so any website that attempts to request this will now have the text "not secure" added to its site badge.

In addition to feedback on this new panel our focus is still on any regressions since the 1.6 final, so let us know what you find.
Download (1.7.735.29)
Changelog
[Regression][Mac] HTML date and time tag crashes onClick (VB-24001)
[Regression][Notes] attachment update crash: happened when dragging links (VB-25412)
[Regression] Crash while loading extensions page in private mode (VB-24846)
Add a history panel (VB-25446)
The setting for top level domain completion via Ctrl+Enter should be clearer (VB-25447)
Add an extra warning for http websites that request passwords (VB-23666)
Update the Linux signing key: Remove the old BF1700F8 key and add another for future usage (VB-11533)