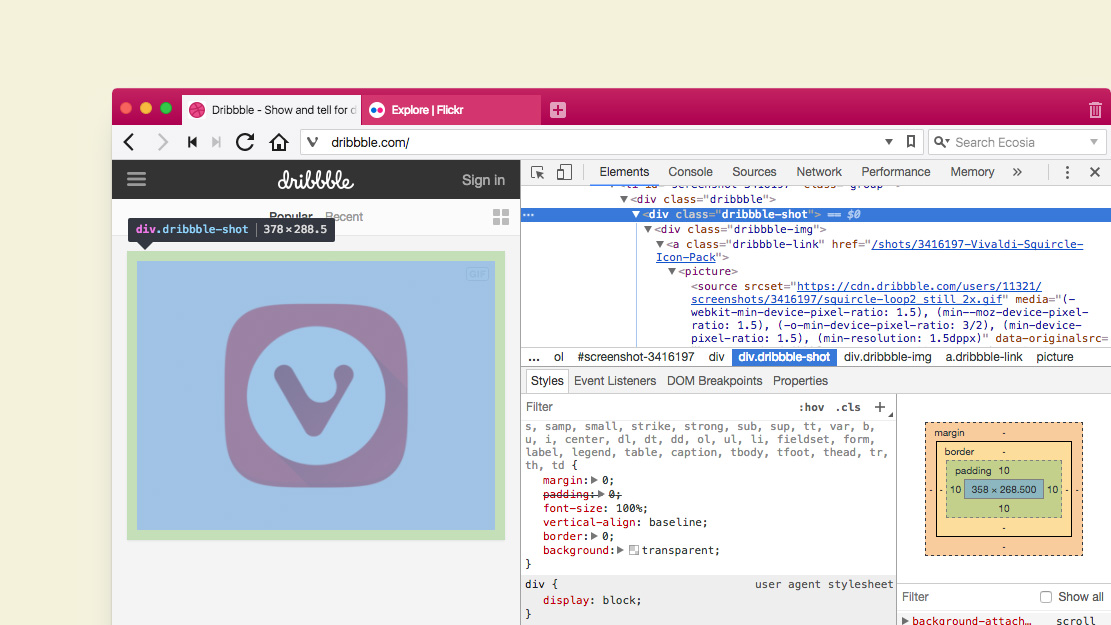 Docked Developer Tools
We have had a long standing request for the ability to dock Developer Tools. Well, wait no longer, we are introducing this handy feature in our very first 1.10 snapshot. All of you developers who desperately wanted this, can now breathe a sigh of relief. Of course, if you prefer them undocked, that still works too!
Better thumbnails for Speed Dial folders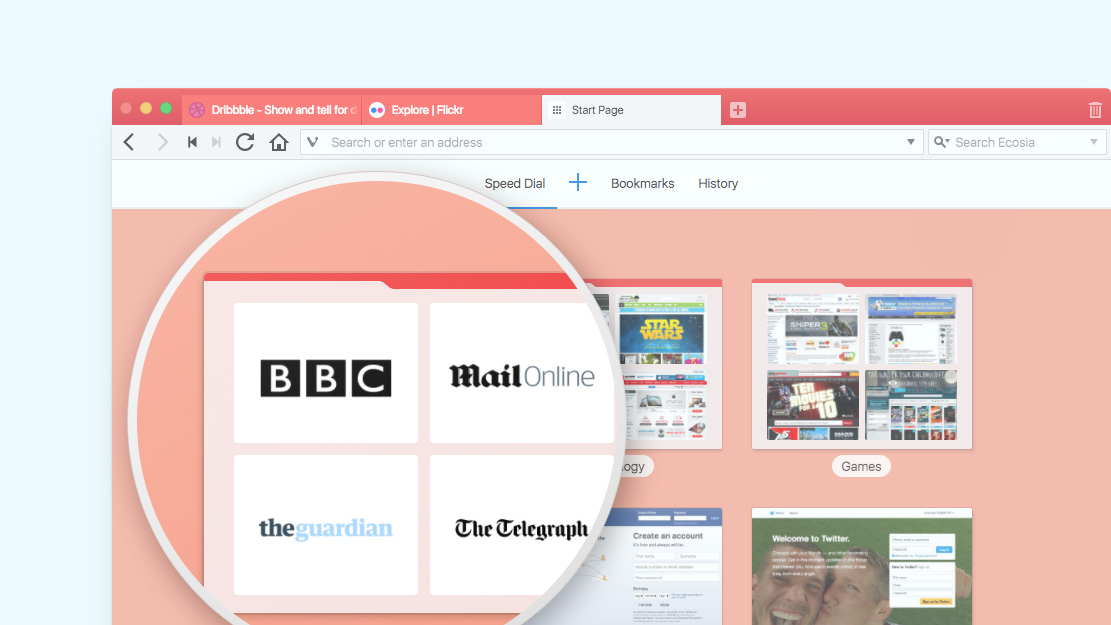 We have also started to do a little more work on Speed Dials for 1.10. The first obvious visual change is another long standing request. Instead of all folders appearing with the same icon, they now give you a glimpse at their contents, which makes it that little bit easier to quickly select the correct folder.
Known issues
Developer Tools shortcuts are conflicting with Vivaldi ones when docked VB-27893
Switching themes inside Developer Tools causes it to crash: Developer Tools theme, not Vivaldi theme VB-27954
Download (1.10.829.3)
Changelog
[New feature] Dock Developer Tools to main window (VB-2776)
[Linux] UI context menus do not show up on long touch (VB-17457)
[Mac] "Look Up" selection is offset when "Native Window" is enabled (VB-27792)
[Mac] Tap with three fingers is swallowed (VB-15570)
[Mac][Media] Improvements in resiliency (VB-23256)
[Mac][Quick Commands][IME] Unable to type/search two or more Japanese words (VB-19079)
[Regression] vivaldi://startpage does not work correctly as homepage (VB-27815)
[Extensions] Pop up windows from extensions in address bar sized incorrectly (VB-25663)
[Extensions] Vivaldi should respect the newtab extension override (VB-27785)
[Extensions][UI Zoom] Popup content not zoomed correctly (VB-27804)
[Address Field] Vivaldi-prefixed URLs incorrectly rank highest in autocomplete (VB-27678)
[Media] Renderer crashes, if I want to play sound on dictionary.cambridge.org (VB-27469)
[Media] Turn on MSE (Media Source Extensions) handling of MP3 (VB-27381)
[Notes] Let "Insert Note" menu use sub menus (VB-27778)
[Spatial Navigation] Spatial Navigation skips links (VB-27061)
[Search Engines] Rename Yandex to Яндекс (VB-5176)
[Search field] Typed history doesn't remove duplicates (VB-27673)
[Speed Dial] Dragging speed dial bookmarks might break Speed Dial (VB-14546)
[Speed Dial] Provide a Visual hint of pages for folders (VB-6192)
[Tabs] Stack indicator overlaps favicon & counter (VB-24205)
[Themes] "Fade foreground colours when out of focus" cannot be disabled/enabled second time you open settings (VB-19901)
[Web Panels] Favicons are not transparent (VB-27726)
Pages not encoded in UTF-8 cannot be revisited, closed, etc. (VB-27708)
Added setting for focusing webview on new tab (VB-27034)