Curate your Speed Dial with custom thumbnails
Unless you're controlling your new tab behavior with an extension, you probably land on your Start Page as often as you open a new tab. And that's at least a couple of dozen times a day, right?
We know that many of you like to tinker with just about anything in the Vivaldi browser, so we thought it was about time we gave you more control over how those Speed Dial thumbnails look on your Start Page.
Let's say the thumbnail of the website you've added to your Speed Dial has way too many small details that make it difficult to see what's inside. Or maybe you simply don't like the look of that thumbnail and would like to replace it with a picture of a kitten. All you need to do now is right-click on the thumbnail or use the small (+) at the bottom left corner of the Speed Dial and choose "Select Custom Thumbnail" from the dropdown menu to replace the thumbnail with a custom image. You can even have an animated GIF there if you like – the choice is yours!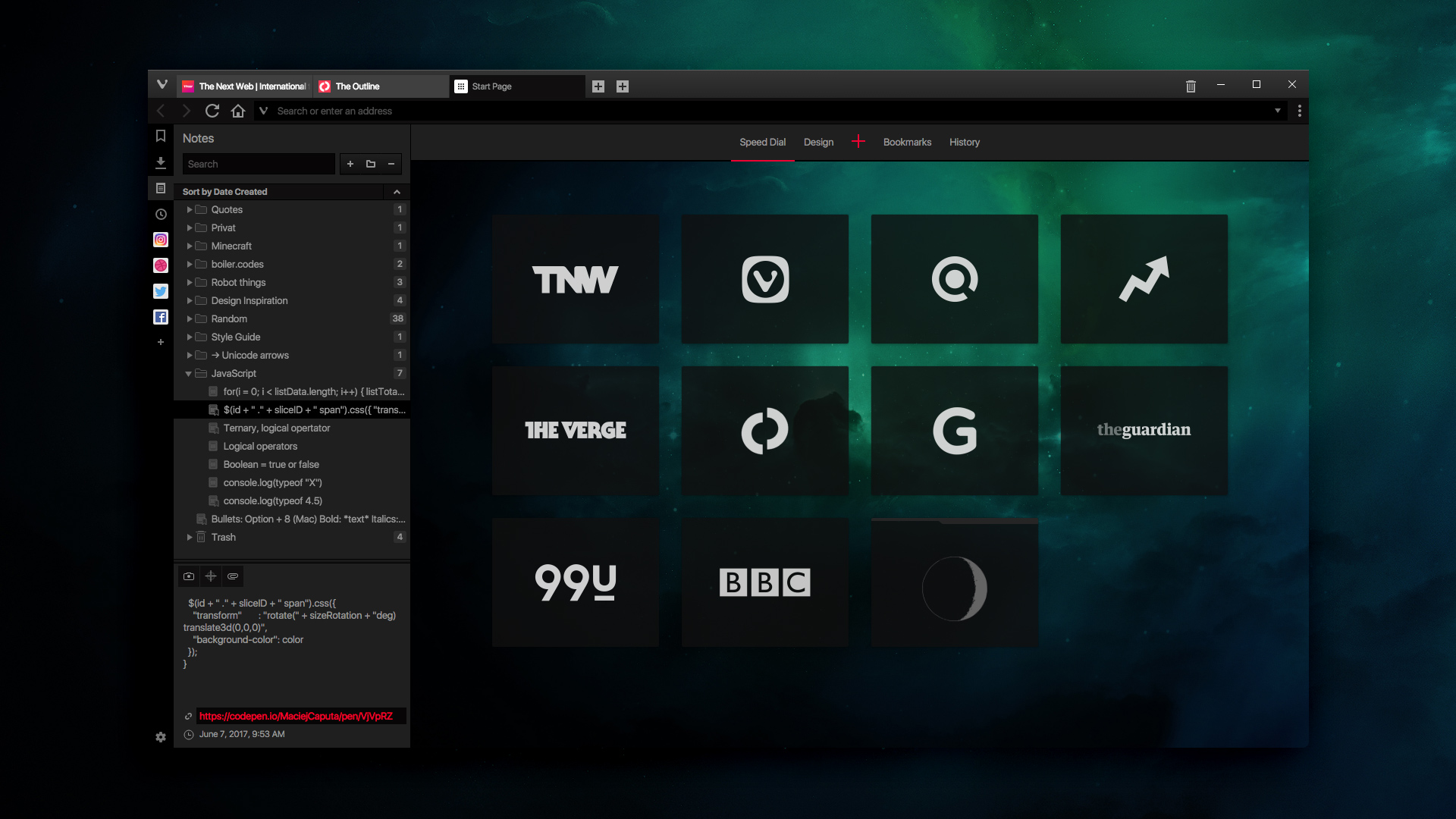 Address Bar dropdown list
Another addition in today's snapshot is the ability to turn off bookmarks and typed history from the Address Bar dropdown list. It's a nice little feature that lets you be in control of what you want to see when you start typing in your Address Bar and that dropdown list appears.
Download (1.10.862.6)
Changelog
[New] Custom speed dial thumbnail preview (VB-7179)
[New] Added options to turn off bookmarks and typed history in the dropdown (VB-28979)
[Regression] Popup windows lack title and border (VB-28345)
[Regression] Windows installer writes into wrong registry (VB-28908)
[Regression][Quick Commands] Single-letter bookmark nicknames no longer work (VB-28639)
[Mac] Vivaldi goes to previous page after you right-click and double click (VB-28562)
[Mac][Linux] "Rocker Gestures" don't work consistently if "Allow Gestures" is disabled (VB-28632)
[Mac][IME] Pressing Enter confirms bookmark info while typing in Japanese (VB-28418)
[Mac][IME] Illegal character code inserts (VB-24957)
[IME] Japanese text to be confirmed while renaming tab stack (VB-28576)
[Extensions] Options in Click&Clean extension do not work (VB-20369)
[Quick Commands] PgDown and PgUp handling (VB-22598)
[Quick Commands] Allow internal pages (VB-10785)
[Quick Commands] Pin/Unpin tab (VB-26181)
[Quick Commands] Hint autocompletion (VB-7897)
[Settings] Renaming autoupdate and update to updates (VB-26835)
[Start Page] Cannot set local image as Start Page background from context menu (VB-12282)
[Themes] Prevent duplicate names (VB-28794)
Remove Winsparkle from Vivaldi and always use the UpdateNotifier for updating (VB-26833)
Settings window can be opened with the reopen tab mouse gesture (VB-9603)
vivaldi:gpu appearing on Paste and Esc in URL field (VB-28264)
Updated translations
Updated Chromium to 59.0.3071.83