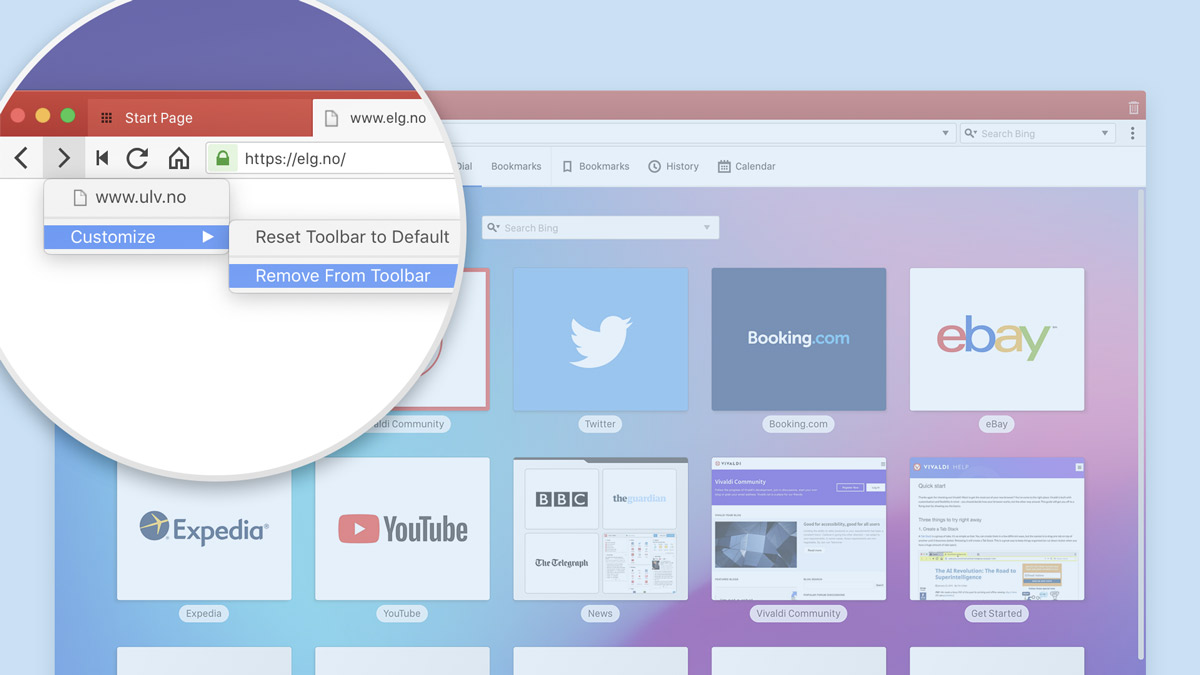 Navigation toolbar configuration
We have long planned to make individual buttons within our toolbars more configurable. Today we take a further step towards that goal by allowing you to turn off individual elements in the address toolbar. Just right click and remove them via the context menu. Now you can have a toolbar that displays only the buttons you need.
To reset the navigation toolbar back to its default state, right-click anywhere on the toolbar and select "Reset Toolbar to Default" or head to "Settings → Address Bar" and click on "Reset Navigation Toolbar to Default".
Mute other tabs
You may ask, "Don't we already have this‽". Yes, we already have a keyboard shortcut and quick command to mute other tabs …but these only apply to the foreground tab. Now you can right click any background tab and mute all EXCEPT that tab. It may be a small thing, but it demonstrates that Vivaldi is in a league of its own with regards to fine grained control of tabs.
P.S. Oh and our Widevine problems on Linux are fixed. 🐒
Known issues
[Regression][Mac] Random crash on closing window
Download (1369.6)
Changelog
[New] Configurable Toolbar and Toolbar Button components (VB-45486)
[New] Mute all other tabs (VB-11239)
[New] Search box on Speed Dial (VB-23505)
[Regression] First char entered in URL field is selected (VB-45843)
[Regression] Homepage button doesn't take the user to the correct page when controlled by extension (VB-46164)
[Regression] Page zoom doesn't work on untiled tabs (VB-46007)
[Regression] Quick Commands 'Focus Search Field' doesn't work (VB-45260)
[Regression] Right-click does not work in dev tools inspector (VB-45331)
[Regression][Linux] Widevine does not work at all (VB-45977)
[Mac] Problem with Show/Hide Window Panel state on Menu Bar (VB-32080)
[Windows] Logo lacking gap in header (VB-45831)
[Address bar] Ability to toggle only selected extensions (VB-35195)
[Address bar] Arrow up behavior when dropdown menu is not open (VB-45754)
[Address bar] Esc in URL field closes dropdown and losses focus (VB-46092)
[Address bar] URL field focused twice, blinks (VB-44799)
[Focus] Cursor switches place based on mouseclick up location (VB-45820)
[Notes] Notification firing from background windows (VB-46074)
[Notes] Pasting a note with screenshot adds another screenshot (VB-46073)
[Quick Commands] Search result tuning (VB-45938)
[Panels] Vertical main menu shows incorrect accelerator keys initially when panel is hidden (VB-42330)
[Search] Arrow up in search bar suggestion causes caret to jump (VB-45886)
[Speed Dial] No rocker gestures on Speed Dial (VB-10512)
[Speed Dial] Tabs inaccessible with New Tab Page other than Start Page (VB-39875)
[Sync] Converting more settings to syncable types (VB-45835)
[UI] Allow identical underscored letters in menus as last resort (VB-45887)
[Window panel] allow middle click to close tab or stack (VB-34686)
Upgraded Chromium to 71.0.3578.45