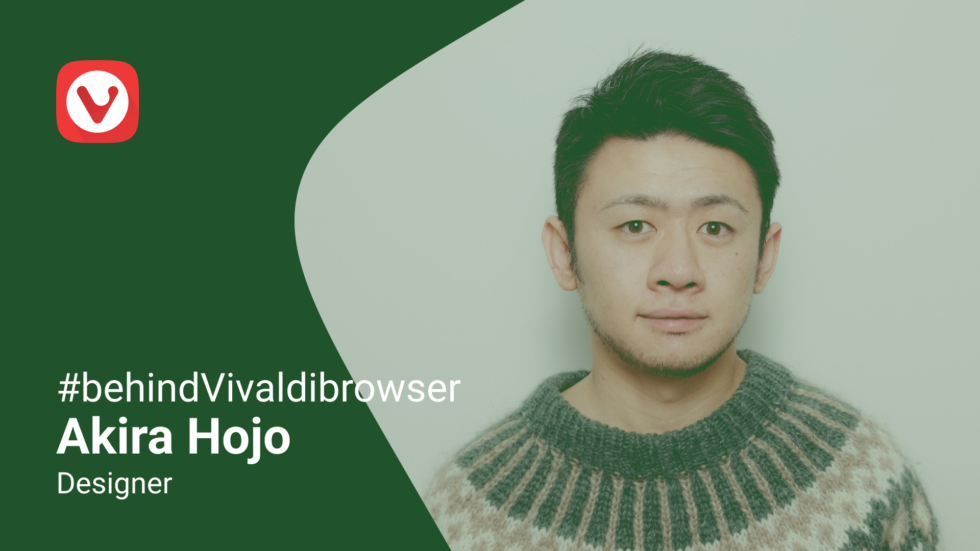 Designing cool, original and impactful graphics is an artform.🎨 That's why we have Akira Hojo on board – he's a master. He joined Vivaldi back in 2019. Since then, he has brought fresh perspectives and ideas that allow him to create amazing graphics. Let's get to know him.
🚀 What do you love about working at Vivaldi?
The people. I always feel lucky and grateful to be able to work with these super-talented people at Vivaldi. They are fun, chill, creative, helpful, and full of knowledge and experience. I have already learned a lot from both my colleagues and Sopranos and am still learning.
💪 What are your favorite productivity features in the browser?
There are many, but one of my all-time favorites is Tab Stacks. I love to keep things simple and tidy, so using the Tab Stack feature enables me to stay organized and to work more efficiently. It has become even more useful with the additions of 'Two-Level Tab Stacking' and 'Accordion Tab Stacking'. Definitely recommended!
💡 What is the biggest thing you've learned so far?
From my fantastic colleagues, Atle and Fredrik, I've learned a lot about design. Although I was not hired as a designer when I joined Vivaldi back in 2019, most of my current tasks and responsibilities are in graphic design. There is still plenty to learn, and I am proud to have such a fun job here at Vivaldi.
🤩 What else should we know about you?
I love to learn new stuff. I've been keeping myself busy these days by learning 3D graphics and Icelandic, among other things. Also, I guess no one knows, but I am a certified life coach. I hope to utilize this skill to help people one day. And, oh yeah, I am originally from Japan. Arigato!🇯🇵
---
I hope you've enjoyed this peek behind the curtain at Vivaldi and learning more about Akira. Are you learning anything new at the moment? Do you have a special skill that no one knows about? Does Vivaldi help you get it done? Tell us about it in the comments.👇