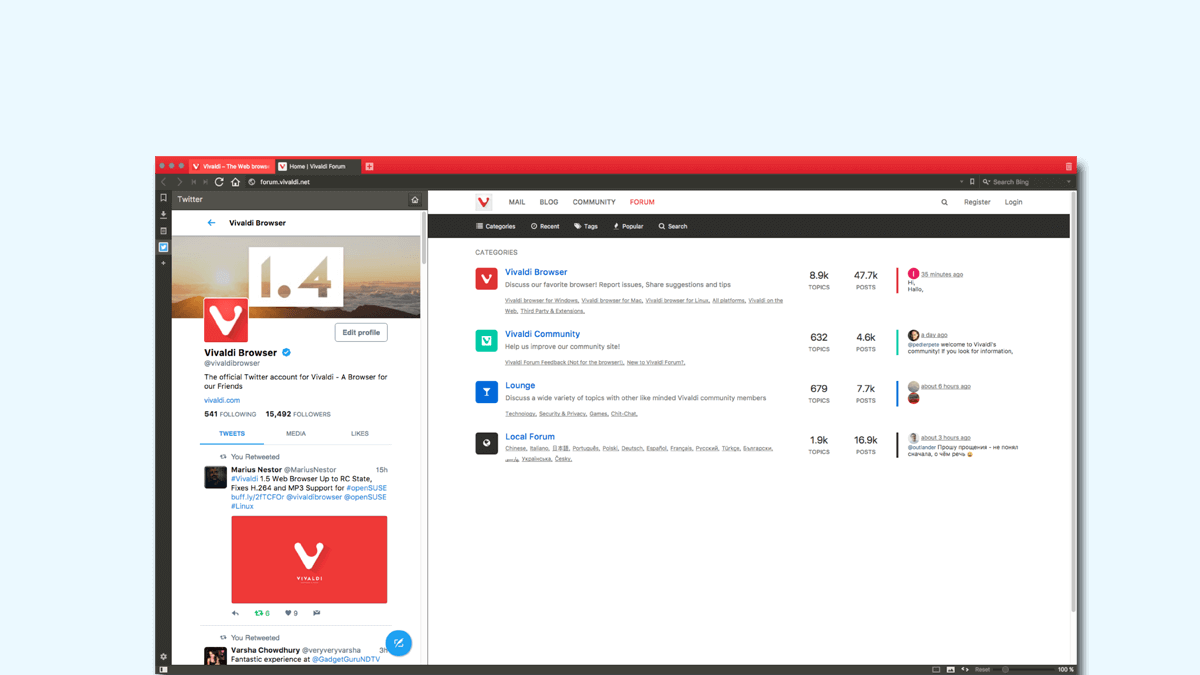 We're building Vivaldi to let users customise their way to the perfect browser. Whatever your browsing goals – from digital marketing to pure entertainment value – social media plays a big part in the day-to-day experience of the web.
How many times a day do you pop over to Twitter or Facebook to check-in on your feed?
A quick straw poll of the Vivaldi office gave a clear answer: "a lot".
But having multiple apps or separate tabs open for each of your favourite platforms can quickly clutter up your screen. Well, clutter no longer. Welcome to Web Panels.
A New Sidekick
Vivaldi's built-in Panels will change the way you browse. In a good way. With the click of a button (or a well placed keystroke or mouse gesture) you can access Panels to write Notes, review your recent Downloads or browse your Bookmarks. This all happens in the browser's slide-out sidebar, doing away with the need to open a new window. The real joy, though, comes from adding customised Web Panels.
Web Panels for the Win
Web Panels allow you to display websites within the side panel of your browser, creating a split screen view without the fuss. The world is your oyster when it comes to what sites you decide to add. What you can do with your Web Panels is only limited by your imagination.
Whether it's your favourite translation tool or a stock photo stream, we all have a list of sites that we visit multiple times a day.
If you're anything like us, then that list of go-to sites includes one or two social networks (okay, maybe three or four…). In fact, a recent PewResearch survey found that 55% of Facebook users and 23% of Twitter users report visiting the sites multiple times a day and that more than half of adult internet users regularly visit multiple social media platforms daily.
It may come as no surprise then that we're seeing many Vivaldi users using the added browser real estate to create their own social media control centers. The Web Panel fits your Twitter feed like a glove and makes browsing Instagram from your desktop a joy. And what's more, you can even switch tabs in your browser while keeping the Web Panel open. Never miss a tweet again!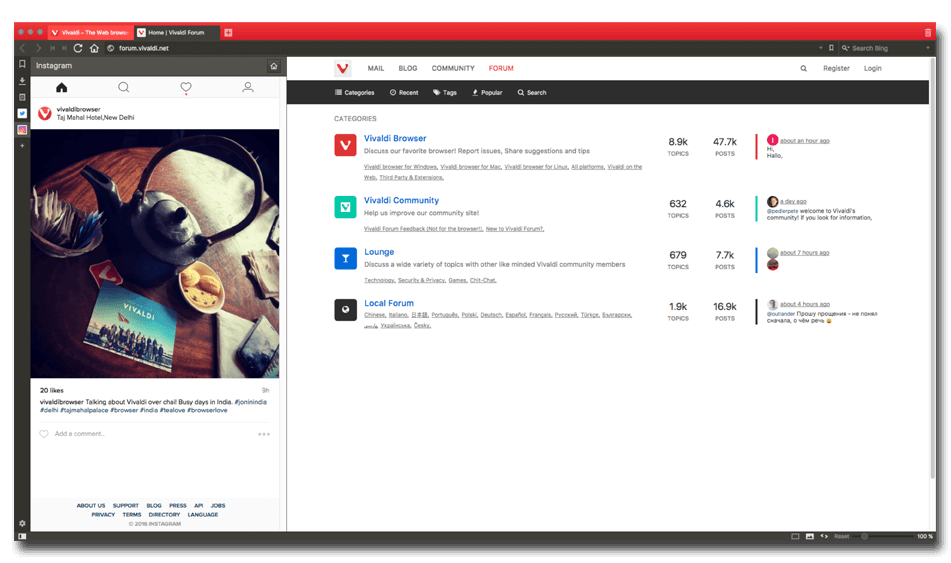 Over to you! Do you use your Web Panels to keep updated on social media feeds? Let us know in the comments, and follow Vivaldi on your favorite networks for the latest!
Find Vivaldi on Facebook, Twitter, Instagram, Google+, YouTube, LinkedIn, and Reddit.