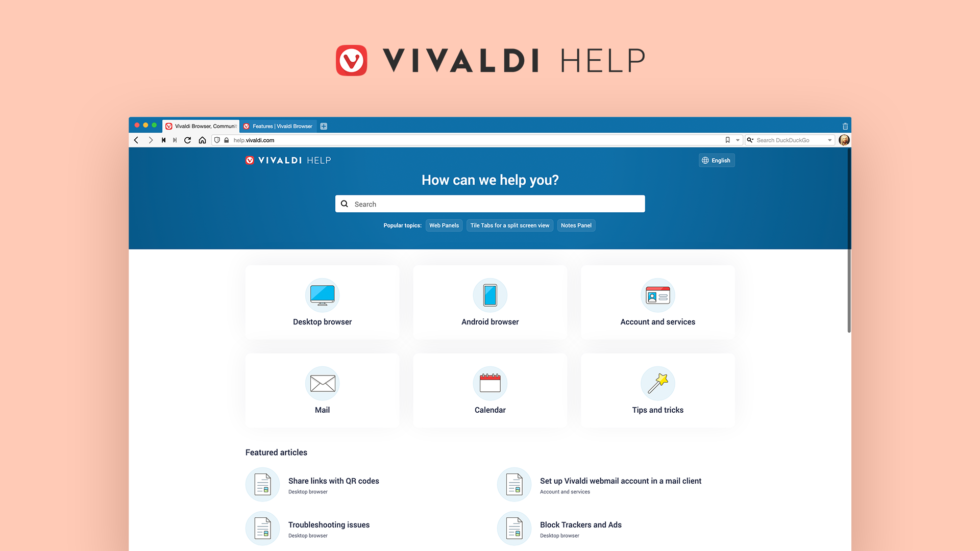 Vivaldi browser on desktop, Android, and our services for the community represent your choice. True to our vision, they are all feature-rich, flexible, and often unique to Vivaldi.
Our aim is to help you learn more about the flexibility that our features offer. We also don't want you to get stuck in between while using any of our products and services. We want to solve your problems as quickly as possible.
Here is where the help pages come in – an excellent way to supplement your understanding of Vivaldi. Now we have taken a step further to help you even more.
We have revamped and transformed our Help Pages into the new Help Center – a comprehensive collection of articles, how-to guides, and tutorials about Vivaldi.
Why was the change needed?
The Help Pages were first created in the early days of the desktop browser – to help you decipher features and understand the browser better. Even our volunteers contributed to the Help Pages when we launched Vivaldi in 2016. That was admirable.
Over time, the browser has evolved. We've consistently added many new features and services. As a result, the catalogue of help articles has grown exponentially.
We realized that our help articles, a valuable go-to resource for many users, require a more streamlined approach.
So it was about time to go back to the drawing board. We did that, and with great support from our designer Fredrik Andresson and sys-admin/web dev Ísak Garðarsson, built the new site from the ground-up. The Help Center can host countless articles in an organized way.
Discover the new Help Center
Homepage
Fresh, shiny, and way more organized! That's the new front page of the Help Center for you.
Instead of listing all categories and articles on the same page, we have divided them into the following sections:
Vivaldi on Desktop: everything from settings to features explained step by step.
Vivaldi on Android: meticulously listed steps to browse on Android devices.
Accounts and services: all things related to various services like Sync and more.
Vivaldi Mail Client and Vivaldi Calendar: get familiar with the built-in mail and calendar clients. Please note: Currently, these features are in the experimental stage.
Tips & Tricks: an arsenal of 'how to' blogs from Vivaldi.com.
There is also a section for featured articles where we highlight stories about the newest features and those which require a bit more explaining than usual.
Furthermore, we've also added video tutorials. After all, seeing the browser in action is more fun and informative. We'll continue to add different ways that will help you learn more about Vivaldi.
Articles
A number of under-the-hood changes were made while building this site. For example, we've added the new Gutenberg editor that gives more options to get creative with the display of content.
We've treated the instructions that differ significantly per operating system separately. This means the steps for the OS you're on will be shown automatically.
On the right side of the article, you'll see links to help pages that are related to the one you have open, blog articles and other relevant links with more information, and articles in the same subcategory.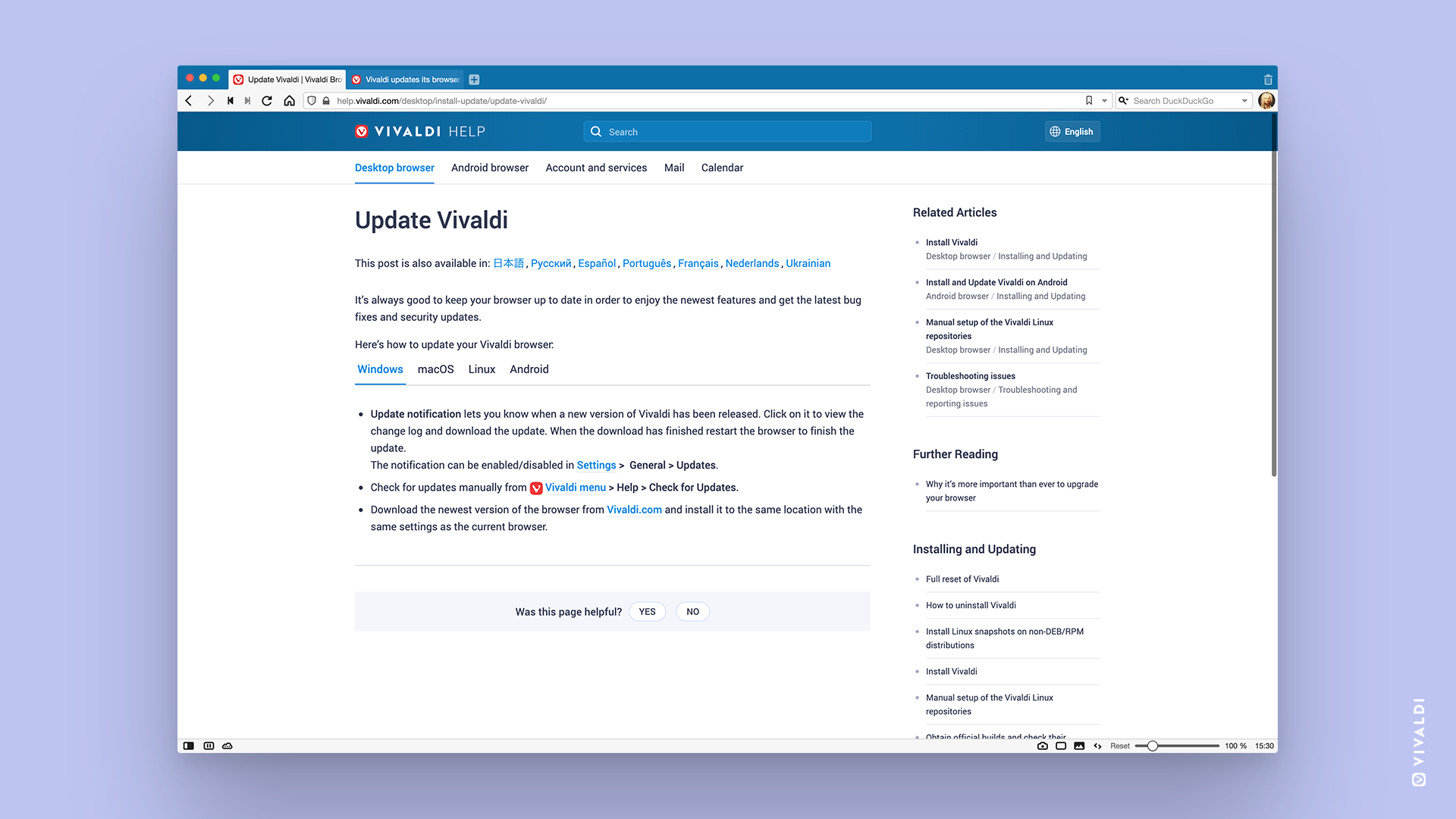 Contact Vivaldi
If you have any trouble with your account or Vivaldi's web services, you can now solve your issues easily.
The troubleshooting steps for account issues in the Accounts and Services section are listed clearly, but should you still require our assistance, get in touch with our support team directly from the Help Center by clicking on 'Send us a message' at the bottom of the article.
We are around! 🙂
Search
When you check out our help pages you learn the basics of the features and may also stumble upon some long-standing issues.
When you search through the new Help Center, we now include search results from our thriving Forum. This is because, often, relevant information on a feature or troubleshooting issues can only be found on the Forum.
Localization of the help pages
It is always nice to find out that someone speaks your language. We do! We've focused on translating the help pages into various languages. If an article has been translated into your language, you'll find links to the translation right below the title of the article.
We have an almost full catalogue of help articles in Japanese and Spanish with a few languages close behind. If you or anyone you know would like to help us localize Vivaldi's help pages, we are all ears. Please drop us a message at [email protected].
Access help pages quicker
We want to help you as fast as possible. So check out the new Help Center through these different ways:
Press F1 / ⇧⌘? on your keyboard.
In the Vivaldi menu, go to Help > Vivaldi Help.
Type help.vivaldi.com in the Address Field.
We hope our easy-to-understand guide on our massive feature-set and services will help you greatly. We'd like you to be able to explore Vivaldi, just like a pro. 🙂