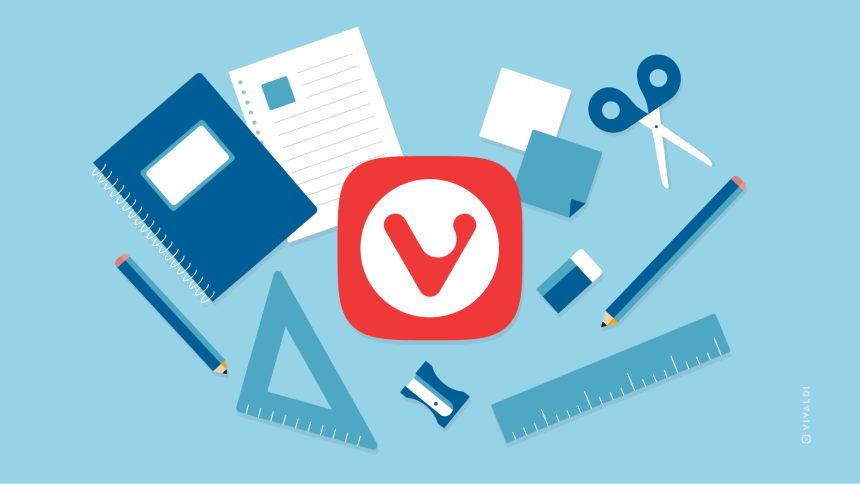 Read this article in español.
It's that time of the year again! And once again, we're here to make sure your academic year is off to a good start, by reminding you of the best productivity features in Vivaldi!
High school, college, part-time studies, Ph.D.…no matter what you're doing, we're sure the browser is one of the most used pieces of software on your laptop and phone. Would you like to make the most of it? Then keep reading!
🧹 Declutter your Tab Bar.
First things first. You might've just started or are about to start the new academic year. Time to create separate spaces for all of your courses, so that things don't get mixed later on. You'll never waste time looking for a lost tab again!
Our Workspaces allow you to group tabs in separate categories, for better organization and fewer distractions. You could create one Workspace for each course. That way, whenever it is time to attend that course, do homework, or study, you'll just need to switch to that Workspace, which will hide all the irrelevant tabs and let you focus better.
Within each workspace you'll be able to create Tab Stacks for the different chapters or topics, leaving you with a beautiful and clean tab bar!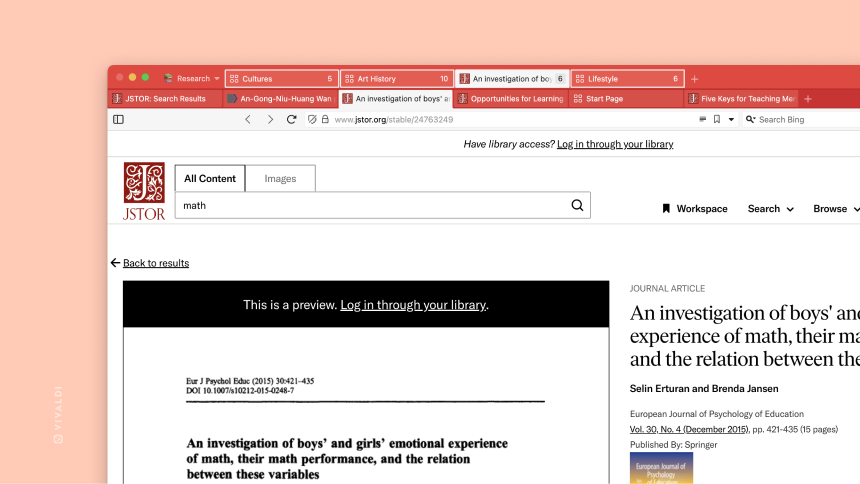 If you do not have many courses, you might prefer to create more general workspaces for work, studies, shopping…you name it! Once inside your Studies Workspace, you can still create Tab Stacks for each course and rename them to keep your Tab Bar organized.
Pro-tip: Working on a group project? Select several tabs, a Tab Stack or a Workspace, right-click on them, and copy all links to share them with your friends or students, it's that easy!
🔖 Add your bookmarks as Speed Dials. 
What can you do with those websites and resources that you'll need through the year but won't visit so often? Save them as bookmarks and organize them in folders.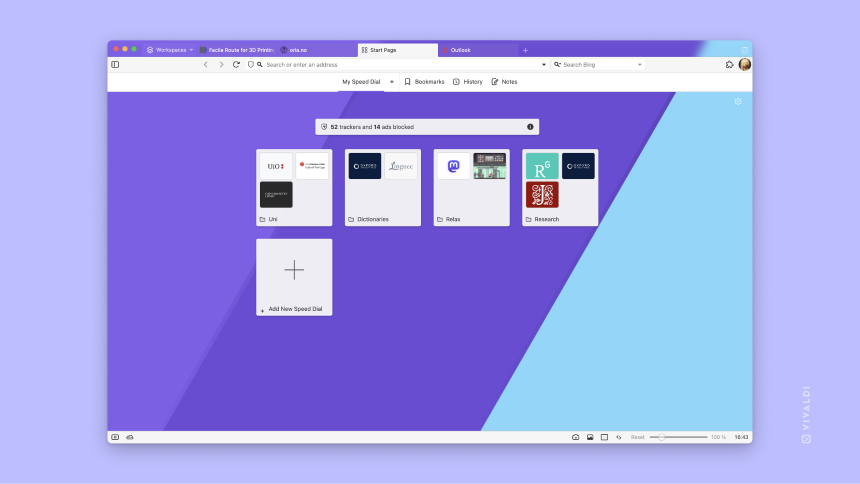 Speed Dials offer a great visual way to access your most useful bookmarks from the Start Page. You could create the same categories as your workspaces/tab stacks…or different ones. You're in charge!
🖊 Note things down.
Why use a notebook and pen to take notes, when you can do it right in your browser? Our Notes tool is accessible from the side panel or as a full window editor.
You can create folders to organize your notes, add images or screenshots taken with our built-in Capture, and format the text as you like.
Pro tip: Do you need to research a certain topic? Tile your notes editor with a research site such as JStor, PubMed, or ScienceDirect, and you'll be able to see them side by side!
📅 Save interesting articles for later. 
Did you come across an interesting article or a certain website that you'd like to look into?
No need to keep those open as tabs and slow your browser's performance. Just add them to the Reading List and get back to them whenever you are in the right mental space to tackle them.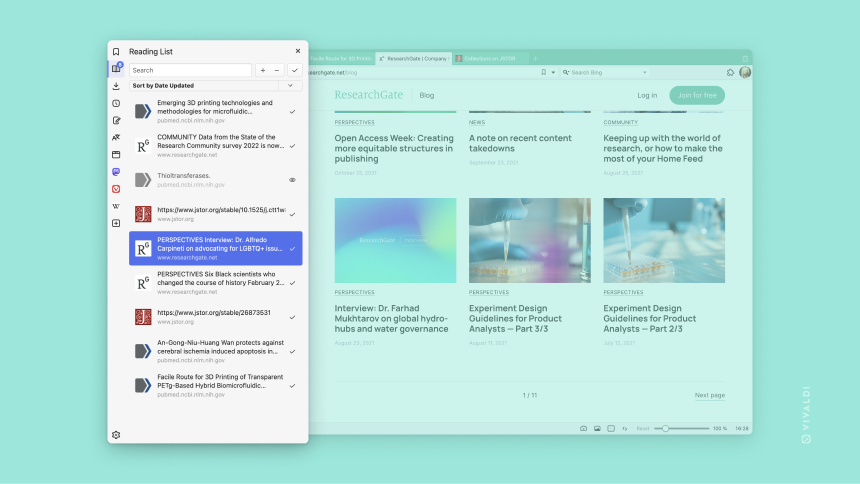 👆Your most frequently visited sites are a click away.
We all have some websites we keep coming back to throughout the day. It could be a dictionary, a social media platform, or a news site. Adding these as a Web Panel will allow you to open them on the side, next to your current tab, thus freeing space from your tab bar.
Perform a search or scroll down the page, and close the panel when you're done with it! They will be at a click's distance if you need to use them again later on.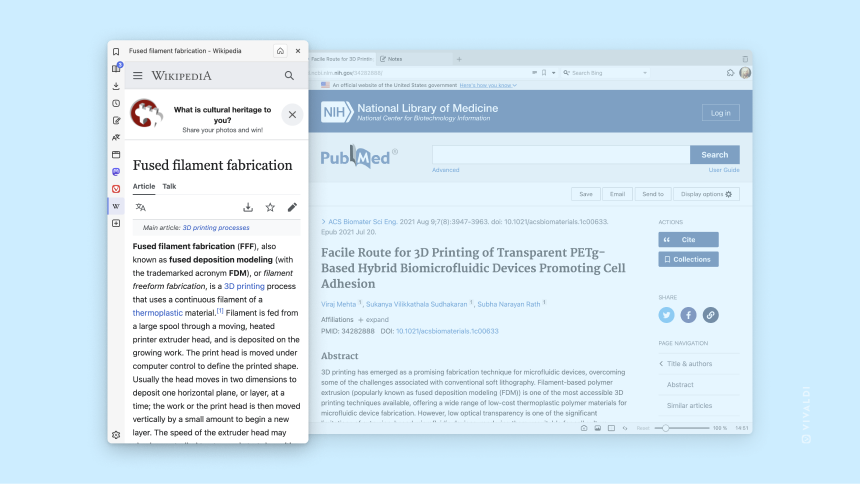 And that's not all! You'll find many more useful tools on the side panel, such as a calendar, a mail client, or a to-do list!
🎨 Make your browser match your personality.
Spend some time customizing your browser so that you feel at home! 🏠
We believe we're all different, and that's why we let you design your own browser themes. You can change the colors, and the icons, and move or get rid of the elements of the toolbars that you are not going to use. Take a look at the thousands of Themes created by our community or create your own!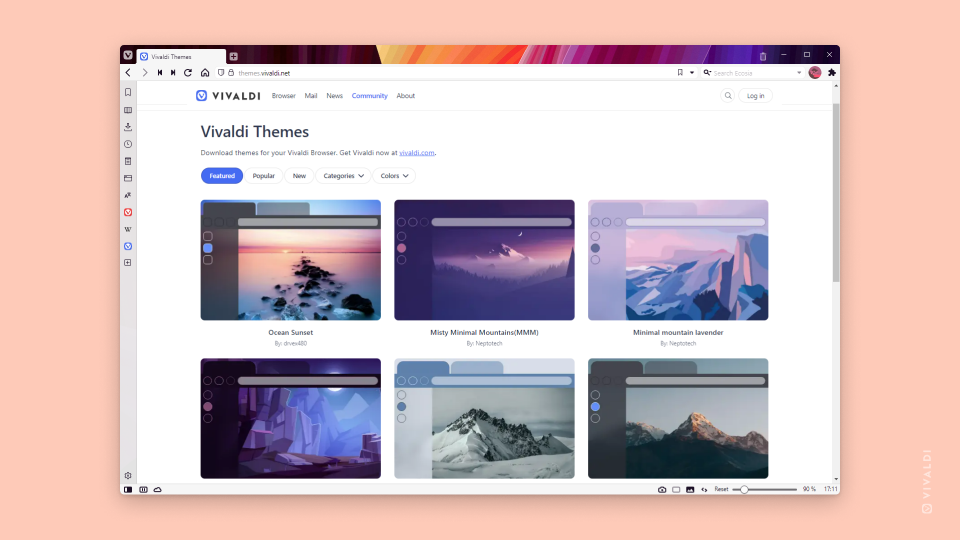 ☁️ Sync across devices.
We're sure you find many of these tools useful, do you know what's even better? You can sync some of them through your devices, allowing you to keep working, no matter where. Notes, Bookmarks, Reading List and Saved Sessions (tabs open on other devices) are some of the things you can sync between your desktop and mobile browser.
Vivaldi is currently available for Linux, Windows, macOS, Android, and Android Automotive…and coming very soon to your iOS/iPad devices!
Share these tricks with other students and they'll thank you later! 🙏 Are there any other features of Vivaldi you would recommend? Let us know in the comments!