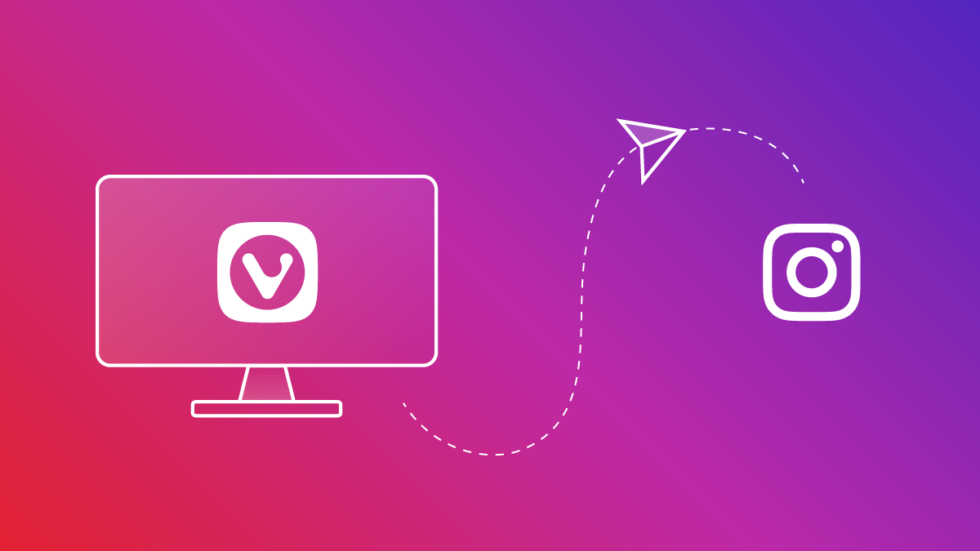 Unlock all Instagram features in desktop browser
We recently announced that Vivaldi is the only desktop browser that lets you post on Instagram from your computer. We're now adding one more clever trick to the list – privately message other Instagrammers from your computer.  
Instagram have been testing a web version of direct messaging that lets people chat without the mobile app. It's part of an effort to add more functionality to its mobile browser version. With Vivaldi, you are able to open this version on your desktop and that makes direct messaging from your computer possible.
All you need to do is add Instagram as a Web Panel. 
Do you know that @Instagram added direct messages to mobile version of their website? It means that now you can chat with your friends directly from your browser. Bad news: the service must think that you are using a smartphone, not desktop. One more reason to use @VivaldiBrowser

— Sam Izby (@NotDeveloper) June 8, 2019
Start direct messaging with Vivaldi
First things first. You'll need to add Instagram as a Web Panel in Vivaldi. Web Panels let you display websites within the sidebar of your browser, creating a split-screen view. 
To add Instagram as a Web Panel, click on the '+' icon at the bottom of your side panel. Vivaldi will automatically fill in the URL of the website you have currently open, alternatively, you can type in the URL you like.
Once you add Instagram as a Web Panel, you'll notice that the default view is the mobile view. That's the view you'll need for Instagram direct messaging to work on your computer (you can switch to the desktop version any time you like).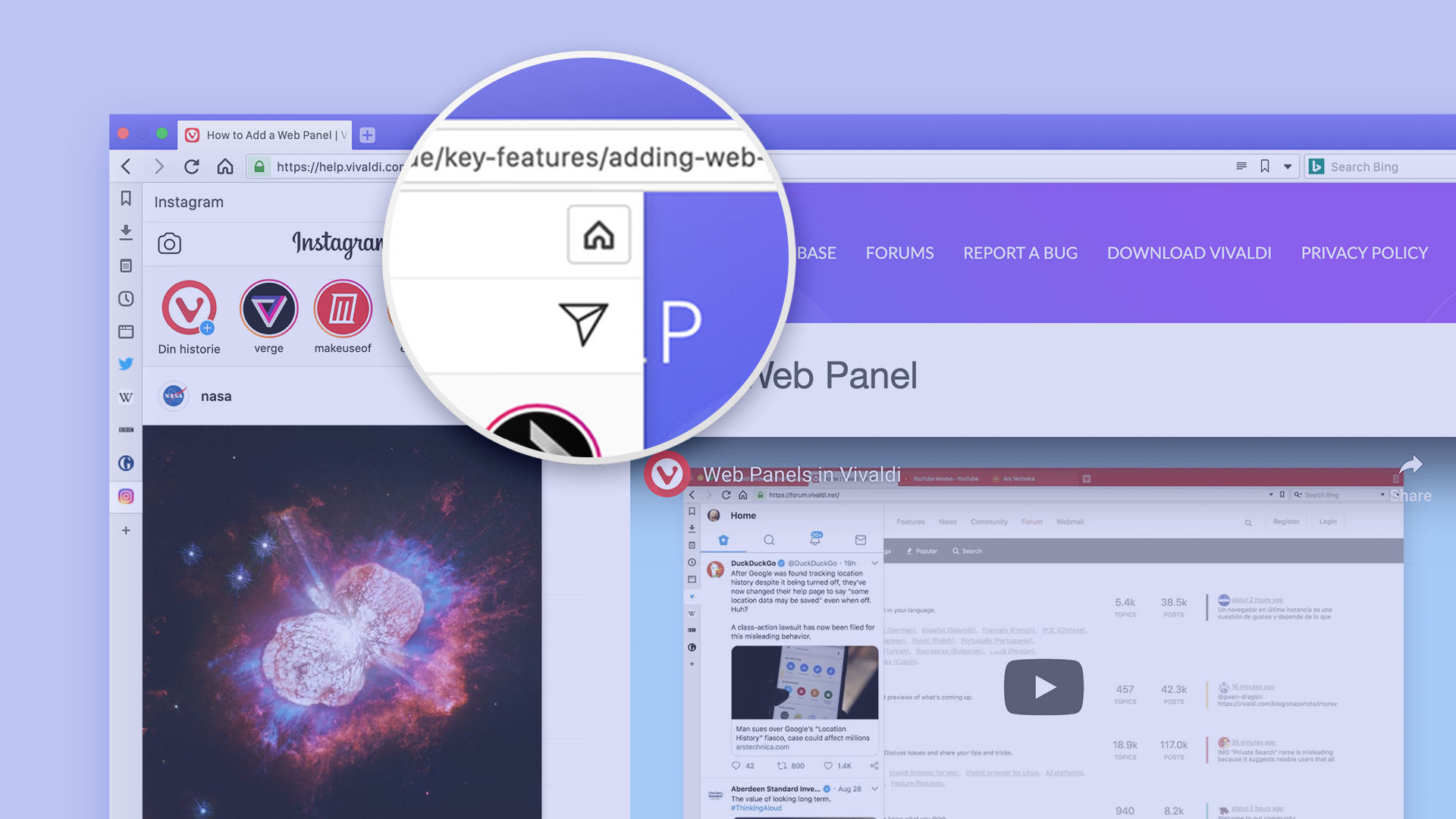 With Instagram added as a Web Panel, you'll be able to direct message as if you're on your mobile. Make sure you're on the Home screen, then hit the messaging icon. You can now search for users and start a conversation sending individual and group messages, as well as photos. 
To start a group conversation, click on the messaging icon and hit "+" to the right. Select the users you'd like to message and fire away!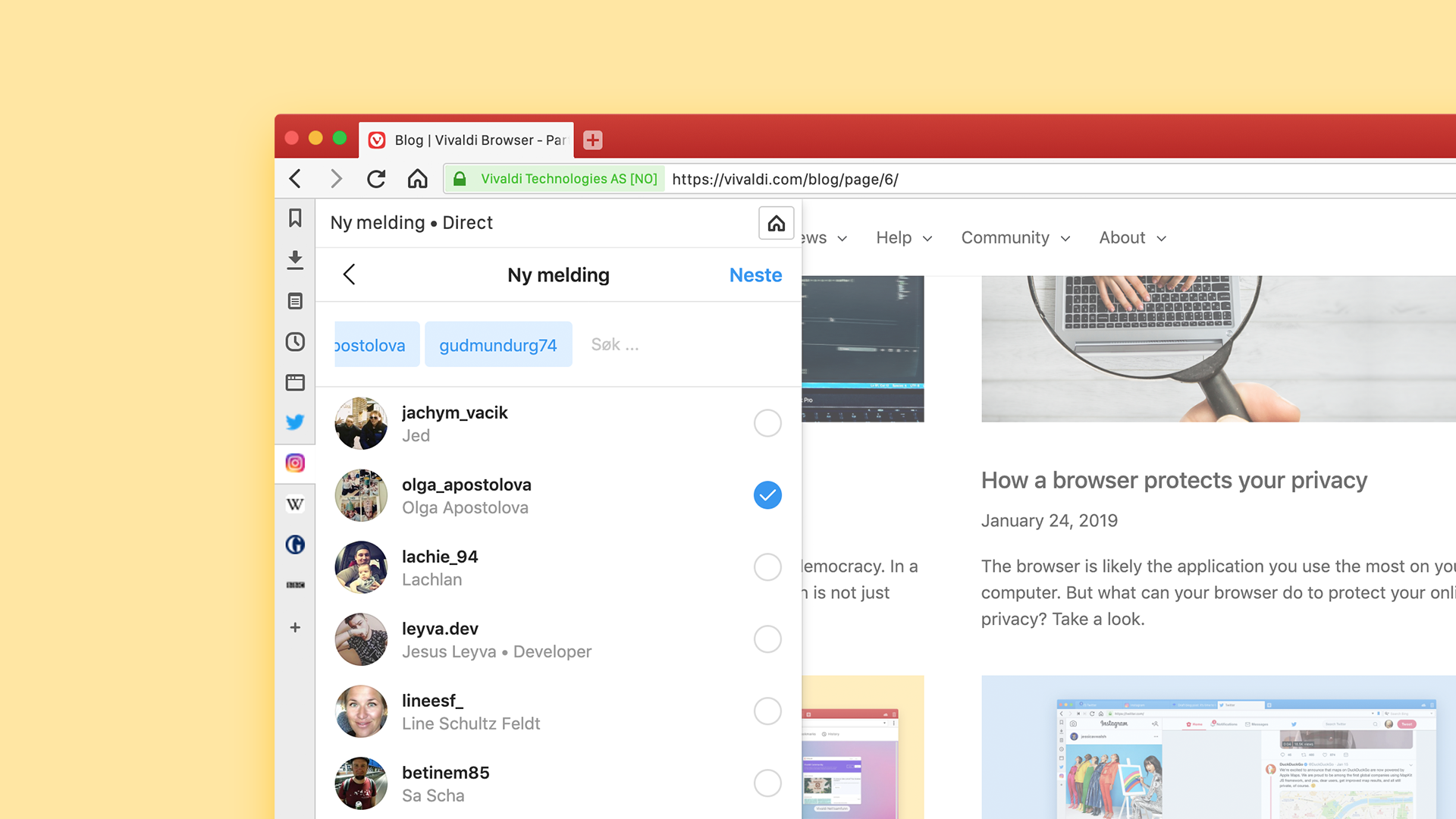 What else can you do with Instagram and Vivaldi browser?
You can post as if you're on your mobile. You get the filters too though you won't be able to e.g. do multi-image posts.

You can hide the Vivaldi toolbar at the top of the panel for a full Instagram experience.

You can widen the Instagram Web Panel for better viewing.

You can show Instagram as a tab. 

You can "float" the Web Panel to overlay your main window. 

You can get the panel to auto-close when it loses focus 
Take a look at our blog on How to post on Instagram from Vivaldi browser for more on how the above options work. 
* * *
Using your desktop computer has many advantages – a bigger screen and a full keyboard for starters. Vivaldi gives you the unique opportunity to open Instagram's mobile version on your computer in one simple step. This can be a game-changer both if you are a digital marketer and if you use Instagram for its pure entertainment value. 
So go on, #SwitchToVivaldi!
And if you still don't follow us on Instagram, you can do this from here.