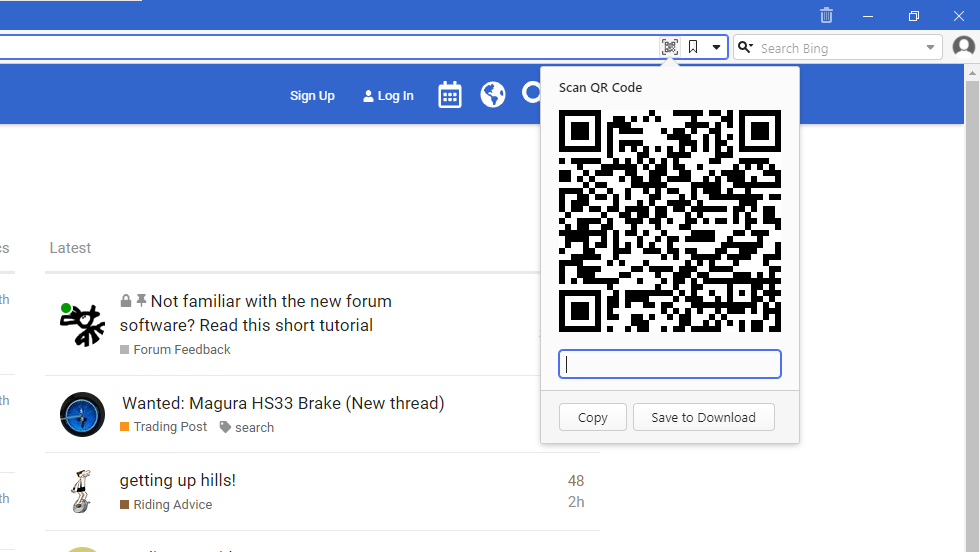 URL sharing
This snapshot includes a small feature to ease the sharing of URLs with QR codes, via a small button in the URL field. While it is easy enough to copy and paste from the URL field on your own machine, the point of the QR version of the URL is to share addresses with other machines, without the requirement of a direct network connection, or proxying server between them. This could be useful for the following use cases, and likely many more.
It provides a really simple way to transfer the URL of the page you are currently viewing to another device, such as a phone, without needing a sync account. This could be handy for those of you that do not want to sign up for sync, don't have a device that supports Vivaldi sync, or perhaps want to transfer the URL to a (nearby) friend's phone. Moving URLs to another device is especially handy if you are reading a page on your desktop and want to copy it elsewhere to continue "on the go".
Another scenario is when you would like to include the URL in printed media. A QR code makes it easy for people to get the URL from printouts, without the need to manually type it in (again they can just scan it with their phone). Perhaps the URL could be for an event you are setting up or maybe a link back to your business, website or social media account. By using the QR sharing popup, you can either download or copy the URL to the clipboard for straight forward embedding into a document. Then you can just add the QR code to a flier, business card, sticker or t-shirt!
We plan to look at other ways to simplify sharing URLs and this button may therefore evolve into a more generic sharing button, but for now it is via QR code and thus the button reflects that. For this snapshot we have enabled it by default to give you a chance to quickly try it out, but we may switch it off in the future while we consider how we want the feature to evolve. To enable or disable it yourself, simply use: "Settings → Address Bar → Address Field Options → QR Code Generator".
Download (2110.3)
Changelog
[New][Settings] Accept-language setting (VB-3355)
[New][Settings] Permanent close tab button setting for use on touchscreen devices (VB-12197)
[New][Tabs] Add Setting for opening a tab in background by default (VB-10879)
[New][Tabs] Clone tab in background option (VB-14136)
[New][Tabs] Updated Tab Stack tool-tips (VB-73673)
[New][URL Sharing][Address bar][QR] Add support for sharing via QR code (VB-72604)
[Address bar] % doesn't get encoded (VB-73959)
[Address bar] Moving addresses and text to and from the address bar does not work as expected (VB-73930)
[Address bar][Regression] Deleted URL keeps returning (VB-73953)
[Address bar][Regression] Reload button does not work on first start (VB-71100)
[Blocker] Remove the 280blocker.net adblock list from preset adblock sources (VB-71901)
[Break Mode] Make hidden items un-clickable (VB-73829)
[Chromium] Upgraded to 87.0.4280.66
[History] Broken search (VB-73761)
[History] Problems displaying in Persian (VB-69116)
[Keyboard] Single key shortcuts leads to changing tab on some input fields: further fix (VB-72174)
[Media] Cannot play data URIs as a video/audio SRC (Naver TV site video does not play) (VB-70553)
[Media][macOS] Problems with DRM support on various sites: macOS only for now, Windows later (VB-72722)
[Notes] 'Add attachment' button is not translated (VB-74052)
[Periodic Reload] Stacking tabs causes automatic reload to break (VB-74097)
[Periodic Reload] Stops working (VB-73130)
[Quick Commands][macOS] Show fullscreen command (VB-73977)
[Settings] No way to enable and disable the blocking of third-party cookies in Private Window (VB-74242)
[Settings][Regression] Start page background cannot be selected by keyboard (VB-65911)
[Tabs][Regression] Open cloned tabs as last tab option does not work (VB-73715)
[Tabs][Regression] Positioning of tabs on open and close is broken (VB-73739)
[Tabs][Regression] Tiling happens when it should not, sometimes with with no tab contents (VB-73728)
[Tabs] Shutdown while in fullscreen video causes the Status Bar and Tab Bar to be lost on restart (VB-71702)