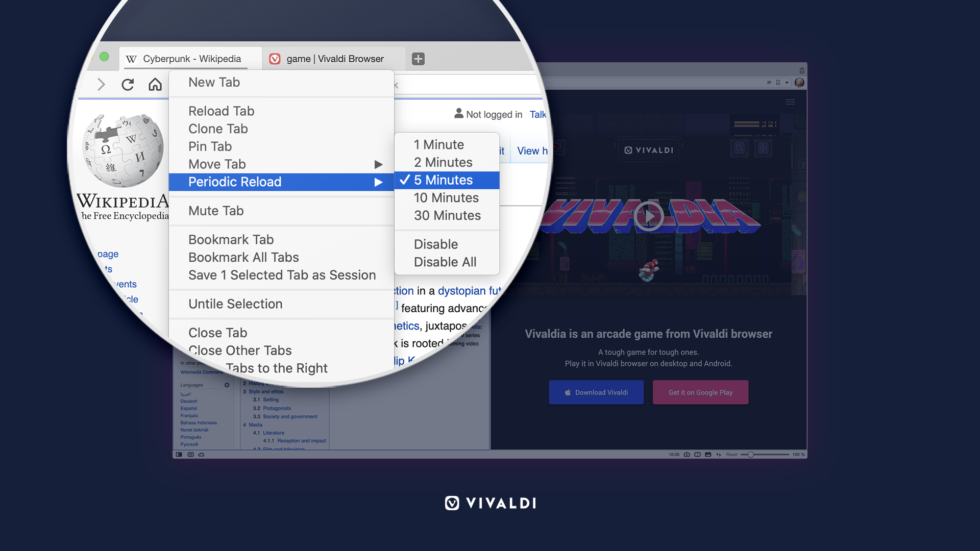 OSLO, Norway – October 15th, 2020:  Vivaldi Technologies announces its new version, Vivaldi 3.4, on desktop and Android devices and continues on its path to provide a versatile internet experience for its users.
The new version Vivaldi 3.4 on desktop and notebooks brings in powerful features that include the ability to configure context menus, reload pages automatically, capture screenshots directly into a new note, and more.
Vivaldi on Android devices, Chromebooks, and tablets (running Android 5 and higher) gets an improved layout of Speed Dials where users can view and choose between different layouts in the Start Page, and includes overall improvements.
And the surprise packet of this new version is Vivaldia, a pixel-perfect arcade-style runner game. For the first time, people will be able to play a real 80s arcade-style game directly in their browser on both desktop and Android.
more.
Download Vivaldi

Vivaldi 3.4 on Desktop
Configurable Context Menu: In this new version, a lot of work has been done on the Vivaldi Menu enhancing its structure even more. Adding more options and flexibility to it, users can customize menus according to their workflow. Configuring the context menu and adding custom links to the menu takes Vivaldi a notch higher, asserting its place as the most customizable browser in the market today.
Periodic Tab Reload: Vivaldi's comprehensive tab handling gets another new feature that ensures users are on the latest version of the site when they switch to a tab. Easily enabled by right-clicking on a tab, and moving the mouse over the Periodic Reload menu entry, then selecting one of the available reload intervals.
The reload values for the tab can be set via a fixed list on the context menu of the tab or through quick commands to set an interval value (in seconds, with a minimum of 60).
What's more in the new version? Here are more details about Vivaldi 3.4 for desktop.
Vivaldi 3.4 on Android
The mission of Vivaldi on Android is to let users transform their everyday interactions on their mobile phones with great ease. In order to accomplish this, many design enhancements have gone into this version.
Improved Layout of Speed Dials: Vivaldi's signature feature, Speed Dials, right on the Start Page of Vivaldi on Android now includes three different Speed Dial layouts – large, small, and list view. These new options help users to view and access the Speed Dials according to their preference and the type of device they use.
A detailed press release about the latest version of Vivaldi on Android can be found here.
And now for some fun on both desktop and mobile 
The Vivaldi browser releases Vivaldia, a pixel-perfect arcade-style runner game. For the first time, people will be able to play a real 80s arcade-style game directly in their browser on both desktop and Android. 
"Vivaldi browser is very much about productivity and flexibility, but we are also all about fun. By adding Vivaldia, we are adding a lot of fun! The game is easy enough to get started with, but hard enough to make it interesting. Sometimes you just want to have a short break and play a game. Now you can", Vivaldi CEO Jon von Tetzchner says.
Watch the trailer here:
Set in a world where humans and technology collide, the hero of the game, Vivaldia, fights to overcome evil and claim her city back. 
Inspired by the Future Noir and CyberPunk genres, Vivaldia is available both online and offline on Windows, Mac, and Linux computers as well as on Android devices, Chromebooks, and tablets. The game also includes gamepad support.
Vivaldi is constantly pushing boundaries of what's possible in the browser space by developing innovative features while keeping ethics and its users at the core.
Join the remarkable ride of Vivaldia as she fights evil. Read more about her story and how to play the game here.
But there's more to Vivaldia here:
"Our goal with Vivaldia is not only to give users a great fun game in the browser but to tell our own story – about how Vivaldi is taking the technology behemoths head-on and continues to crusade against the concentration of power that lies in a few global corporations", says Vivaldi CEO Jon von Tetzchner.
Let the fun and game begin!