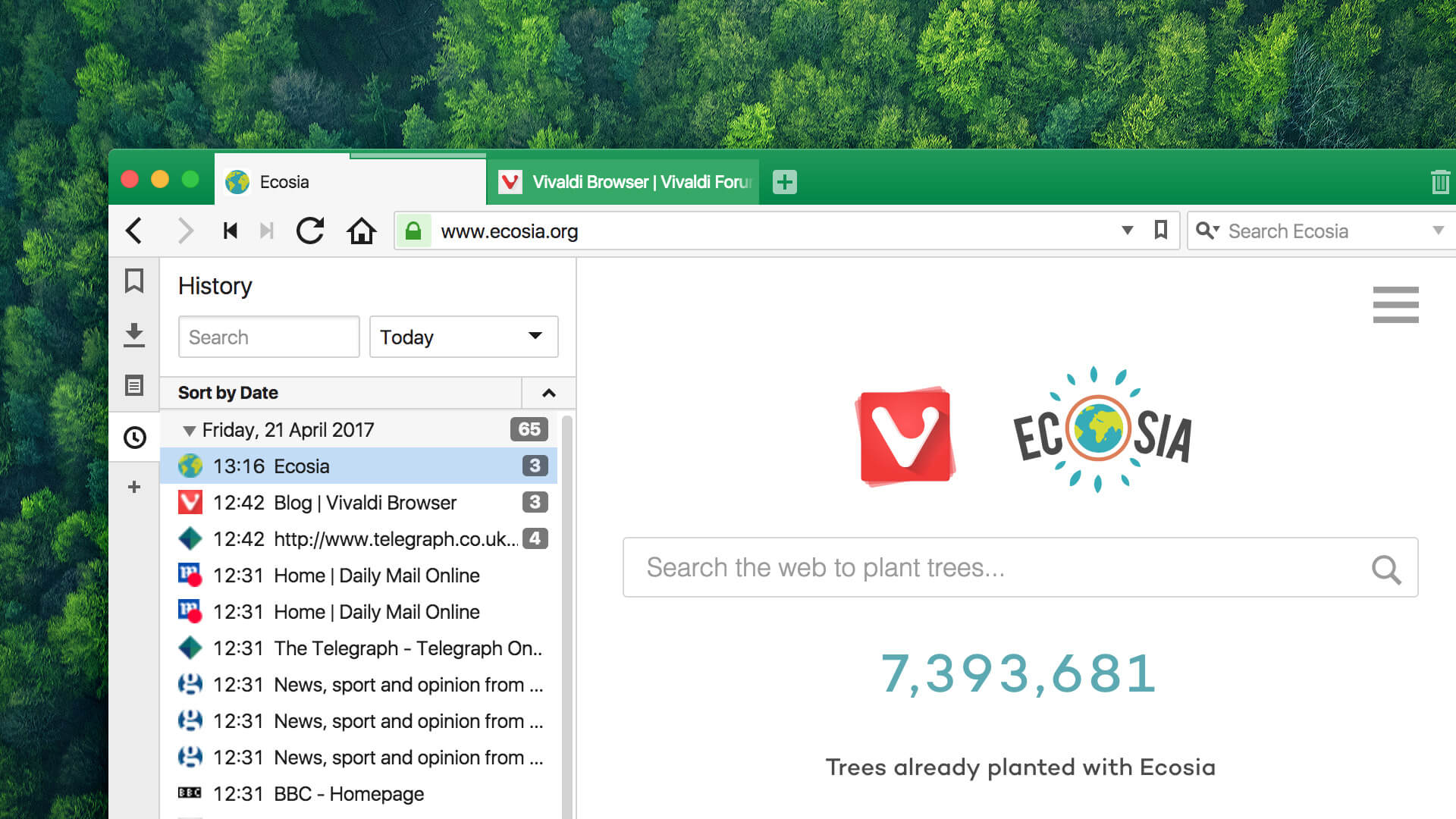 Today we bring you Vivaldi 1.9, which now features Ecosia – the search engine that plants trees. The new version also includes a number of important security fixes and functional improvements, as well as a long-requested feature that lets you shuffle the order of your extensions and the ability to sort notes.
Help the planet, one search at a time
Vivaldi lets you set your default search engine to anything you like. At the same time, we provide you with a selection of predefined options to choose from. We have now added another great alternative to our list – Ecosia – to give our eco-conscious users easy access to a greener search engine.
By using Ecosia, you can turn your web searches into trees planted in the world's most environmentally threatened areas. Ecosia donates at least 80% of its profits from search ad revenue to support tree planting programs around the world.
If you're installing Vivaldi for the first time, you will find Ecosia in the search field to the right of the address bar. Clicking on the magnifying glass icon will reveal a menu of search engine options, including Ecosia. You can also search through Ecosia in the address field after selecting this option in the Search settings.
If you are updating Vivaldi and have previously selected a different default search engine, you will need to restore the search defaults in the settings prior to Ecosia becoming available.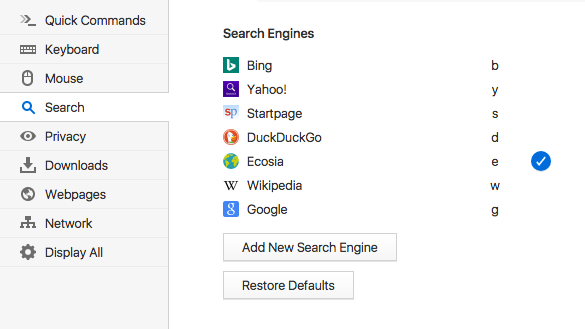 Ecosia uses Bing's technology, enhanced with its own algorithms. When you search with Ecosia, you will see a small tree counter appear in the top right corner of the screen. It will show a personal record of how many trees you have helped plant.
Ecosia has already planted close to 7.5 million trees since its launch in 2009 and is hoping to reach 1 billion by the year of 2020 – now with the help of Vivaldi users. We look forward to seeing you make a real difference to the environment by simply searching the web!
You asked, we did: shuffle extensions and change directory for screenshots
Another addition to Vivaldi is the ability to change the order of your extensions in the address bar. This is something many of you have been asking for, and we're happy to bring this feature to you in Vivaldi 1.9. You can now drag extensions around to reshuffle them as you please.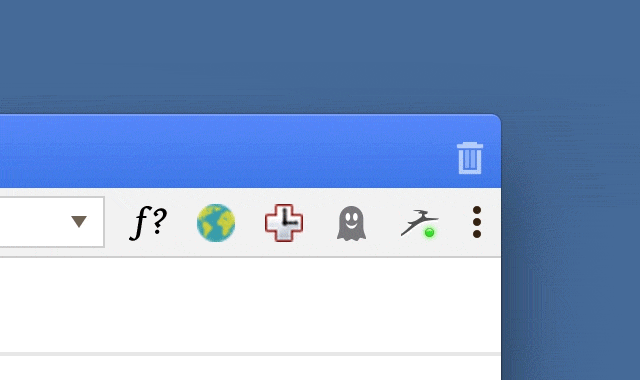 You've also asked us to give you the ability to change the directory for storing screen captures. You can now configure this in the settings (Webpages → Capture → Capture Storage Folder). For the moment, you need to type the exact path but we will look into improving that for you in the future.
Focus on details
Other features and fixes to further improve your browsing experience include:
Ability to sort notes.
Improvements to URL autocomplete.
Privacy and security improvements.
There is, of course, more to it – for a detailed overview of all the improvements, please see the changelog below and let us know what you think!
Changelog from 1.8 to 1.9
New features
Fixes
Platform
[Windows] Close button area shall reach edge of maximized view on Win7/8 (VB-20251)
[Mac] Vivaldi often crashes when closing tab (VB-27495)
[Linux][Address Field] Focus not in Address Field on startup, when on the start page (VB-26580)
Address field
Sometimes the search gets triggered even if "Search in Address Field" is disabled (VB-26604)
Hovering over URLs in the drop-down skips entries (VB-26876)
Selecting bookmark folder shortcut with mouse in address field does not open in separated tabs (VB-26278)
Autocompletion should prefer shorter history item over typed history (VB-27153)
Autocompleting can be triggered while deleting a character (VB-27239)
Shorter History link should be prioritized over longer Bookmarked URL (VB-27303)
Cannot select folder from nickname with arrow keys in address bar dropdown (VB-26433)
Extensions
Page action extension badges do not show up in address bar (VB-26340)
Extension button options still not rendering properly – uMatrix (VB-25899)
Show extension buttons when hiding toggle control
Drag and drop extension can have huge extension badge icons (VB-26540)
Find in Page
Needs a Limit for Selected Text (VB-26694)
Switching to different tab and back puts selected text in "Find in Page" field (VB-26027)
Search query is not selected in dialog (VB-26745)
History
Manager content is not restored (VB-26919)
Add support for removing "Discarded User Data" from Clear Private Data dialog (VB-26264)
Manager performance improvements (VB-27156)
Focus search field isn't focused by default (VB-27048)
Screenshots
Configurable Capture storage folder (VB-26829)
Need better behavior when cursor is out of the Vivaldi window (integration with environment) (VB-26256)
Capture selection should be modifiable: work is still in progress (VB-27155)
Other changes
[Keyboard shortcuts] clash with diacritic composition (VB-26734)
[Keyboard shortcuts] settings entry can become hidden (VB-25192)
[Quick Commands] One char nicknamed bookmarks not opened directly when match (VB-26776)
[Quick Commands] Searching inserts a space at the beginning of the query (VB-26203)
[Search Engines] Make Yahoo the default search for most countries
[Search Engines] Allow editing a search engine to change it to use "POST" (VB-3414)
[Search Field] Home and End buttons work in dropdown (VB-27270)
[Spatial Navigation] Indicator changes state when clicked (VB-27273)
[Spatial Navigation] Jumps over certain elements (VB-26720)
[Themes] Start page + sign color does not change with theme (VB-26845)
[Update Notifier] It does not use the configured Vivaldi locale (VB-27426)
[Update Notifier] It doesn't start for system-wide installs (VB-26764)
[Gestures] Require minimum length for gesture stroke (VB-26469)
[Bookmarks] Improve editor usability: Better handling for Escape and cancelling of actions (VB-26648)
[IME] First character typed in input box gets committed without converted to Japanese (VB-24467)
Favicons not shown when a page uses 'link rel="shortcut icon"' (VB-24025)
Improve keyboard handling in panels: particularly how Escape is handled (VB-26839)
Moving tab in Reading View to a New window causes Reading View icon to disappear (VB-23579)
Open History page or bookmark page from middle click on corresponding panel buttons (VB-26266)
Opening and closing panels triggers errors and is jerky (VB-26575)
Right-positioned tab overlaps Page Actions menu (VB-26272)
Added separate setting for spacebar fast forward (VB-27386)
Misplaced "Detect Page Title Notifications" item in Settings (VB-26909)
Chromecasting Tab is not working correctly (VB-26553)
Fast-forward isn't working on some pages where we would expect it to (VB-27200)
Return focus from closed panel (VB-9410)
Performance improvements: thanks, WillyYu (VB-26302)
Update Chromium to 58.0.3029.82