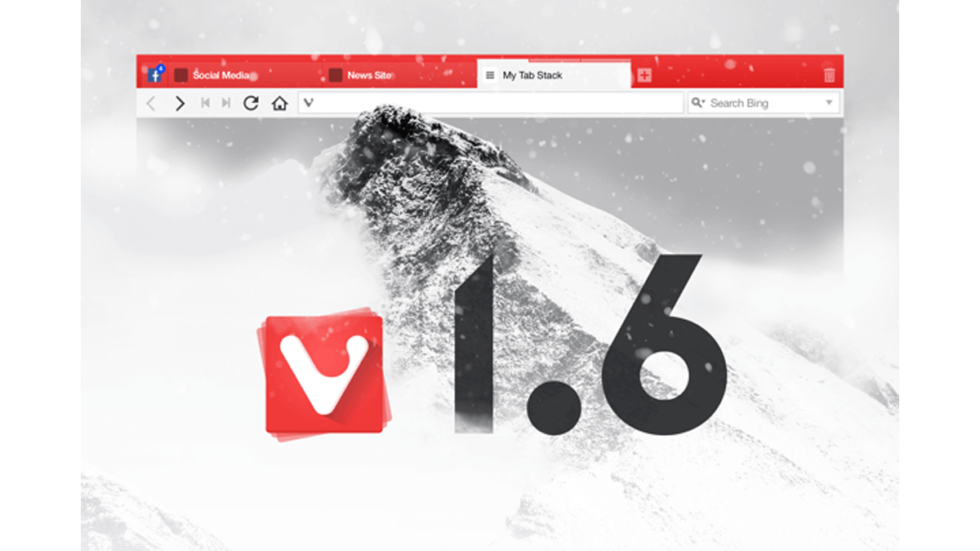 Only a few weeks ago, we forayed into the IoT space with our previous release and received very positive feedback. Thank you. With the same level of excitement, we're continuing the Vivaldi journey today with features that focus on details. Vivaldi 1.6 is ready.
Tab Notifications
One of the major highlights of Vivaldi is its Tab Management and we continue to make it even better for you. Tab notifications make their debut this release. This is a feature that no other browser has offered before. These Tab Notifications let you know which of your tabs have new content waiting for you. Notifications will display on both pinned and regular tabs which is very neat. An overlay icon on the tab will notify you of new emails or messages coming through social media websites.

It's all in the name
While we continue to work on bigger features, we also realize that the little things can lead to success. One such detail in this release is the ability to rename your Tab Stacks. This can come in especially handy when you are browsing websites with similar content, be it travel, shopping or social media.

To get started, tick the box marked "Allow Tab Stack Renaming" in your Settings to enable the option. To get naming, simply right click on a tab stack and choose ''Rename Tab Stack'' from the menu. Enter the desired name, hit Enter, and voila – all the tabs in the stack will display the name that you have just assigned. Quickly return to the default names by simply following the same procedure and deleting the assigned name.

It's all about Tabs and more
Selecting tabs just got much easier. If you have a lot of tabs open, read a lot of articles and want your tab bar to be more organized, try out our new feature – Tab selection by domain. You can select multiple tabs at once by simply holding Ctrl (or ⌘ on macOS) and double-clicking on one of the tabs. All open tabs from the same domain will now be selected.
From there, you can gather the selected tab into a stack, bookmark or even move them to a separate window This feature also allows you to easily tile the selected tabs by right clicking the menu. Not only this, you can close all of the selected tabs at once with Ctrl+W keyboard shortcut.
Why we love the details?
With Vivaldi, we not only want to introduce new features regularly but also keep polishing and improving the existing ones. This is only possible with your feedback. Everyone knows the phrase 'the devil is in the details' but I am not fan of it. It makes details sound too dark. Details are exciting. Details matter.
It takes a lot of work and passion to check every single detail. But if you are passionate about what you do, isn't it worth it? I think it is, no matter what you are doing whether writing a novel, cooking a meal or building a browser. The results are worth it. This release once again gives me an opportunity to express my gratitude to our team and an ever-growing community who continuously strive to make the browsing experience better. Try out our latest version and as always let us know your thoughts so that we can make Vivaldi just the way you want it to be.
Changelog
[New feature][Tabs] Detect numbers enclosed in brackets (parentheses) in page title to use as tab notifications (VB-23635)
[New Feature][Tabs] Ctrl/⌘ double click tab should select tabs of same host (VB-23096)
[New Feature][Tabs] Title renaming for tab stack: enable via "Settings → Tabs → Tab Features" (VB-23491)
[New feature][URL field] Ctrl or ⌘ click on the address to cut off the rest of the URL (VB-23671)
[Windows][HiDPI] HTML in update dialog not HIDPI friendly (VB-17735)
[Windows][HiDPI] Installer looks blurry on HiDPI displays (VB-23934)
[Windows] Maximized browser window overflows 1-2 pixels onto second monitor (VB-18258)
[Windows] Updater window out of focus (VB-22431)
[Windows] Auto update should not open immediately after user has checked for update manually (VB-23857)
[Bookmarks] Drag and Drop misbehaves on bookmark bar (VB-23606)
[Bookmarks] Show site name or URL in tooltip when hover an icon in bookmarks bar (VB-22887)
[Bookmarks] Reduce vertical space in Edit Mode for panel (VB-23108)
[Bookmarks][Speed Dial] Improve copy/cut/paste for bookmark tree, bookmark bar and Speed Dials (VB-23339)
[Bookmarks] Can not drop a URL after last item on the bookmark bar (VB-23401)
[Extensions] Click the same extension button doesn't close its menu (VB-17312)
[Extensions] Last pass search field not auto focused (VB-17739)
[IME] hover in address bar turns the text invisible (VB-23313)
[Notes] It should be possible to map copy marked text to new note as a keyboard shortcut (VB-4018)
[Reader mode] Button re-paints upon loading new tab/reload (VB-23040)
[Reader mode] Should not show on reddit.com (VB-23615)
[Reader mode] update needed because failures on a few sites (VB-23661)
[Search field] Dropdown not closing on new tab (VB-23738)
[Search field] Added setting for always opening result in new tab (VB-23648)
[Search field] Search bar typed history is filtered towards content in search bar (VB-23612)
[Search field] Delete typed history not working correctly (VB-23927)
[Search field] Remove the icon from typed history
[Search field] Alt+Enter no longer opens new tab (VB-23357)
[Speed Dial] Cannot show unlimited Speed Dials in one folder (VB-16864)
[Tabs] Blank page if the only tab of the window is dragged to the same tab bar (VB-23412)
[Tabs] Clicking on active tab doesn't always switch to the last used tab, after enabling "Click active tab to switch to previous tab" (VB-23212)
[Tabs] Stacked tabs dragged together even with stacking off (VB-23340)
[Tabs] Group the tab stack related context menu items
[Tabs] When both pinned and unpinned tabs selected only Unpin option in context menu, toggling states (VB-23080)
[Thumbnails] Pages loaded in background tab do not update thumbnail (VB-2991)
[URL field] Search in address field settings are out of sync (VB-23290)
[URL field][Search field] Focus styling is not the same as default UI focus (VB-23260)
[URL field] Copying the first character in the URL bar results in the entire contents being copied (VB-23246)
Improved startup procedure
No Referer Header with open new tab (VB-11034)
Mouse cursor not hidden when video is in fullscreen mode (VB-4297)
Fullscreen does not show hint on activation (VB-11689)
Missing Numeric pad shortcuts for single key shortcuts (VB-23495)
Backspace in text fields in web panels triggers going back (VB-23630)
Improve tree auto expand during drag and drop (VB-23387)
Incorrect Context Menu for Tab Stack Move To Submenu (VB-23395)
Simplify drag and drop around trashcan in trees (VB-23177)
Updated Chromium to 55.0.2883.92