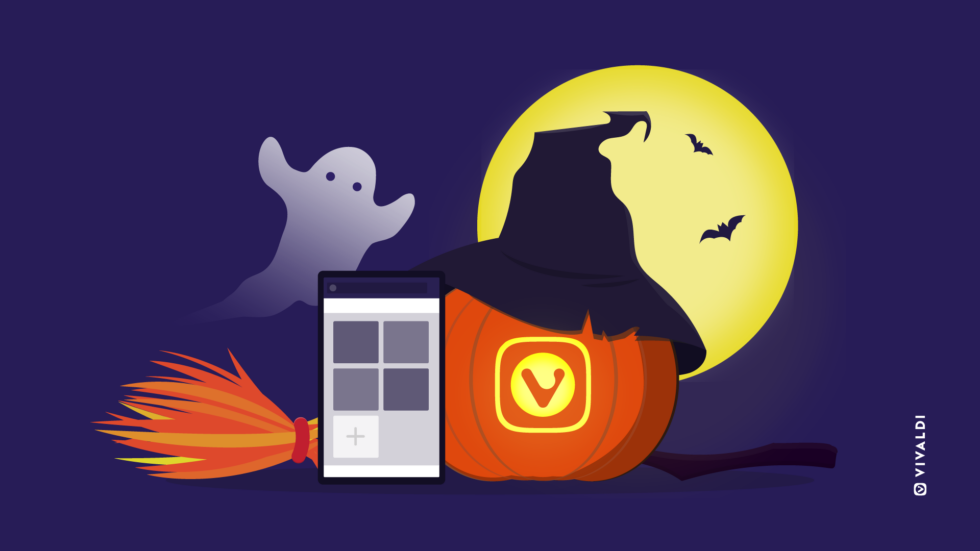 Read this article in Deutsch.
It's that time of the year again – everything gets a bit darker and spookier. Pumpkins are everywhere, not only lit up with scary faces, but also in lattes.🎃
But even if the pumpkin spiced latte may not be your favorite drink to order, you can still enjoy dressing up in costumes and letting your imagination go wild.
We definitely love Halloween for the costumes and decoration, because we love choosing from a variety of options – be it fun and spooky outfits or features in our browser.
So, here we are, giving you a number of options on how you can spice up Vivaldi browser on your Android phone this Halloween.
Make your phone ready for some dark and spooky hours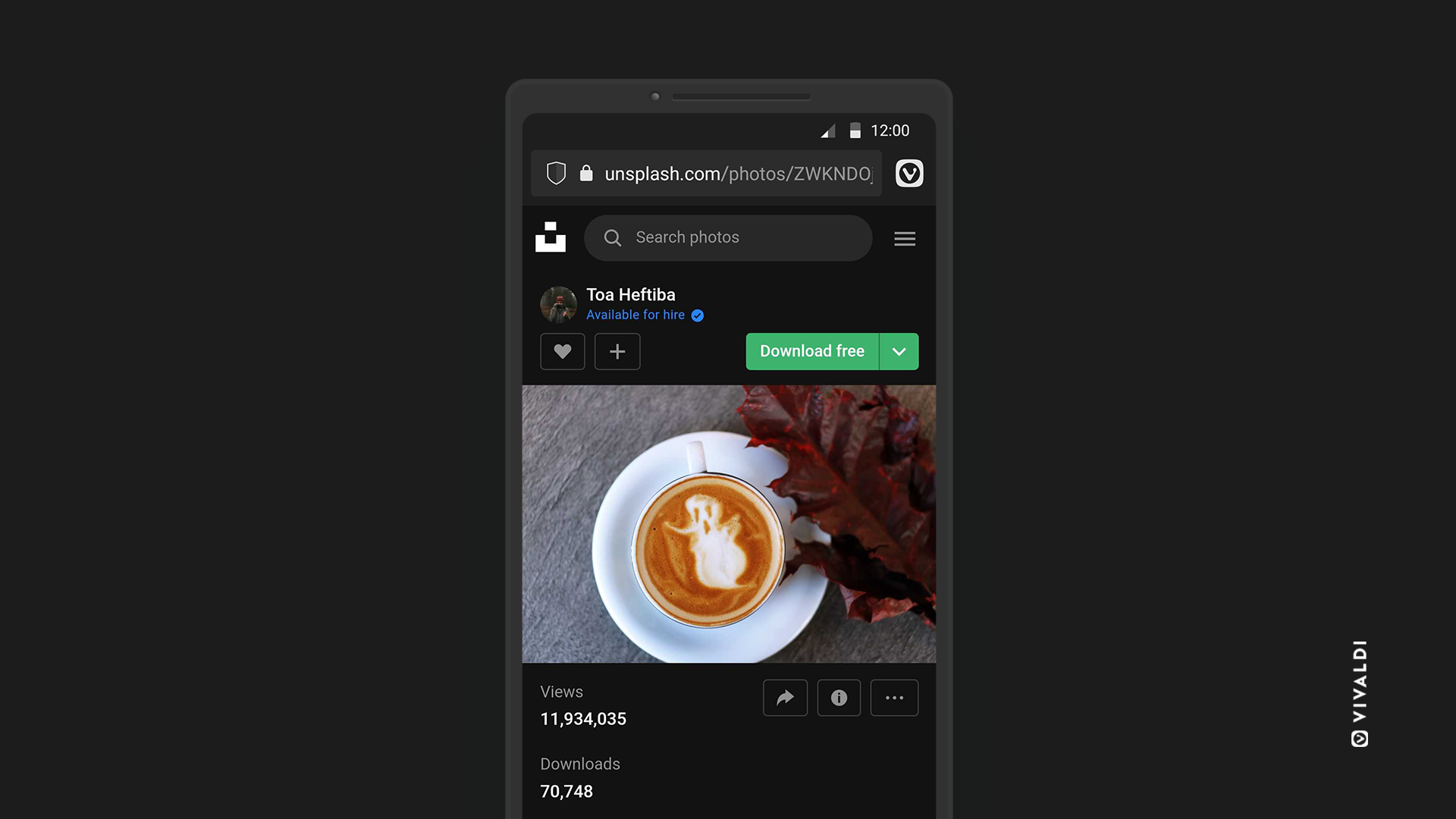 No matter if you are going trick or treating around neighborhoods, partying with your friends or watching a terrifying movie at home – Halloween is dark mode time!
In your Vivaldi browser on Android, you can easily enable dark mode for your phone.
To view websites in dark mode, enable dark mode for Web Pages in Settings > Appearance > Themes.
Embrace this dark Halloween feeling!👻
Protect your phone from spooky ad-tracking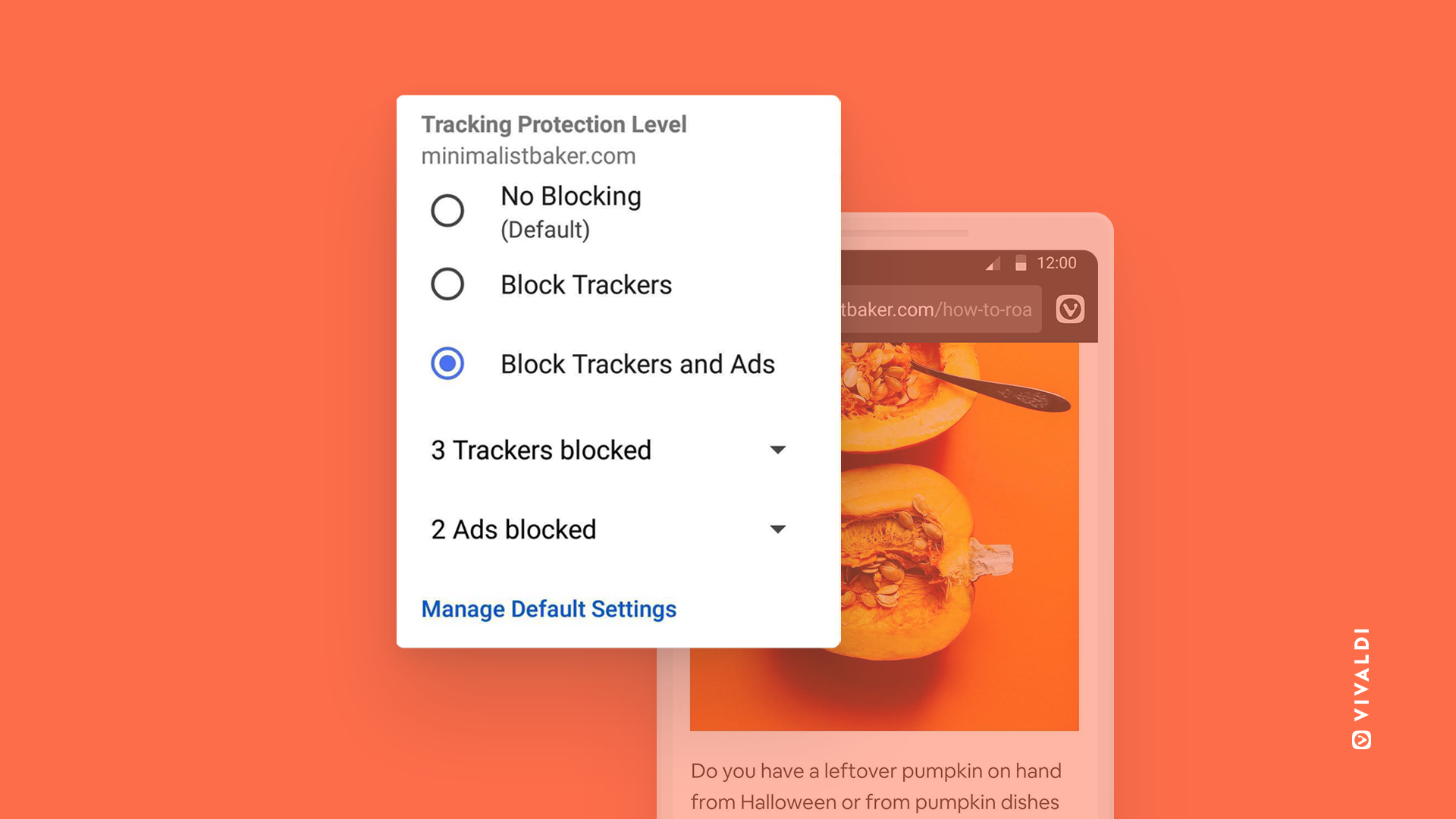 Have you searched for some creepy costumes on Google lately and now see them on Facebook? We totally understand you may be feeling paranoid that your phone is following what you are searching.
Getting tracked is really spooky, and it is not the kind of creeps we want for Halloween.
For us, your privacy comes first. The costumes and recipes you are searching are none of our business, and it shouldn't be any other company's. Just go to Settings > Privacy > Ad and Tracker Blocker and define the blocking level you want.
And by the way, Google's latest controversial and privacy-invasive feature, the Idle API, has been turned off by default in Vivaldi.
More creepy ad-tracking stories? Stop it! It's easy to make your phone a safe space in less than a minute. Start with using a privacy friendly search engine. As Vivaldi is all about offering options, you can choose between different search engines for your phone. Check out this article to learn more about different privacy friendly search engines.
Keep your Halloween preparations organized – with the Tab Stack Toolbar.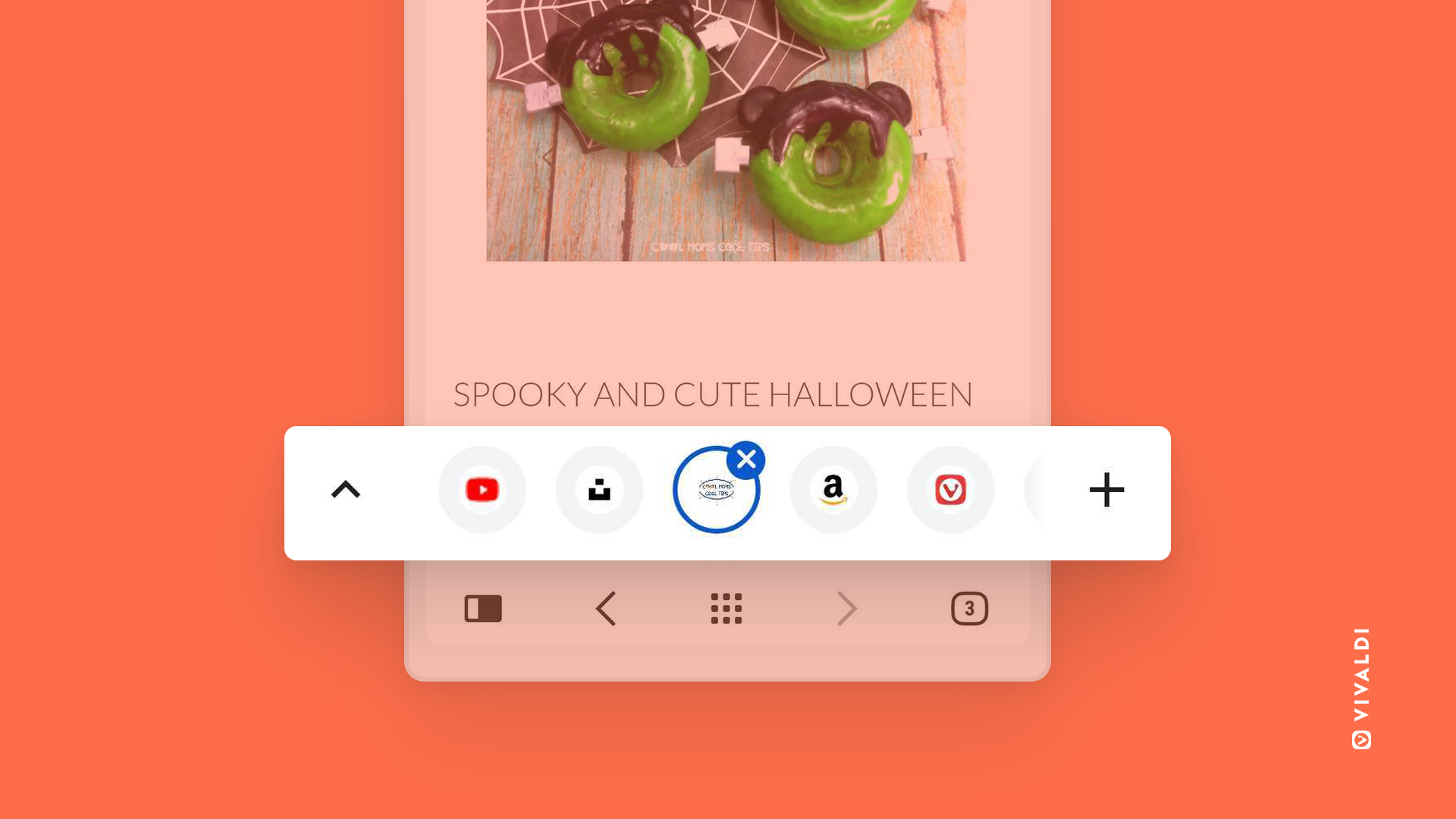 Have you already seen all those creatively creepy recipes for Halloween? There are even cookies that eerily look like fingers – gourmet gore! Guaranteed to give your Halloween guests a fright!
While browsing through all those amazing recipe ideas, you can easily lose track. The variety is just massive! But hey, relax! We have a way for you to keep all your tabs organized. How?
It's simple. Just use the Tab Stack Toolbar. It lets you switch tabs when you have grouped tabs while browsing, even when the Tab Bar is not activated. And it also includes options for opening and closing tabs within the stack, as well as a way to preview the grouped tabs.
And you will never lose track of your favorite Halloween recipes again.
Ready to cook your favorite Halloween recipes? Sync it all up!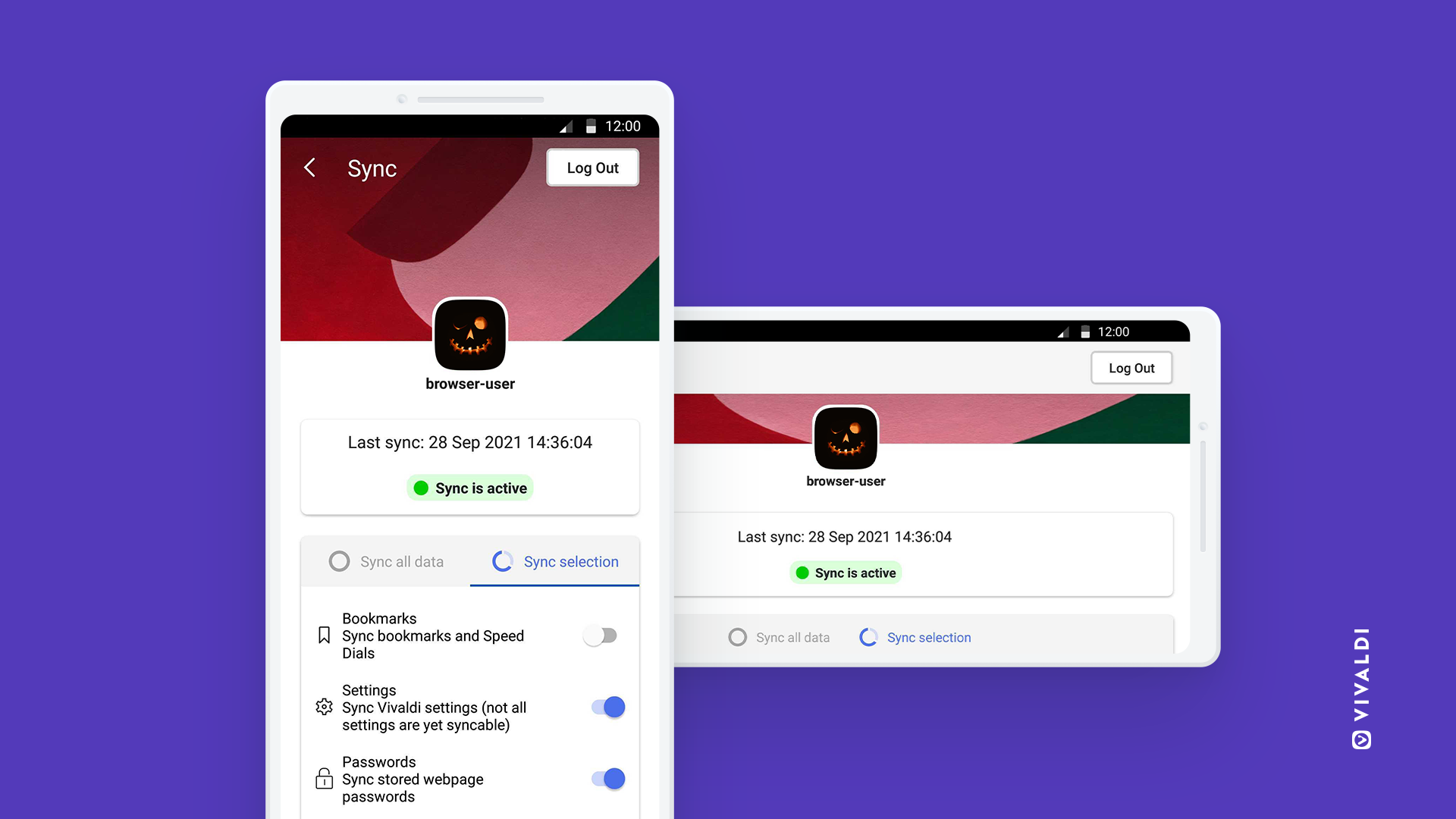 We've all been there: You are browsing on your phone, going through your favorite recipes before the party starts. But when it comes to preparing them, it is just more convenient to have the recipe on your laptop than on your phone, right? We feel you!
So, we have an easy solution for this – just sync.
With Sync, you can easily access your data across computers and Android devices by using your Vivaldi account — securely and more efficiently than before.
And did you know that you can even copy texts as notes on your phone and sync them with your laptop? Just mark the text and click "Copy to note" – voilà, saved as note and synchronized with your laptop. Just that easy.
Creepy Halloween recipes, here we come!
Now it's your turn. Spice up your phone and let us know in the comments what your favorite Vivaldi on Android feature is! Happy Halloween!🎃