Hi, I'm a new Vivaldi employee, starting today. Perhaps I got the job because the Vivaldi team pays such careful attention to user feedback. 😉 Anyway, I have taken a little time off from my coffee making duties to write this blog post.
The highlights today are improvements to search engine management, spatial navigation, an alternative UI look and work in progress towards customisable mouse gestures. In addition, there are a number of nice, requested fixes (see the changelog below for details).
Search engine management
As you can see from the screenshot, we have made a much cleaner and clearer search engine editor. Go to "V-menu → Tools → Settings (Alt+p / ⌘,) → Navigation → Search (at the top)" to check it out.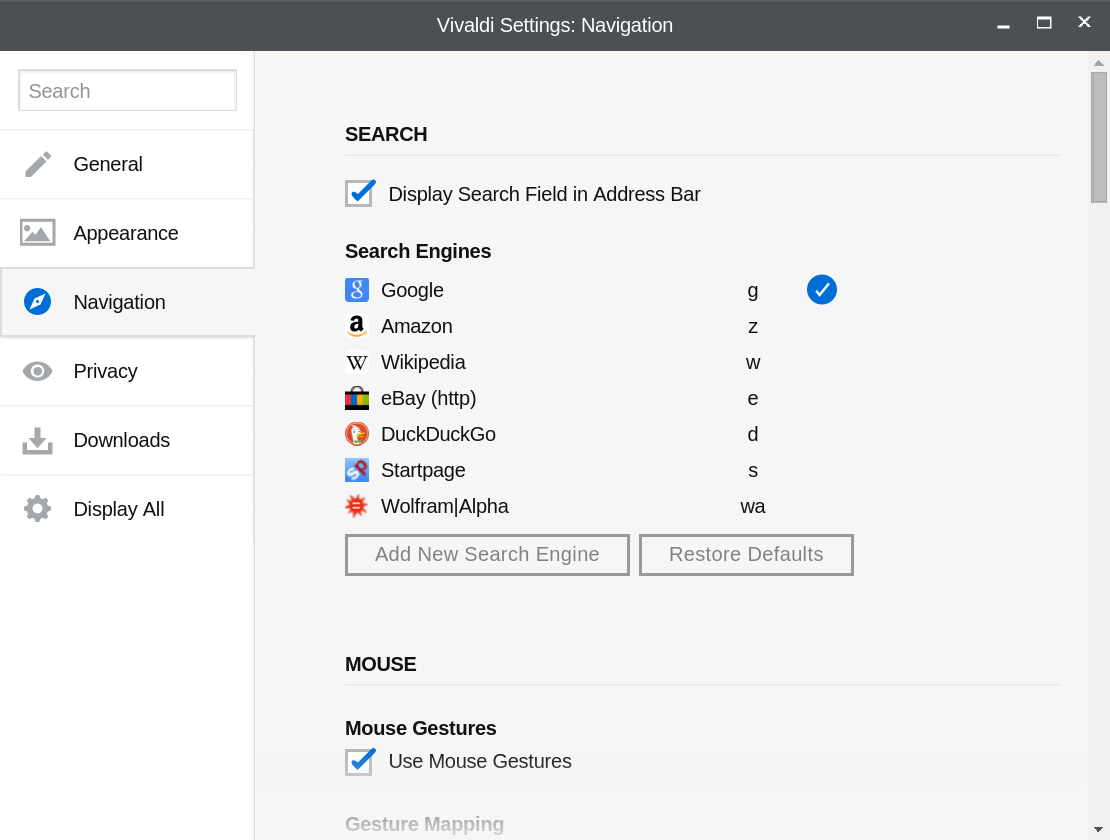 Spatial navigation
Spatial navigation continues to get serious and on going attention. The four fixes listed below don't represent all the work we have done in this area, so be sure to give it another try if you encountered problems before and make sure you give us feedback below.
Traditonal, sleek, gray UI—as an option
We think our color tabs are great and allow Vivaldi to adapt itself to the web site it is displaying, providing a seamless look between the page and the browser. However, we also love options and also understand that some people would prefer something more neutral. When disabling the coloring, many expected a more "default looking" UI. Previously, we used to just disable the tab color, and replace it with a very dark gray. It gave a very contrasty look, which was perhaps a bit too much. We think that with this update Vivialdi manages to look both sleek and traditional. Let us know your thoughts! You will find the option in the Settings, under "Appearance → Tabs".
Mouse gesture customization—work in progress
We are currently working on mouse gesture customization. We are not there yet for this snapshot but a peek into "Settings → Navigation → Mouse" will give you some clues about the direction we are heading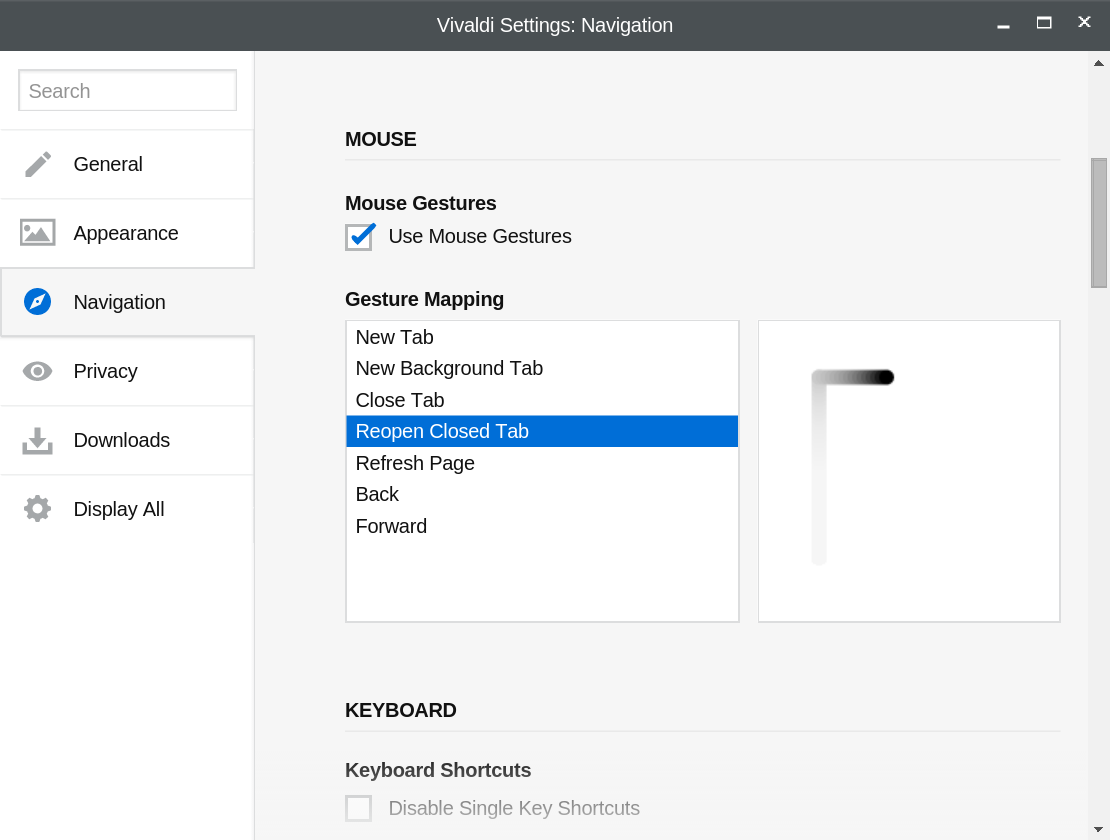 Download (1.0.201.2)
Changelog
VB-6099 – Paste as plaintext grayed out
VB-6097 – Paste and Go menu item missing on main Mac menu
VB-6089 – Improve usability of adding URLs to "startup with specific pages"
VB-6047 – Spatial navigation results in slow scroll
VB-6025 – Spatial nav does not go into article with teasers at Heise
VB-5925 – Fixes around V menu regressions
VB-6120 – V-menu button overlaps panel when you have native view and tabs and address bar at bottom
VB-6107 – Vivaldi not asking for admin rights during update when installed as "all users"
VB-6031 – "Restore settings" button have wrong position when Settings maximized
VB-6003 – Keyboard settings titles splitted
VB-5886 – CTRL + U opens tab in HTML code instead of underline text in textfield
VB-5627 – Importing bookmarks from Opera 15+ only imports "Bookmarks Bar" folder
VB-5436 – spatial nav shortcuts for open link in new/background tab don't work
VB-5405 – Shortcuts for selecting to beginning/end of line overwritten on Mac
VB-5184 – View menu string not seperated for Mac
VB-2357 – Mac does not detect pepper flash
VB-6159 – Settings page category sidebar layout is defective
VB-6153 – Prevent closing a pinned tab with either the middle mouse button or a double click
VB-5990 – Spatial navigation should support menu key
VB-5919 – Focus in address bar lost when switching tabs/text selection is not removed
VB-5828 – Search dropdown/urldropdown does not go away when clicking on a tab
VB-4153 – Increase list of spatial navigation targets to all interactive elements
VB-3417 – Address is not loaded back to the address field if it is erased
VB-6179 – Add elements with tabindex >=0 as spatial navigation targets
VB-6167 – Auto-update on mac should check on startup, like the win version
VB-5244 – Speed dial doesn't animate correctly between groups/tabs
VB-6042 – Spatial Navigation can't focus textarea
VB-2526 – Search engine url field too small in existing search engine settings
VB-934 – Need better management of search engines