直接內建在您的瀏覽器中的 Thunderbird 替代品
Our vision is simple – you should be in control of how your email client looks, feels, and works.
下載 Vivaldi
它是免費的,且支援 Windows、macOS 以及 Linux 等作業系統。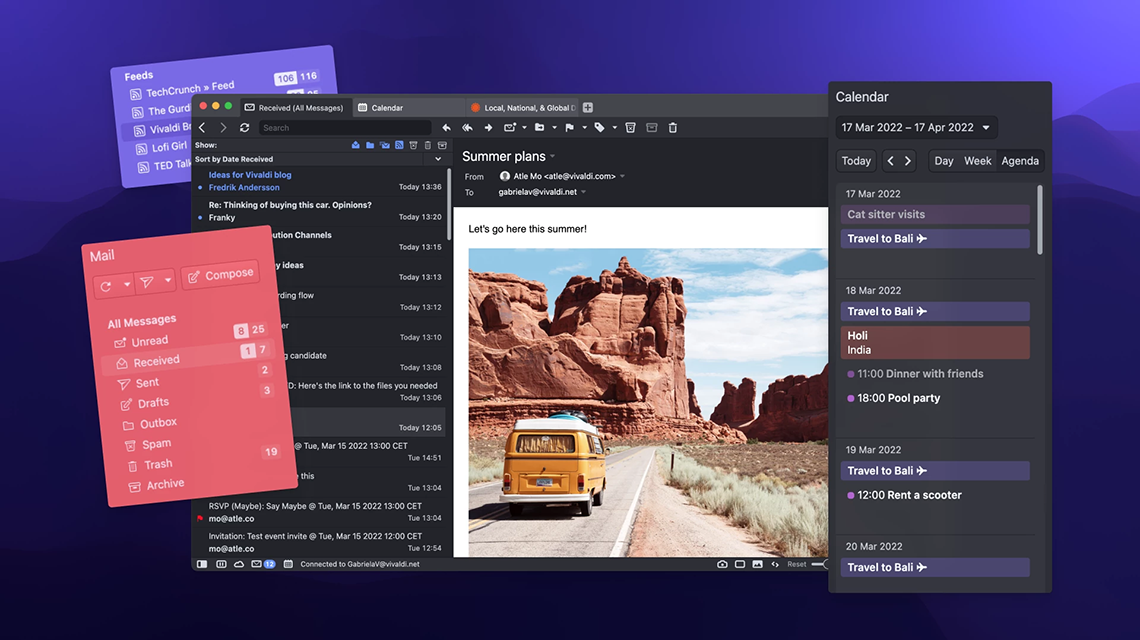 Make your email client work the way you want
Vivaldi Mail puts you in control. While email clients like Thunderbird have a workflow for you in mind, you can customize Vivaldi Mail to fit your needs.
Organize all your accounts
Vivaldi Mail has solved the problem of having multiple mail accounts and a lot of mail. Enjoy a more stress-free and focused email experience by managing all your accounts from one easy-to-manage inbox.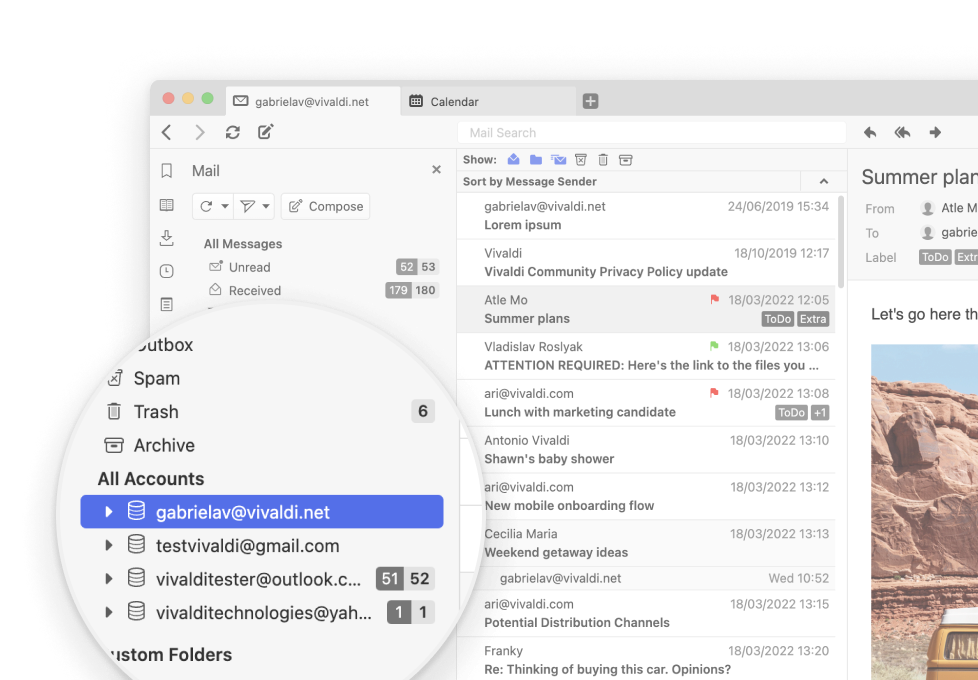 Get your toggle on
A convenient set of toggles helps you save time by enabling you to switch between different views and layouts.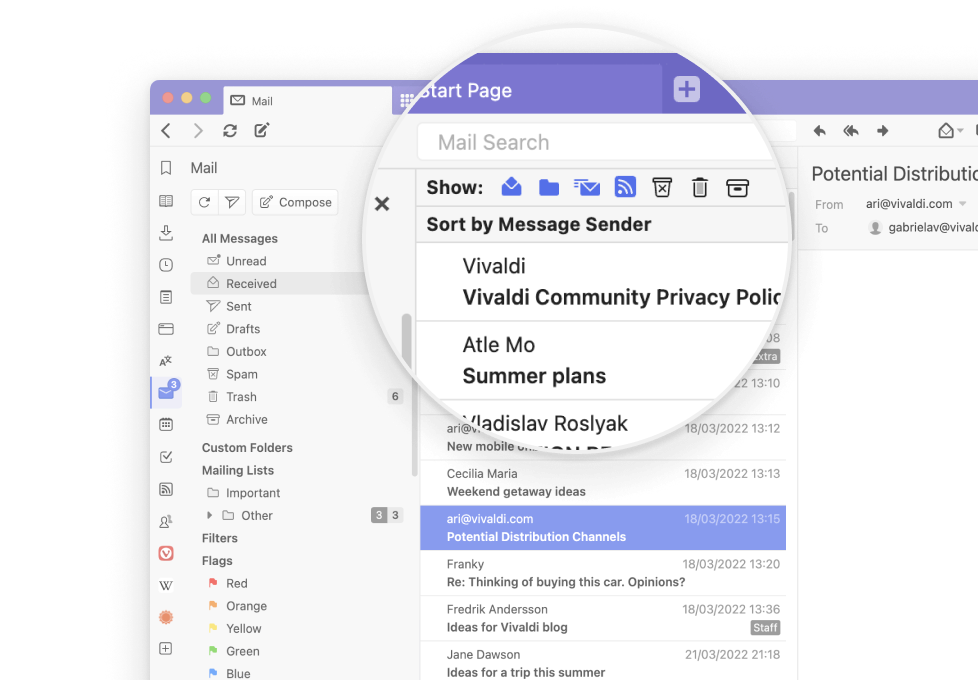 Fly through your inbox
Use our customizable Keyboard Shortcuts to work through your email faster. You can also jump through "history" and views using Back/Forward buttons.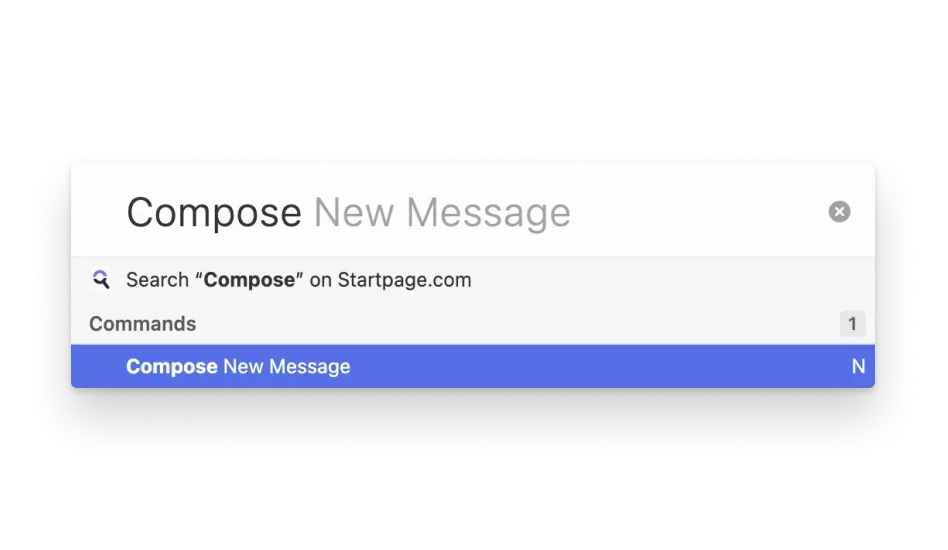 Search through all your mail
The database is the cornerstone of Vivaldi Mail. We've designed it to be fast and powerful, so you can find what you need quickly and get back to what matters most.
| Vivaldi Mail vs. Thunderbird | | |
| --- | --- | --- |
| Fully customizable with shareable themes and UI settings | | |
| Smart thread handling (jump to thread) | | |
| Automatic contact generation | | |
| Full offline access | | |
| Configurable keyboard shortcuts | | |
| Customizable mouse gestures | | |
| Automatic mailing list detection and filtering | | |
| Searches can be saved as a new filter | | |
| Messages can be queued in Outbox | | |
| Built-in calendar | | |
| Built-in feed reader | | |
| Natively integrated in a browser | | |
Our answer to organizing your email
Learn what makes Vivaldi Mail's UI so special
See how easy it is to get organized
Go behind the scenes of every feature
探索 Vivaldi 郵件的功能
擺脫資料夾式的思考
A single message can appear in any "folder" or view. Save time spent digging from folder to folder by creating views that show the messages that matter.
Unseen and unread
There are two counters next to folders in Vivaldi Mail. Brand new mails that have never been seen before are called Unseen. Emails that you have seen but not dealt with are Unread.
奪回您的隱私權
Vivaldi Mail doesn't collect information about your behavior, and we make it difficult for others to track you.
Need more reasons to switch to Vivaldi Mail?
Here are some more reasons why Vivaldi Mail is the best mail client for power users like you.

Built-in Calendar
Send and receive event invites seamlessly with Vivaldi Calendar.

整合訊息來源閱讀器
New feed items from Vivaldi Feed Reader display like your other messages in the Mail interface.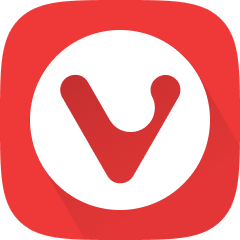 瀏覽器優勢
Vivaldi Mail is based on the same robust core as your favorite browser. Manage thousands of messages in a single unified inbox.

資料庫
A database of all your messages, labels, filters, searches is the bedrock of Vivaldi Mail. All your mail is indexed, so it's searchable offline.

儲存的搜尋
可以將搜尋結果儲存成篩選器。不需要每次都建立資料夾。

支援多帳號
支援使用 IMAP和 POP3,幾乎可以整合任何郵件服務。