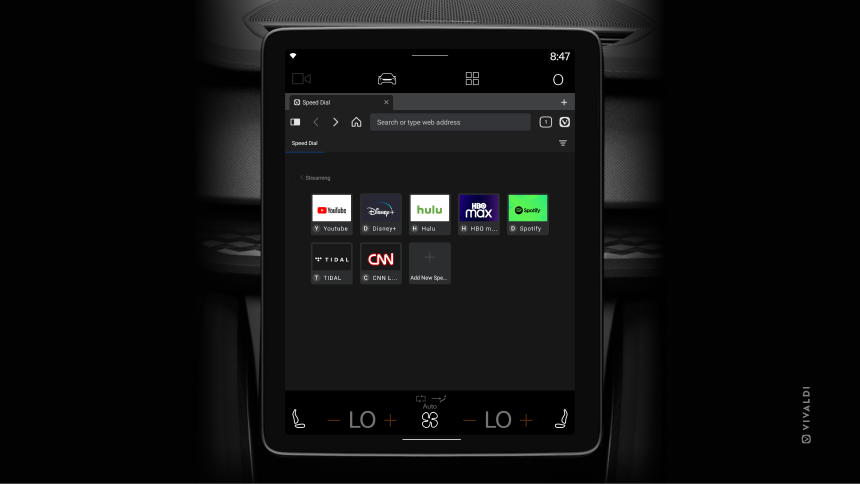 Read this article in español, 日本語.
We are thrilled to share that Vivaldi on Android Automotive has been added to Google's Play Store.

The Vivaldi browser has already been available in Polestar 2, Polestar 3, and Renault's next-generation cars including Megane E-Tech Electric, All-New Austral, Rafale, and Scenic E-Tech.
Recently, Mercedes-Benz and the Volkswagen Group have also been announced as our partners. Currently, Vivaldi is available in the new Mercedes E-Class, CLE Coupe and select Audi models from the Volkswagen Group.
Now that our automotive browser is available on Google Play, more car manufacturers that use Android Automotive can access the browser.
"Many drivers of Volvo cars and other cars that use Android Automotive have been asking about Vivaldi's availability to them. Finally, it is here!", Vivaldi CEO Jon von Tetzchner says.
This is what Google has to say in its blog where they have announced new apps for Android Auto and cars with Google built-in:
"We're also expanding your parked entertainment options beyond video. Already available in some cars as a standalone app, Vivaldi, a Chromium-based internet browser, is rolling out starting today on Google Play in the car. With Vivaldi's powerful functionality, you're able to browse the web safely while parked so you can make the most of your time."
Vivaldi on Android Automotive comes with a powerful set of features which includes a built-in ad blocker and tracking protection. It functions similarly to how it would on a mobile device. You can automatically sync tabs between the vehicle and the Vivaldi in use on any smartphone or computer. This helps you carry on with your browsing when moving from the car to the phone or computer.
In addition, you'll also find notes and a screenshot tool built into the browser, making it a useful research tool. Vivaldi's unique user interface with a scalable zoom has been specially designed for big and small screens.
We've made it easy to stream your favorite shows, music, games, and podcasts right from your car's entertainment system. This means that, while charging your car, you can take video meetings, or even shop for that perfect anniversary gift while you wait to pick up your children from soccer practice.
"We are excited that more people will be able to try out our browser in their cars. Enjoy!", continues Jon.