We wanted to get an extra snapshot out today, to correct the issue with native languages not being used in yesterday's snapshot. But that is not the only improvement; more work has been done on the cookie manager, we fixed an issue with excessive GPU memory usage, fixed an annoying bug with desktop icons refreshing on Windows and tab selection has been greatly improved.
Tab selection visibility and tiling
One of the fixes today is an improvement to the visibility of "tab selection". This is important, as it can be used in combination with a feature that we have had for a while but is often overlooked—Tab Tiling. Consider if I have the following tabs open:

Using Ctrl or Shift and clicking with my mouse, I can select tabs and the visual clue that they are selected is now much clearer:

If I want to tile these tabs, I simply click on the tiling options button in the bottom right hand corner of Vivaldi:

Choosing the "Grid" tiling option, my pages would now look like this: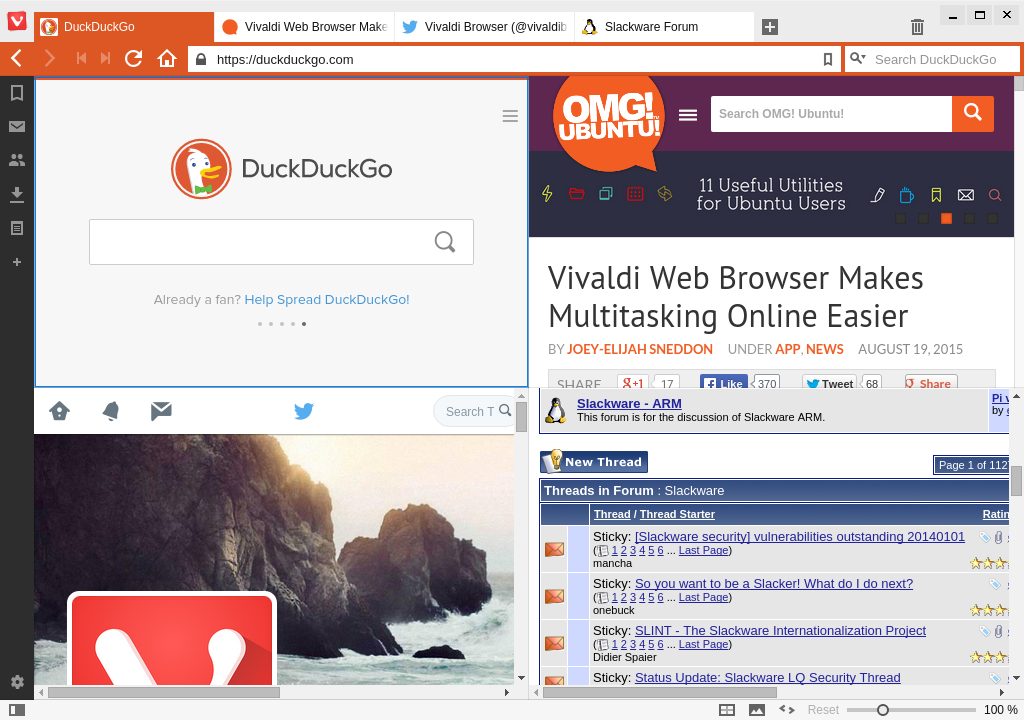 Tiling is a great way of viewing multiple tabs at once and with this small improvement to tab selection visablity, it is now even easier to use!
Download (1.0.258.3)
Changelog
VB-1955 Cookie manager needs some love: click whole row to expand cookie; cookie filtering updated
VB-8685 Tab selection not visible: High-contrast assured for all 4 themes
VB-8739 Non-English languages are not used
VB-5796 Refresh of desktop icons after Vivaldi start and SpeedDial reload
SVG animation fix: Wrong color in light UI/active tab fixed
Fix for excessive GPU memory usage when many tabs are open