It's still holidays here, with quite a few people away enjoying the sun. Nonetheless we have some nice fixes for you.
Tab bar improvements
A lot of you complained that it was impossible to drag the window on the tab bar. We hence spent some time fixing this for you. On the downside this means that middle clicking on the tab bar to open a new tab does not work anymore for now. We will look at finding a way for both of these possibilities to work together again. In the mean time we feel that this is a more sensible default. Another change to the tab bar is that the gap above tabs when the window is maximized can be removed in settings, which enables you to switch tabs more easily by just throwing your mouse all the way to the top. This used to be tied to disabled tab stacking, but we now made those two settings independent, so that it works for everyone!
Address field favicons
In the address bar drop drop down, we have added in favicon support, making it a little easier to locate correct URL, with just a quick glance!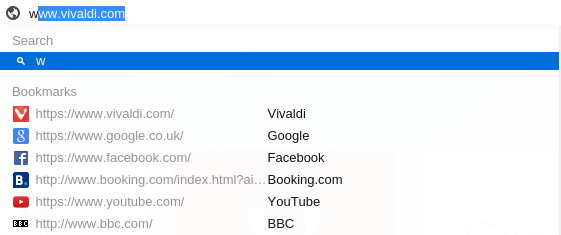 Spatial navigation and more
There are also a bunch more fixes to spatial navigation, the Windows installer and a keyboard shortcut fix. Scroll down to the changelog for more information.
Download (1.0.231.3)
Changelog
VB-7789 Auto-update sets last Standalone install to default browser
VB-5802 Uninstall Single User install does not work
VB-7482 Embedding tab stacks and making them independent of stretching to the top border of the window: new option "Switch tabs at edge of maximized windows"
VB-4677 Display search engine favicon in address bar
VB-7883 Add an option for case sensitive find in page search
VB-3803 Not possible to drag from tab bar
VB-7854 Show favicons in address bar dropdown
VB-7936 Unable to install standalone build from commandline with the '–standalone' option
VB-7476 Middle click doesn't work in Bookmarks tab
VB-7844 Spatnav can't find links on wilde-schwaene.de
VB-7959 Vivaldi installer does not respect the –do-not-launch-chrome commandline option
VB-4929 Alt+Home does not go to the home page
VB-7955 [Spatnav] Doesn't jump to id-s – #whatever
[Spatnav] Handle links with multiple connected rectangles
[Spatnav] Ignore rectangles with zero width