Geolocation support
We have now added Geolocation support to Vivaldi. This is handy as it allows sites (e.g. mapping services) to know your location and adjust their content appropriately. They can not take this information without you agreeing however, so a small popup will appear to allow you to decide if it is permitted or not.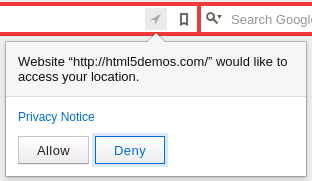 Thumbnail improvements
This is the first round of fixes to thumbnails that many of you have been waiting for. Newly added Speed Dials will now have a thumbnail again and you can reload the missing thumbnails. It is not a complete, bug free solution yet but rather a step in the right direction.
Known issues
Alternative FFMpeg lib support does not work but will return in a future build
Download (1.0.288.3)
Changelog
VB-9330 [regression] Offscreen thumbnail generation stopped working on Speed Dial: also fixes to Speed Dial thumbnails when visiting a site; more work still needed
VB-9508 Missing default search in addressfield after deleting some search engines
VB-5940 Notes: Attaching an image updates the URL: Only update the note url for the first attached image, and only for screen-shots.
VB-9316 Crash when url ends with /30%30 or /300: backport fix for https://crbug.com/533361
VB-8397 Implementation of Mozilla location services for Geolocation support
VB-9512 Can not enter capital letter K anywhere in the UI: Temporarily removing mail shortcut; But this fix will only work for new profiles. Old profiles would need to remove the shortcut manually. A further fix is needed
VB-6005 Change interval of UI Zoom slider to 5% instead of 10%: Increasing precision of zoom slider tick datalist
VB-9506 File urls not shown in history urlfield search
VB-5245 Edit menu items do not work
VB-8481 Web panel should use a mobile/tablet User Agent by default
VB-8279 Cant go back from error page
VB-1513 "Page Actions" problems
VB-8898 No alert for language switching
VB-8595 UI scale change affects names on Bookmarks bar
VB-1785 Address field autocomplete starts with each new word in bookmark hits: Use OR not AND for search in bookmarks
VB-9431 Keying down in bookmark manager does not scroll down the tree
VB-8621 Browser keeps asking access to camera even if already clicked 'Allow'.
VB-9390 [regression] Panel toggle dead when panels hidden
VB-9285 Notes: Empty state instructions shown/blink each time Notes panel is turned on
VB-8007 Let panel order in Settings dialog match order in panel toolbar and menus
VB-8752 Unable to use spatial naviation without cookie control enabled.
VB-9425 Flickr locks up UI
VB-9204 Need clearer sorting indicator in bookmarks manager: Removing drop-shadow and padding
VB-9428 Report browser version in diagnostic message
VB-9418 Regression: Some sites (YouTube) no longer offer an appropriate video format (e.g. WebM or Flash): the fix breaks the usage of alternative ffmpeg lib for proprietary media. We will look into this again
VB-1859 Internal pages should have their own site info graphic: Adding addressfield indicator for internal pages.
VB-3301 Vivaldi crashes when trying to generate thumbnail for vivaldi://apps
VB-7850 Cannot add items to bookmarks bar: Pressing ⌘/Ctrl now copies bookmarks while dragging and dropping in bookmarks panel
VB-2718 Various field edition bugs in bookmarks manager: Bookmark editing
VB-8218 Create own setting for our own usage statistics